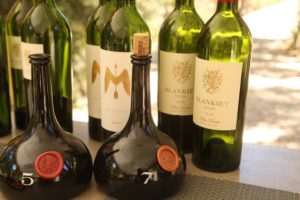 Blankiet Estate. Passion for vineyards and wine spans the length of the world-famous Napa Valley but every so often we meet individuals whose passion and obsession for crafting world-class wine transcends to another level. Take Blankiet Estate for example; owners Claude and Katherine spent three years searching for specific hillside vineyards on the western side of Napa Valley. In 1996 they located and purchased hillside property near Yountville – land that previously was part of Domain Chandon's holdings but was never planted to Pinot Noir and Chardonnay due the economics of farming these varieties on steeper slopes. Regardless, this is prime vineyard land; perhaps it is surprising that it was never developed as such considering it sits directly west of Dominus Estate and one of the Napa Valley's most historic vineyard sites, Napanook Vineyard.
As with a number of vineyard sites in and around Yountville on the western slopes of the Mayacamas mountain range, there is a significant amount of rock that forms the hillsides. Some of their property contains volcanic ash, white and fairly porous – parts of Blankiet's vineyards are literally covered with this white rock. As a result, the vines have to certainly struggle for nutrients – 15-year-old vines almost look stunted in places within a number of blocks. Contrast those with much more fertile growing conditions on the valley floor where the vines are significantly larger. An earthquake sub fault runs underneath their property.
Several vertical soil profiles hang on one of the winery walls (each 5 feet in length). In order to create these, two excavation pits were dug next to each other leaving a 'wall' of soil standing between the two holes. These soil profiles were then carefully removed and treated with a special binding agent so they would remain intact. This is fascinating look into the upper reaches of their vineyard's soil strata – one can quickly see their topsoil is fairly shallow.
Claude calls his vineyard "a puzzle of microclimates" and terroir; it is certainly that. It is surprising in such a small area how the temperature varies throughout the property. Various exposures and soil types also change dramatically. The entire site is 47 acres of which 16 acres are planted to vines – Jim Barbour originally developed 2 acres of the vineyard and David Abreu expanded, developed and managed the vineyards for a number of years. Today their vineyards are managed by their own in-house team.
Cabernet Sauvignon is their largest planted variety with Merlot, Cabernet Franc and Petit Verdot also growing on site.
"Always ask questions – do not become complacent, remain curious," – these are mantra's that Claude has followed throughout his career and has certainly applied to the development of his vineyard. He came to enjoy wine later in life (born in Switzerland, he was raised in Dijon, France). With a long career running a textile finishing company (stonewashed jeans) that was known for its innovation – Claude carried that innovation over to developing his vineyards and winery.
Several notable ideas were developed and implemented in his own vineyard. During very high heat spikes in the summer, it is critical that the grapes do not reach certain temperatures as essentially, they will begin "cooking". Blankiet developed a misting system used during such heat spikes and this system can be controlled on a block-by-block basis. Claude had seen this idea used to keep people cool in places such as Palm Springs and essentially applied the same principle to his vineyards. This system does require some water use, but Blankiet Estate is fortunate to be located above one of the largest aquifers in the Napa Valley.
Looking for a way to protect the grapes from infrared energy during heat spikes and fruit with south or west facing exposures, they tested a wide variety of shading materials. After trying numerous options, they found a material that worked well and each year at select times, primarily during heat spikes or during the latter part of the summer, strips of this material are rolled out and placed over the fruit zone only – depending on the individual blocks or vineyard exposure. They estimate during the peak of using this shade cloth – they roll out approximately 10 miles of this material.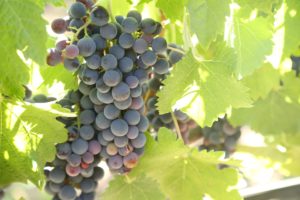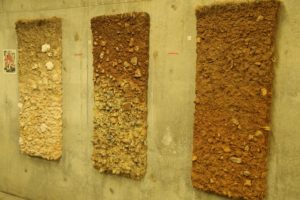 The first vintage produced was in 1999. Each year harvest takes about 6 weeks due to all the "mini" harvests they make. Individual rows or parts of blocks are roped off based on when the fruit is ripe. Only that section is picked during each of these mini harvests. Every cluster is hand inspected several times – in the vineyard and when it reaches their sorting system within the winery. Over the years and with the use of additional technology – their sorting line has become one of the valley's most impressive. Measuring some 85 feet in length – it includes two optical sorting machines.
Sorting is based on a cluster-by-cluster basis and only the most phenolic ripe berries drop off the end of the sorting table and make it to fermentation. This sorting requires patience; only 3/4 of a ton is usually processed per hour. Both Claude and Katherine work the sorting table each time grapes are brought into the winery. In a challenging year up to 25% of their fruit may not be used – in optimum growing years only a small percent of the grapes are separated. And the grapes that don't go into their primary wines – are in part used for a fortified wine (port-style) which has never been released.
And the cave is kept immaculately clean – in part using a unique air refreshing system in which every night, the total volume of air contained within the cave is flushed out and replaced by cooler air that invariably appears due to the cooling influences of the San Pablo Bay to the south.
Select Wines
The attention to detail and micromanagement in the vineyards carries over into their winery operations. The winery is state of the art, clean and very functional. Maintaining cleanliness within the winery is a huge part of their operations. In addition, nothing goes to waste – even small 150 ml bottles of wine are kept for topping the barrels. Blankiet Estate focuses on two flagship wines each year, both proprietary reds; their wines are neither fined nor filtered and 100% new French oak is always used during the aging. Clay vessels are used to age pressed wine.
The 2018 Blankiet Estate Mythicvs Cabernet Sauvignon. One immediately notices the wine's dark color; the bouquet offers pretty aromatics of blackberry, dark cherry and plum. Also, some old cedar box aromatics, but these are more in the background. Shows hints of chocolate, cardamom and clove as the aromatics continues to evolve. The oak complements the bouquet nicely without dominating. Well layered, with flavors of currant, cranberry and other red berry fruits. Offers dusty and gravelly tannins complemented by a bright mouthwatering finish. This very limited production wine is created for allocation members and is a barrel selection of the most special lots each year. The first vintage was in 2012; it is always 100% varietal Cabernet Sauvignon. Most certainly an age worthy bottling.
The 2016 Blankiet Estate, Rive Droite Merlot Blend (includes a skosh of Cabernet Franc) is medium ruby with some brickish red notes on the rim; offers aromas of sweaty leather, red currant, pomegranate, sage, rose stem and graphite. There is plenty of aromatic depth here, especially as the wine continues to open. Well layered from start to finish with flavors of red cherry and mineral nuances including notes of iron. The finish showcases firm feeling earthy and gravelly tannins but with a simultaneous lightness. The wine is slightly savory on the finish with notes of plum and darker spices. Shows both the character and the class of the variety as well as of this particular site. And there is a lot of life ahead of it (we tasted in 2021).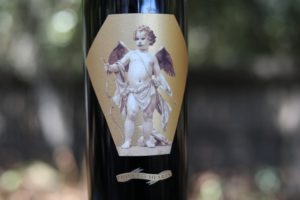 The 2007 Blankiet Estate Proprietary Red Wine Paradise Hills Vineyard (60% Cabernet Sauvignon, 40% Merlot) is an elegant wine with more red than dark fruit showing on the palate. The bouquet is clean with a nice floral component (lavender). It is a rich wine but is beautifully balanced. Expansive flavors of black fruits including blackberry and black current complete the rounded mouth feel. A structure of moderate tannins anchors the very pleasing finish.
The 2008 Blankiet Estate Proprietary Red Wine Paradise Hills Vineyard is predominately Cabernet Sauvignon with some Merlot and small amounts of Petit Verdot and Cabernet Franc. It is dark ruby in color with sweet vanilla, hints of browned sugar and rich black fruit on the bouquet. This wine is lively including both on the bouquet and on the palate. Compared to the 2007 vintage which is more refined, this is a bigger and more voluptuous wine. It shows a rich expression of their vineyards' fruit with a generous depth of flavor.
The 2009 Blankiet Estate features a "Right Bank" styled predominantly Merlot called Rive Droite as well as a proprietary red, Medoc styled wine (mostly Cabernet Sauvignon with some Merlot). During an early visit to the property, we tried a barrel sample of both wines – for young wines they were already well-integrated. It should be strongly noted their Merlot produces some of the finest wines of this variety, coming from the Napa Valley, over the years, validated by consumers and critics alike.
An accompanying label called the Prince of Hearts features several wines: a Bordeaux style blend, a very limited production, highly coveted rosé generally made from Merlot and Cabernet Franc and a Port-style wine. All of these wines feature a cherub on the label. Claude and Katherine own the original unframed work of art – painted by an Austrian artist in 1906.
This rosé is only available at the winery or through their mailing list; this is an atypical and very thoughtfully made Napa Valley rosé. Each year it is fermented in 100% new French oak barrels and then aged for 12 months prior to bottling. One of our favorite rosés in the valley was made by Notre Vin and it is no surprise that Notre Vin's winemaker was also Blankiet's winemaker Denis Malbec, (tragically he passed away in 2016 in a late-night car accident in Yountville – his contributions to the valley will be sorely missed). Fourth generation Napa Valley winemaker, Graeme MacDonald is Blankiet's current winemaker.
Blankiet's 2009 Prince of Hearts Rosé is made from Merlot by saignée (bleeding juice from the tanks). This wine is aged entirely in new French oak. The oak is there but it's not overwhelming as one might expect. The wine is dark salmon in the glass with a very slight amount of residual sugar left which is barely perceptible. This bouquet is clean and floral with notes of raspberry; for a rosé it is has plenty of weight and depth of flavor.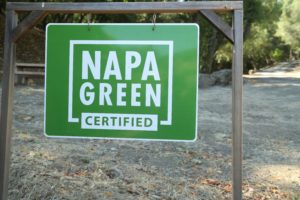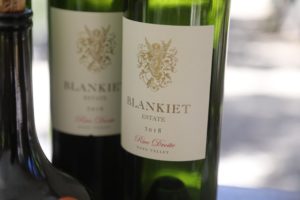 Over the years, we have tried later vintages of this particular rosé; this wine is clearly among the top standout rosés made in all of Napa Valley. And it doesn't get tired after a few years as it continues to retain its youthfulness and freshness even a few years post vintage date.
The 2013 Blankiet Estate Prince of Hearts is a blend of 80% Cabernet Sauvignon, 11% Merlot, 7% Cabernet Franc and 2% Petit Verdot. This wine is dark ruby/garnet in color; the bouquet shows aromas of dark plum, blackberry, leather, mushroom, forest floor, old cedar chest, peppercorn and hints of cocoa powder. This bottling shows a noticeable intensity of flavor across the palate; it offers cherry, dark plum, currant and cranberry. Juicy and mouthwatering this wine is showing very well 9 years post vintage date at the time of our tasting. The finish lingers with a distinctive savory component including a brightness of acidity, an earthiness, dark spices including of crushed peppercorn and light gravelly textured tannins which linger with slightly dry sensation.
Beginning in 2007 Blankiet Estate began saving the 'raisins' that previously were discarded while sorting and began making a small amount of port-style wine most years. Thirteen years later in 2020 they bottled their first wines, Prince of Hearts Bottling #5 and Bottling #7. These wines were aged in Kentucky Bourbon barrels, old Cognac barrels from France and wine oak barrels and are bottled in 500ml bulbous shaped bottles inspired by hand-blown glass bottles dating from the 16th, 17th, and 18th centuries. These wines are an homage to the iconic producer, Quinta do Noval Nacional. Over the years, Claude and Katherine have purchased some of these ancient treasures.
The Blankiet Estate Bottling #5 is a multi-vintage blend of fortified wines from 2007, 2008, 2009, 2012, 2013 and 2016 and was aged in Cognac barrels; the wine is dark ruby in color. The bouquet reveals captivating aromatics including of sweet black cherry, blackberry jam, a hint of dustiness and as the bouquet evolves in the glass, a diversity of dessert-like aromas including mocha, vanilla, brown chocolate and brown sugar. Offers layered flavors of fig and blackberry along with a restrained sweetness complemented nicely by the wines' brightness, a fresh and lively acidity which especially lingers on the finish. The tannins are present and noticeable but are gently integrated and supple in their textural feel. This is something you want to hold on to but will find it very difficult to do so. Of the very limited production wines in this style from Napa Valley producers, this wine is clearly in a class by itself.
—
We have visited numerous vineyards and talked to many vintners throughout the Napa Valley as we've worked on building the Napa Wine Project. It is always refreshing to yet again be inspired by both the vintner (Claude) and what he and Katherine have accomplished (the estate & dedication to their vineyards and premium wines).
Total production is about 3,000 cases each year (varies from vintage to vintage of course) and much of the wine is sold through their mailing list. Each bottle is labeled with a Prooftag which guarantees its authenticity (use of microscopic bubbles generates a three-dimensional code unique to each bottle) which can then be verified online or with a smart phone.
Visits are extremely educational and include an overview of their property, a detailed tour of their winery operations and cave followed by a private tasting in a space that feels right out of the medieval times. Serious collectors can reserve the ultimate Blankiet experience, the First Growth Tasting, either Left Bank or Right Bank in which 98-100 point scored First Growth wines from Bordeaux are tasted alongside several vintages and bottlings of Blankiet's wines. These wines are decanted 6 hours prior to visits.
To join Blankiet's wait list, to request a memorable and extremely detailed tour experience, or for more information visit: www.blankiet.com
Vineyards

Winery/Winemaking