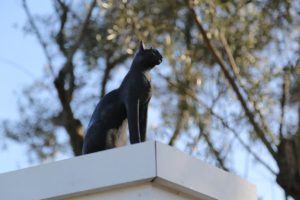 Black Cat Vineyard was founded by Tracey Reichow in 1996. She was one of the first women to work the floor of the New York Stock Exchange. In the early 1980's she visited the Napa Valley because of some work she was doing for Robert Mondavi Winery. Upon returning home she informed her husband Rick about the beauty of the Napa Valley. As she says, "we started accruing frequent flyer miles" and ultimately she and Rick moved to the valley.
They purchased a small piece of raw land in the southern part of the valley (today known as Coombsville) and Tracey soon found herself becoming interested in how to grow grapes. She and Rick had long enjoyed drinking Rhone Valley style Syrah wines and this was the variety they decided to plant despite some advice telling her it was too cold her for this variety in this particular location. Soon she enrolled in viticulture classes at Napa Valley College – and followed that by wine-making classes at UC Davis. Much of her early viticulture knowledge was self taught as the development of her vines were outpacing the time she was able to spend taking classes.
Tracy planted her 4-acre estate vineyard to Syrah and Cabernet Sauvignon in 1996 and started making her first wine in 1999. She has made a vintage every year since then but only in 2004 did she feel the quality met her exacting specifications; that year was her first commercial release. She made her wine at the old Star Hill Winery just east of the town of Napa for a number of years, until this property was sold and unfortunately the winery torn down. Today she makes her wine in a business park south of the city of Napa.
Her philosophy when it comes to wine making is viticulture is about being 'present'. She has created a number of phrases to describe just this including; 'first-person winemaking', 'boots on the ground', 'feeling the soil' and 'capturing the soul of the vineyard' among others. Every time she walks into a vineyard she admits that she learns something new … even after 20 years of tending vines.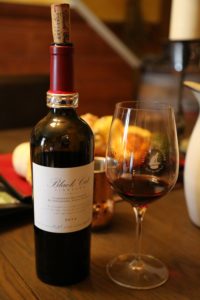 She currently works with not only her estate vineyard but a number of other vineyards on Howell Mountain, Rutherford and St. Helena. While she does not own the other vineyards she maintains vineyard leases that allow her full control of managing the vines. Tracey compares having multiple vineyards to having multiple pairs of shoes – enjoying the diversity that additional sources of grapes bring to her wines as well as allowing her to make a variety of wines. She currently produces about 1200 cases annually of which each wine is typically produced in quantities of 200 cases or less.
Tracy's wine-making style focuses on small lots – using tanks that are no more than a ton. The wines are made in an artisan style and each block from her vineyards are hand selected and all fermentation takes place in open-top fermentors. One of her favorite parts of wine-making is doing everything herself – she calls this her preference for "doing" rather than "being". This includes what would seem like a mundane operation (tank punch-downs). However doing something as repetitious as a punch-down gives her intimate knowledge of each fermentation – allowing her to notice certain smells, color extraction or lack thereof or temperature issues.
Cleanliness is extremely important in any winery – Tracey is obsessive about keeping her winery extremely clean (even other winemakers have commented about this when they visit her winery!).
Select Wines
The 2013 Black Cat Napa Valley Syrah is sourced from her four-acre vineyard in Coombsville – Tracey hand selects only the best clusters of fruit for this wine. This young wine (at the time of our tasting) shows lively and generous fruit aromatics that are long lasting in the glass, continuing to develop and show additional layers of depth. Notes of black cherry, cherry liqueur, hints of sage, a savory component and a hint of mocha show on the bouquet. The voluptuous palate shows a beautiful soft and supple characteristic with tannins that are delicate, rounded, slightly dusty and well integrated in the wine's structure.
The 2012 Black Cat Rutherford 100% varietal Cabernet Sauvignon initially shows subtle herbal note framed with aromas of black cherry, toasted cedar with vanilla nuances. This wine has great acidity (mouth wateringly so) with a tartness that lingers along with dusty tannins.
The 2012 Black Cat Howell Mountain Cabernet is aromatically rich – showing a sweet note of aroma that tends towards blackberry complemented with elegant cedar box aromas and a hint of mocha. As the wine opens more red fruit aromatics show along with baking spice (brown sugar). There is plenty of depth in both the bouquet and the palate. A pleasing textural roundness shows on the palate with flavors of plum, red currant and chocolate. Slightly dusty tannins linger softly.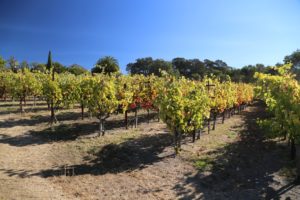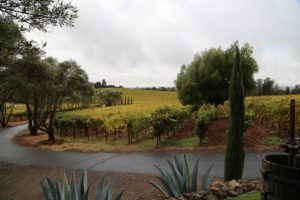 The 2013 Black Cat Zinfandel is Tracey's "retro zin", as she calls it. She and Rick were tired of the high alcohol wines of this variety and certain Zinfandel characteristics such as spice and it's fruit characteristics were being lost. Tracey keeps this wine under 15% – the 2013 vintage just barely is lower than that. We have had wines in this alcohol range that taste jammy and even 'hot' – this is not one of them. These grapes are older – are dry farmed high on Howell Mountain. Even during the drought years – Tracey has noticed these grapes ripen around the same time each year and are producing similar volumes (even in 2015 when in general production was significantly lower than the prior years).
This is her only wine is aged in American oak. The bouquet shows plenty of fruit, raspberry, red cherry with a noticeable vanilla nuance. There is a perceived sweetness of fruit initially on the bouquet – perhaps from the oak influence (the wine like all Black Cat wines is fermented to dryness). The wine has good acidity – Tracey often enjoys this wine with a variety of BBQ dishes. The finish is anchored by robust very long lasting tannins.
All the Black Cat wines are numbered with the total number of bottles per each wine listed on the label.
—
Curious about the name of the winery? It involves a cat and is the only Napa winery we know named after a feline. When Tracey and her family lived in Pittsburgh they took in a feral black cat who stayed with them for their move west to Napa. During her time developing the vineyard this cat was as much a part of her world as the vines.
Rather than at restaurants or wine shops, all the wine is sold direct to consumer. Tracey relishes the fact that she has met and spent time with nearly all her customers. Her wine is shipped to mailing club members three times a year allocated to a 3 bottle per shipment. Clients can customize each shipment as needed. Total production is around 2,500 – Tracey is comfortable making and selling. For more information and to join the wine club, visit: www.blackcatvineyard.com
Star Hill Winery (where Tracey used to make Black Cat) (we keep these photographs here for historical purposes)