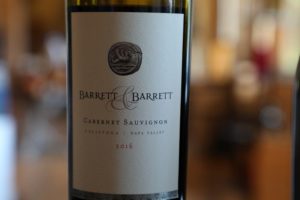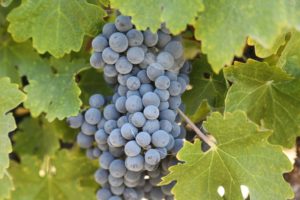 Barrett & Barrett produces a single estate premium Cabernet Sauvignon each year and is a joint wine making effort by husband and wife James and Heidi Barrett (although James is always referred to as Bo). These two are Napa Valley industry wine veterans; Bo has been farming his family's property (Chateau Montelena) in Calistoga since he was hired to work in the cellar in 1972 and Heidi has been making premium wines in Napa for more than 40 years.
Like his wife, Bo is also a pilot (both light planes and helicopters) and also has a passion for SCUBA diving. While he has stepped back a bit from the day-to-day winemaking duties, we often still see him on the crush pad at Chateau Montelena during harvest. Not many vintners have famous actors portray themselves on the big screen. The film, Bottle Shock was released in 2008 starring several actors including Chris Pine as Bo Barrett. This movie portrayed the story of Chateau Montelena's award winning Chardonnay in the Paris Tasting of 1976 (they won first place). In 2010 Bo was responsible for helping create the Calistoga American Viticulture Area (one of 16 sub appellations in addition to the primary Napa Valley Viticulture Area).
Heidi has grown up in the wine industry – working in vineyards and in wineries from a young age. Both her parent's careers were a strong influence on her career and passions; her mother was an artist, and her father Dr. Richard Peterson is an accomplished winemaker, scientist and vineyard experimenter. He is noteworthy for his decades of winemaking work including at Gallo and Beaulieu Vineyard among others. He also designed and offered at no cost to the industry, the Peterson pallet, the metal racks used for stacking barrels, used at wineries around the world.
And in 1980 he discovered a 2,000-year-old clone of Pinot Noir, the Wrotham Clone growing in Wrotham, England. He brought back cuttings, planted a vineyard in Yountville and began making wine from this extremely rare clone. He continues to produce a limited production sparkling wine each year from the Wrotham clone bottled under Richard G. Peterson, from a small vineyard in the Santa Lucia Highlands of Monterey County.
Immediately after graduating UC Davis in 1980 with a B.S. degree in Fermentation Science, Heidi went to work for Justin Meyer at Franciscan Vineyards and Silver Oak Cellars.
By age 25 she was the winemaker at Buehler Vineyards (a well-established winery located in the hills east of the valley floor). She worked for several other wineries in Napa Valley until she became an independent/consulting winemaker in 1988. By the mid 1990s her wine making abilities and knowledge were much in demand. Her work with Dalla Valle Vineyards and Screaming Eagle was noteworthy – producing two 100 point scored wines (by Robert Parker) for both wineries.
Today her talents are as sought after as ever; besides her own labels she continues to consult and make wine for a number of smaller producers in the valley. Wine making is both an art and a science (more science depending on who you talk to in the industry), and Heidi has used her talents in both disciplines to build an extremely successful career in Napa Valley.
Despite their history in the valley and individual personal accomplishments as it relates to wine and their own relationship, she and Bo had never before made wine together. The first vintage of Barrett & Barrett was 2008.
The image of the coin on the label is the perfect tribute to both Bo and Heidi's interests and accomplishments. During a trip to visit their daughter Chelsea who was in Northern France at the time, they stopped in Austria and visited the Leopold Museum in Vienna which contains an impressive collection of ancient coins. They had an idea of the coin image for their label prior to this museum visit but it was here they saw it in real life.
The coin is an image of Hippocampus which represents both sea, sky and land. Both Heidi and Bo are private pilots, both are passionate and avid SCUBA divers and the earth, or the terroir from which they work so closely with to produce world class wines.
With both of Bo and Heidi's daughters involved in the wine business (Remi and Chelsea), this brand is one built to carry on a family legacy and to be run by future generations.
Select Wines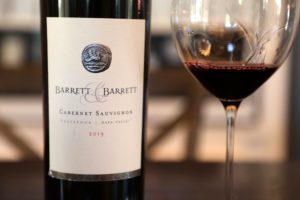 Every vintage is hand-crafted each year; they selectively pick which vines and clusters of grapes from the vineyard to use for this wine. The fruit for the 2009 vintage is all from their northern Calistoga estate vineyard (just north of Chateau Montelena)- and is 99% Cabernet Sauvignon and 1% Cabernet Franc. This rocky vineyard is already low yielding but in this particular year just over 1 ton/acre was harvested.
The 2019 Barrett & Barrett Cabernet Sauvignon is deep ruby and nearly opaque in the glass; the initial aromatics smelled like removing a steaming freshly baked brown loaf of bread from the oven. We can guarantee that is the first time we have ever used a description like that on a Napa Valley Cabernet Sauvignon. But these aromatics quickly disperse and make way for fruit dominated scents. These include notes of blackberry and dark raspberry along with old cedar box, a dusty nuance and chocolate. The palate offers flavors of dark plum, blackberry and red cherry. The tannins are grainy in their textural feel complementing a bright fruit-filled finish. A very subtle hint of toasted oak lingers but it is a complementary character rather than a dominating one. In our notes, we wrote the word balanced for this wine several times – a common descriptor on a number of Barret's produced wines over the years (and not just this brand but wines she makes for other wineries).
The 2014 Barrett & Barrett Cabernet Sauvignon (tasted 9 years post vintage) is 98% Cabernet Sauvignon and 2% Cabernet Sauvignon. This wine is a dark shade of ruby in the glass; the nose initially shows a savory component but give it time to open and it will reveal more fruit including blackberry. It also offers scents of leather and chocolate. One immediately notices its bright, fresh and lively acidity. It includes both red and darker fruit flavors including of cherry and cranberry. The tannins are very nicely integrated and linger with a moderate grip along with a slightly dry finish. Its hallmark at this age and maybe since it was released, is its seamless character, i.e., its balance.
The 2009 Barrett & Barrett vintage is remarkably dark in the glass. Initially it shows earth components on the nose along with black fruit, including blackberry and notes of black licorice. Then as it continues to breathe in the glass the wine becomes more aromatically intriguing and reveals cassis, plum and blackberry. It is robust wine on the palate with plenty of depth and character – yet it is in balance. Some spice notes show, including white pepper and also a hint of cedar. The tannins are broad based and hit both the front and back of the palate but are balanced to some degree by the richness of fruit. The flavors linger for some time. So do the tannins which are somewhat dusty in nature.
Note: this review has been identified as needing a major update including additional tasting notes.
—
Over the years, sometimes we have been asked about wildlife and some of the natural predators of grapes in the valley. Due to the location of this vineyard on the slopes of the northern part of the valley there have been issues with wildlife in the past. In 2011 we heard about a bear accessing one of their vineyards in Calistoga and eating substantial number of grapes before Fish & Game finally caught it and relocated it further north. Usually, predators in Napa Valley are wild turkeys, birds, gophers and deer and it is somewhat unusual to hear of a bear causing damage in area vineyards.
Similar to Heidi's other wine brand, La Sirena, refreshingly there is no wine club or allocation for the Barrett & Barrett Wine. The wine is available as a three-pack, six-pack or in magnum format (hand signed by Heidi). When the wines are released, they are available on a first come, first serve basis. Typically, production is in the range of 300 cases each vintage.
Private tastings can be arranged for serious wine enthusiasts and are hosted by a member of the La Sirena hospitality team at a cave winery located just south of Calistoga (a property that allows several producers to make their wine on site). Visits are always curated by a private wine educator and includes a walk through the cave and a sit down tasting in the adjoining hospitality space.
For more information, to order wine, to schedule a tasting and or to join their mailing list, visit: www.barrettwines.com