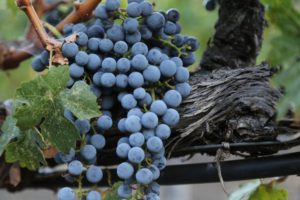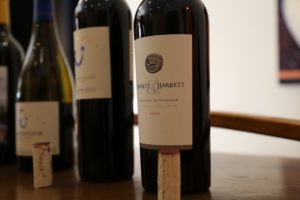 Barrett & Barrett produces a single estate Cabernet Sauvignon each year and is a joint wine making effort by husband and wife Bo and Heidi Barrett. These two are Napa industry wine veterans; Bo has been farming his family's property (Chateau Montelena) in Calistoga since he was hired to work in the cellar in 1972 and Heidi has been making premium wines in Napa for more than 30 years.
In 2010 Bo was responsible for helping create the Calistoga American Viticulture Area (one of 16 sub appellations in addition to the primary Napa Valley Viticulture Area).
Heidi has grown up in the wine industry – working in vineyards and in wineries from a young age. She had a very good mentor early on; her father Dr. Richard Peterson is an accomplished winemaker, scientist and vineyard experimenter. Her mother was an artist. Immediately after graduating UC Davis in 1980 with a B.S. degree in Fermentation Science she went to work for Justin Meyer at Franciscan Vineyards and Silver Oak Cellars.
By age 25 she was the winemaker at Buehler Vineyards (a well established winery located in the hills East of the valley floor). She worked for several other wineries in the Napa Valley until she became an independent/consulting winemaker in 1988. By the mid 1990's her wine making abilities and knowledge were much in demand. Her work with Dalla Valle Vineyards and Screaming Eagle was noteworthy – producing two 100 point scored wines (by Robert Parker) for both wineries.
Today her talents are as sought after as ever – besides her own labels she continues to consult and make wine for a number of smaller producers in the valley. Heidi has worked over 30 harvests in the Napa Valley. Wine making is both an art and a science (more science depending on who you talk to in the industry) and Heidi has used her talents in both disciplines to build an extremely successful career in the Napa Valley.
Despite their history in the valley, individual personal accomplishments as it relates to wine and their own relationship, they had never before made wine together. The first vintage of Barrett & Barrett was 2008.
The image of the coin on the label is the perfect tribute to both Bo and Heidi's interests and accomplishments. During a trip to visit their daughter Chelsea who was in Northern France at the time, they stopped in Austria and visited the Leopold Museum in Vienna which contains an impressive collection of ancient coins. They had an idea of the coin image for their label prior to this museum visit but it was here they saw it in real life.
The coin is an image of Hippocampus which represents both sea, sky and land. Both Heidi and Bo are private pilots, both are passionate and avid SCUBA divers and there of course is the earth from which they work so closely with to produce world class wines.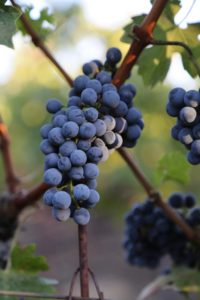 With both of Bo and Heidi's daughters involved in the wine business (Remi and Chelsea), this brand is one built to carry on a family legacy – to be run by future generations.
Every vintage is hand-crafted each year; they selectively pick which fruit and which vines in the vineyard to use for this wine. The fruit for the 2009 vintage is all from their northern Calistoga estate vineyard (just north of Chateau Montelena)- and is 99% Cabernet Sauvignon and 1% Cabernet Franc. This rocky vineyard is already low yielding but in this particular year just over 1 ton/acre was harvested.
The 2009 Barrett & Barrett vintage is remarkably dark in the glass. Initially it shows earth components on the nose, black fruit including blackberry and notes of black licorice. Then as it continues to breathe in the glass the wine becomes more aromatically intriguing revealing cassis, plum and blackberry. It is a luscious and robust wine on the palate yet in balance. Some spice shows, white pepper and also a hint of cedar. The tannins are broad based and hit both the front and back of the palate but are balanced to some degree by the richness of fruit. The fruit lingers for some time. So do the tannins – somewhat dusty in nature.
Over the years, we have been asked about wildlife and some of the natural predators of grapes in the valley. Due to the location of this vineyard on the slopes of the northern part of the valley there have been issues with wildlife in the past. In 2011 we heard about a bear getting into this vineyard and eating a good amount of fruit before Fish & Game finally caught it and relocated it further north. Usually the predators in the valley are wild turkeys, birds, gophers and deer – it is somewhat unusual to hear of a bear causing damage in area vineyards.
Like with Heidi's own wine production, La Sirena, refreshingly there is no wine club or allocation for the Barrett & Barrett Wine. The wine is available as a three-pack, six-pack or in magnum format (hand signed by Heidi). When the wines are released, they are available on a first come, first serve basis. Usually production is in the range of 300 cases. Private tastings can be arranged for serious wine enthusiasts (held at a small winery up valley). For more information and to join their mailing list, visit: www.barrettwines.com