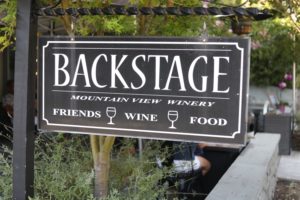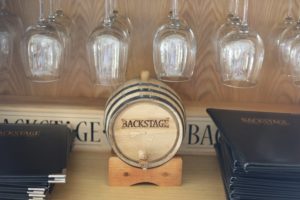 Backstage Wines. Founder of Backstage Wines, Angelo Perra grew up in Marin County; his family did not come from a wine background and his early career was working with private equity. His first introduction to premium wine was at age 23 in 1993. After graduating from business school his mother announced she would take him and his two siblings out to a fine restaurant in San Francisco to celebrate. Angelo remembers sitting at the head of the table and hearing his mother announce that she was going to order a bottle of really fine wine.
He recalls one of the waiters came to their table and removed all the wine glasses; at the time he was confused as to why they were removing the wine glasses when his mother had just ordered wine. The waiters soon returned to the table with their premium stemware. One waiter walked up to the table cradling a 'special bottle'. It was an Opus One most likely from a late 1980s bottling. Angelo really enjoyed this wine; he credits that moment with being the initial inspiration for wanting to learn about wines and winemaking. He began making his first home wine later that same year.
In 2010 Angelo purchased an existing wine brand, Mountain View Winery which was established in 1978 and had operations in Morgan Hill. Two years later he began Backstage Wines. At the time, he reached out to several contacts from his early days of working with private equity, to secure funding when beginning Backstage wines. The first vintage of Backstage was an Oakville Cabernet Sauvignon. At one point he realized he would need additional funding. He invited his investors to dinner at the Buckeye Roadhouse in Mill Valley and brought a bottle of the inaugural 2012 Backstage wine to share with them. They had not yet tried this wine; Angelo wanted to impress them with the wine before asking for additional funding.
The table also ordered one bottle of one of Shafer Vineyard's premium red wines. Towards the end of the meal Angelo noticed the bottle of Backstage was empty while the bottle of Shafer still contained some wine. Emboldened by this observation he offered the question, "tell me what you think of my wine". The unanimous answer was they really enjoyed it. And ultimately, they invested a second round of funding.
The winery for Backstage was located south of Napa in an industrial park (in 2023, production moved to the old Andretti Winery off of Big Ranch Road, just north of the city of Napa). They own their own bottling line; bottling is conducted almost daily year-round based on client orders and is always small lots at a time (usually 100 to 400 cases). Limiting oxygen to the wines is an integral part of Angelo's winemaking and especially so before bottling always ensuring that fill tanks are completely full.
While not owning any vineyards, Backstage works closely with small family-owned vineyards; a typical size vineyard they often work with ranges between one and six acres. Rather than sharing these vineyards with other wineries, Backstage has access to all the grapes from each site. And when Angelo first discovers these sites, they are often unnamed and with the owner's permission creates names relating to Backstage (i.e., Greenroom, Showtime, Encore etc.).
Backstage is very much a family operation with his children also involved including in the tasting room and winemaking operations. His daughter Olivia told us she began helping her father in the winery at age 12; today she is assistant winemaker, helping her father and also is their Sales Director.
Select Wines
When making the Backstage Chardonnay, Angelo tried to create a wine balanced between the style of Chardonnay he enjoys drinking (Chablis) and a riper California oak and butter styled bottling. He has found that his customers prefer the richer California styled Chardonnays. The 2021 Backstage Chardonnay Russian River Valley was put through 50% malolactic fermentation and aged in light toasted French oak barrels (quercus petraea). This wine is medium golden in color; the bouquet offers aromas of honeysuckle, a light toast nuance and butter. The palate shows flavors of apple, some mineralities, a lemon zest and brightness of acidity on the finish. Its texture is creamy and soft across the palate; this wine lingers with a hint of warm butter and drinks very well by itself.
Also, very much worth trying, for its extremely balanced style and less 'californiaesque Chardonay characteristics) is their Showtime Chardonnay, sourced from Napa Valley's Oak Knoll District. It straddles the line between richness and elegance very well. We tried the 2021 vintage.
Angelo began making Pinot Noir from the Chalone wine region in central California. He noticed this growing region tended to be a bit warmer than closer to some of California's other coastal growing regions and the wines he was producing tended to be more earthy in style. He prefers a 'cleaner' more fruit driven style of Pinot Noir so in 2019 he switched his vineyard source to the Russian River Valley. The 2019 Backstage Marquee Vineyard Pinot Noir Russian River Valley is pale to medium ruby in color. Simply stated, this bouquet smells beautiful. It is elegant with both floral and fruit aromatics including of dried rose petal and violets along with raspberry, cranberry, rhubarb and a hint of white pepper. It is soft, supple and very well balanced across the entire palate. Offers hints of white pepper, red plum and a light touch of darker spices on the finish. The lightly textured tannins linger softly.
Sometimes Backstage wines will craft a very limited production wine that is only served and sold from their tasting room. The 2019 Backstage Napa Valley Petite Sirah was blended with a small amount of Syrah. This is not a robust bottling like some of the Petite Sirah's we have sampled over the years; it is very well balanced and food friendly. Angelo enjoys working with Petite Sirah for the freshness and acidity it can bring to a wine lacking such characteristics. This wine offers aromas of dark plum, old cedar box and some dried herbs. The gravelly textured tannins continue to persist for some time on the dark fruit filled finish. This wine shows medium plus acidity.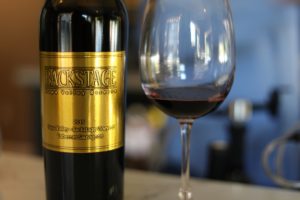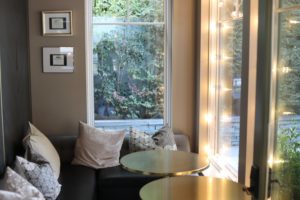 Angelo has been making wines for more than 30 years. For about 25 years his focus was on showcasing single varietal wines from single vineyard sites. One day he realized that perhaps he could further fine tune his wines by blending. He is quick to admit that even after three decades of making wine he continues to learn. While most of his wines are still focused on single vineyard single varietal sites, he also produces wines that are blended.
There is a specific reason why Angelo uses metal for both the front and back labels of the Backstage Cabernet Sauvignon wines. With three children in grade school some years back, one day he received a phone call from someone in administration at his children's school. The conversation began something like, "I heard you are a winemaker, would you be interested in donating some of your wine to our annual school auction fundraiser". Angelo said he would donate a bottle of wine but didn't say which bottle it would be.
He started looking through some of his older First Growth Bordeaux wines that he used to purchase by the case for approximately only $40 per bottle. He located a 1994 Château Lafite Rothschild and decided that would be a good donation for the auction. Curious to how much it cost after he committed the bottle to the auction, he was shocked to discover that a single bottle from this producer and vintage was around $1000.
Later that year he needed to complete an expensive roof repair project on his home and followed up with one of the classified ads he spotted in the back of Wine Spectator Magazine offering to purchase rare bottles of wine. He found a broker in Oakland and after bringing some of his First Growths to be appraised he left with a sizable check. Later he returned with more bottles but was extremely disappointed to discover that the buyer completely rejected several of his bottles because they had small tears in the label. After this experience he decided to bottle only his most premium wines from select single vineyard sites in Napa Valley with all metal tear-proof labels.
The 2015 Backstage Oakville Cabernet Sauvignon is dark ruby in color; the bouquet shows a pleasant union of both fruit and barrel influence with darker baking spices including clove. It also offers hints of leather, dark plum, truffle oil and dark chocolate. As the wine evolves in the glass, it reveals additional aromas of mocha. This wine is very balanced from start to finish; it shows flavors of red cherry, plum and blackberry. The tannins are dusty, earthy and offers a texture which is somewhat gravelly. A mouthwatering brightness persists on the finish.
The 2015 Backstage Howell Mountain Cabernet Sauvignon (Green Room Vineyard) is dark ruby in color; this wine offers plenty of secondary aromas including milk chocolate, cocoa power, holiday spices, Graham cracker and a sweet note of licorice. It also shows notes of dark plum. The palate reveals flavors of baked blackberry, chocolate and dark plum. The tannins still offer a light amount of tightness, are silty in texture and are accompanied by a mouthwatering finish. This wine is showing exceptionally well 7 years post vintage date at the time of our tasting.
Tasting room, Larkspur
For six years, Angelo operated a tasting room in San Rafael focusing on Mountain View wines. He moved locations in 2017 and opened a cute tasting room in Larkspur with both indoor and outdoor seating. This was a new space when Backstage Wines moved in, and they customized the interior to fit their operations including housing a commercial kitchen and adding an Argon system so that no wine is wasted once a bottle is opened.
The majority of customers are Marin County locals. A visit makes an ideal pre dinner stop to enjoy the diversity of wines, small plates, salads, artisan flatbreads, meat and cheese boards and a dessert of the day, although with a fine selection of foods, one could come here for a full meal. The wines represented are primarily focused on the Backstage bottlings (typically older releases), but the tasting room is also stocked with a small selection of international wines.
Tasting Room, Napa
On December 9, 2022, Backstage moved into what was the original Andretti Winery's tasting space on Big Ranch Road (about a 10 to 15-minute drive from downtown Napa). The hospitality space, winery and surrounding land is owned by Laird family of Laird Family Winery. The existing Tuscan themed architecture matches the Perra's own Italian heritage well.
Tastings are conducted inside at one of several small tables or at the L-shaped bar. Reservations are highly recommended but if it's not busy, they can accommodate small number walk-in parties. At the time of our latest visit, two tasting options are offered including the Backstage Tasting (showcasing a variety of their wines) or the Cabernet Tasting (offering only Cabernet Sauvignon wines, all from Napa Valley).
A small parking lot is on site (next to their driveway) and from here it is a short walk to the tasting room entrance inside a small courtyard.
—
Their total production each year is around 25,000 cases divided between the wines bottled under Backstage, Mountain View and several other labels. The majority of their wines are sold to private membership-based wine clubs. For more information, to purchase wines, or to schedule a tasting at their Napa location, visit: www.backstagewines.com