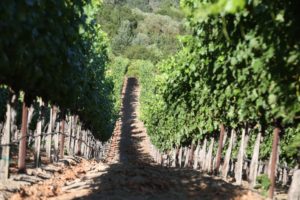 Bacio Divino Cellars (meaning Divine Kiss in Italian), was founded by Claus Janzen in 1993; he initially became interested in wine as a self-appointed "ski bum" while working at an upscale restaurant in Switzerland during the ski seasons. He was 19 years of age when he became a wine enthusiast/collector and started developing what ultimately would become a very trained palate – useful as he is directly involved in all their final blending decisions.
A non-wine related career took hold in real estate with the family ultimately settling near Winnipeg in Manitoba, Canada. But he continued to explore his passions for wine – joining Opimian, Canada's largest private wine club – at one point winning a best tasting contest. While his children were young, Claus moved his family to Provence in France – spending one year exploring the region (mostly by bicycle according to his son Kyle) and visiting numerous wineries and meeting winemakers.
Eventually he made his way to Napa Valley – he took what he thought would be a relaxing trip with the intent on visiting several wineries. Already familiar with and a buyer of the Caymus wines, on his first trip to the valley he made a point of visiting Caymus Winery and met Chuck Wagner (the owner of the winery). They bonded over a shared passion of wine and Chuck invited Claus to work at the winery for the upcoming harvest. Caymus had recently received excellent exposure in the Wine Spectator and sales domestically were doing quite well. But Chuck was also interested in selling his wines overseas – and after hearing this, Claus told Chuck he could help with building overseas exposure to the Caymus wines.
Kyle recalls the family selling everything they owned in Winnipeg and putting their remaining possessions in a motor home and spending the next three months slowly driving west to the Napa Valley before settling in St. Helena.
Claus worked his first harvest in the Napa Valley at Caymus and ultimately ended up working 12 years there, developing their international marketing program.
While working at Caymus, Claus made his first wine in 1993 – a single barrel of Sangiovese grapes. He blended this with a couple of barrels of Cabernet Sauvignon made by the winemaking team at Caymus Vineyard – 100 cases were their first release. Through Caymus, Claus was introduced to grower Andy Beckstoffer – who owned and managed the Georges III vineyard next door. This would be the beginning a long and fruitful relationship with Andy – he sold them his first grapes in 1995 and Bacio Divino now sources fruit from several of his most highly regarded heritage vineyards including still from Georges III as well as Missouri Hopper and To Kalon.
While Claus Claus was the original winemaker for Bacio Divino, he has used several winemakers since the beginning including Nils Venge who introduced them to his son Kirk Venge. Bacio Divino was one of Kirk's first consulting clients – he continues to make their wine.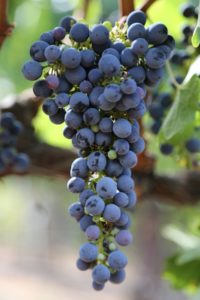 Divino owns 60 acres in total purchased in the late 1990s and planted in the year 2000 – rugged hillside land with 10 acres planted to vines (all Cabernet Sauvignon) spread out among three unique vineyard sites. The property is in a fairly remote location of the valley – high up above Dutch Henry Canyon east of the Silverado Trail. Their vineyards are well off of the northern part of the Silverado Trail – in a secluded part of the region, a rare landscape not often seen by visitors to the valley. The views from their vineyards are fantastic – encompassing rugged forested undeveloped hillside forests with vistas stretching far below into the valley floor.
Bacio Divino produces five labels – the original Bacio Divino (Cabernet Sauvignon, Sangiovese & Petite Sirah), Pazzo (a 5-variety blend), Vagabond – a Syrah Cabernet Sauvignon blend. In addition, they produce several vineyard designated wines simply called Janzen including from their own vineyard and from select Beckstoffer vineyards. And Lucie, wines from neighboring Sonoma County (Chardonnay and Pinot Noir).
All their wines consistently receive excellent ratings by Robert Parker (including mention of their original vintage in his Wine Advocate newsletter) as well as other well-known wine critics. Janzen was originally called one of the "20 new Cabernet Sauvignon labels to watch" by the Wine Spectator.
One of their philosophies is you can drink wines young. Case in point is the Pazzo, which means "crazy" in Italian. In the 1990s Claus decided to make a red blend – but rather than create a Bordeaux style blend like other wineries, he decided not to be constrained by the types of varieties used in this wine – and focus on a Sangiovese based wine. It is a unique blend where varieties and percentages change over the years but is always Sangiovese dominated with Cabernet Sauvignon, Petite Sirah, Syrah & a white variety, Viognier. The result is an easy drinking lively wine that is extremely popular at bistros and wine bars. It is also very decently priced.
The 2015 Lucie Pinot Noir was sourced from the famed Bacigalupi Vineyard in neighboring Sonoma County (site of some of the Chardonnay used in Chateau Montelena's award winning 1973 vintage from the Paris Tasting of 1976). Its name comes from Claus's wife Diane's middle name – Lucille, or Lucie for short. Both Claus and Diane enjoying drinking both Burgundian Pinot Noir and California Pinot Noir. The 2016 Lucie Pinot Noir is certainly more Californian in style with very forward ripe fruit on the bouquet including raspberry and blackberry complemented nicely with dark and sweet dessert spices along with a hint of cedar. An opulent showing. The palate offers supple texture but with a noticeable richness of fruit including ripe cherries and blueberries with noticeable slightly dusty tannins lingering.
The 2016 Janzen Napa Valley Cabernet Sauvignon includes fruit from their own vineyard as well as three of Beckstoffer's six heritage vineyards (the top vineyards in his Napa Valley portfolio). Offers a very inviting bouquet (we simply wrote "smells beautiful"!) Includes aromas of milk chocolate, dry dust, a hint of old cedar, mocha and a sweetness of fruit including black fig. Shows flavors of blueberry, plum with plenty of layers. Long lasting densely packed and somewhat grippy tannins. Should be very age worthy. One of the best value wines you will ever find from a Beckstoffer vineyard portfolio.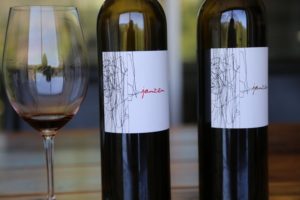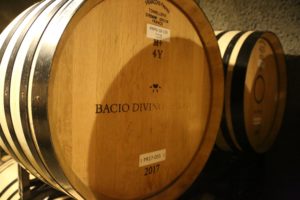 The 2015 Janzen Cabernet Sauvignon Beckstoffer Missouri Hopper Vineyard (Oakville AVA) is 100% varietal. Dark ruby with purplish tinges on the rim – offers plenty of fruit on the bouquet including cherry, ripe blackberry along with a sweetness of baking spice accompanying. Has plenty of power with loads of layers of flavor. Anchored by a generous helping of fine-grained tannins which taken as a sum of their parts creates a memorable finish with plenty of grip – not a course grip but a steady firmness which lingers for some time. An impressive showing – this is a wine with a 'wow' factor and is well worth seeking out for serious collectors and consumers.
The 2015 Janzen Cabernet Sauvignon To Kalon is sourced from both the B and C blocks within the vineyard (a central part of Beckstoffer's portion of this famed site). Dark garnet in the glass offers up an aromatic depth including black licorice, truffle oil, milk chocolate, cocoa powder, old cedar box and a sweetness of fruit (ripe blackberry). A darker spice nuance shows initially but as the wine breathes the bouquet becomes more pretty featuring additional fruit. A ripeness of fruit initially hit the palate with tannins that are plush, earthy and hold a firm grip on the finish. There is plenty of power in this beauty.
Incidentally, out of more than 1,000 Napa Valley based wineries/producers and tasting rooms visited with to date, our first visit with Bacio Divino was by far our earliest – in the 6am hour!
Bacio Divino is distributed nationally and perhaps no surprise, is also well distributed internationally including in parts of the Caribbean, Europe and Asia. Their production has grown significantly since the early years when they were making only a few hundred cases.
Their most produced wine is the Pazzo – with a total production of all their wines often between 4,000 and 6,000 cases annually. Locally the wines are found in the Napa Valley at several wine shops. A limited number of tastings are offered by appointment and are held at Auburn James Winery along the Silverado Trail (not far from St. Helena). For more information and or to join one of several wine club membership levels (some shipments include older vintages), visit: www.baciodivino.com
Vineyards high up on Dutch Henry Canyon