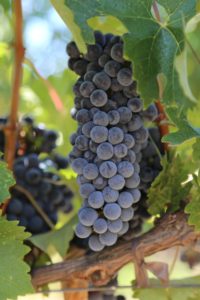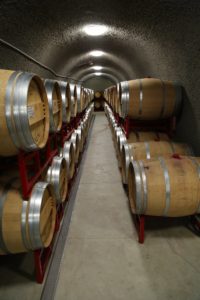 Aonair Wines is owned and operated by long time Napa winemaker Grant Long Jr. He has lived in the Napa Valley most of his life having moved from the San Francisco Bay Area as a child. His father collected wines for many years and when an opportunity arose to move to wine country – the family settled in Napa Valley. While in high school he was exposed to home wine making through his friend's father who made wine in his garage. Grant made his first wine at age 16. The wine making and smells of fermentation that he was exposed to in his friend's garage left a lasting impression. He attended UC Berkeley and then returned to the valley.
Before starting Aonair Wines in 2008, Grant worked at several wineries, gaining both wine making and business experience. All his wine making experience has come from a "learn by doing" approach. He was partner in "g" Wine Cellars and spent 8 years as Sales and Marketing Director at Reverie Winery on Diamond Mountain. Grant has a passion for "vineyards with a view" – the hillsides if you will. All of his red wines are sourced from premium rocky volcanic vineyards in Napa's most known hillside appellations. Currently his vineyard sources are from Atlas Peak, Diamond Mountain, Howell Mountain, Mt. Veeder and Spring Mountain.
Aonair in Gaelic means "sole proprietor"; Grant's career has been about handling all facets of the wine business – he is the winemaker, host and customer service (although today he has some help with hosting visitors). His label is a tribute to his Grandfather; it portrays his grandfather's family Irish crest with three birds representing three generations of family that moved from Ireland to the United States. The number of barrels produced is listed on the front of each label.
The bottles for his red wines are hand dipped in wax. He remembers his father's wine collection – a number of wines were meant to be enjoyed daily, while others were for special occasions while still others were only to be opened during a super special occasion in the company of other wine enthusiasts who would share an appreciation for those "special" bottles. These unique bottles were always the ones hand dipped in wax.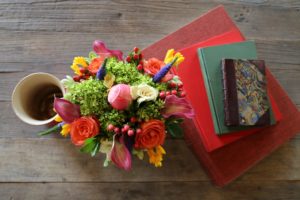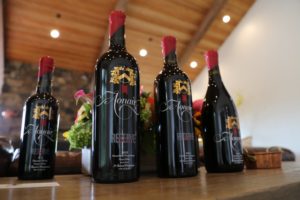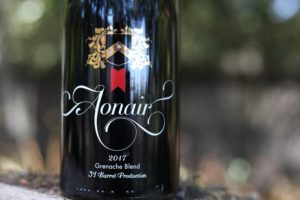 After years of making wine at other wineries under the terms of an alternating proprietorship – Grant began looking to acquire a physical winery (his production had increased and his brand had become more established). His realtor notified him of a unique 17 acre parcel of land, (7 planted to vines) with a winery and cave perched on steep hillsides near Lake Hennessey.
The property needed some significant work (which scared off prior prospective buyers) but Grant was able to look past this and see it's potential. He was attracted to it's location, the quiet and the properties' history. This was home to Napa vintner's Art & Bunny Finkelstein as well as the original home of Napa's Judd's Hill Winery – during renovation after purchasing the property Grant discovered the Finkelstein's original hardwood floor buried under another covering the previous owner had installed.
Original root stock on site was planted by a nearby vintner neighbor 40+ years ago to Chardonnay vines which were budded over to Cabernet Sauvignon many years ago. And the vineyard neighborhood isn't so bad; Seavey Winery is one of his neighbors and Bond sources from a vineyard just below the property.
Grant spent a number of years producing wine from Coombsville and saw how that part of Napa Valley developed under the guidance of small family-owned wineries. He sees the same thing in the Conn Valley region – where winery neighbors get to know each other and the wineries in this region similarly are also small, and family owned.
Aonair also utilizes BIOFILTRO, a system that converts winery wastewater into water that is then used to irrigate part of their vineyards. BIOFILTRO uses worms and microbes and advertises that their system will remove 99% of wastewater contaminants within four hours. This setup is located in the northwestern part of the parking lot and is easily seen from the Aonair deck.
Select Wines
Aonair produces their Grenache blend from the iron-rich rocky soils of the Sierra foothills of El Dorado County. The 2017 Grenache Blend is dark ruby in color; the bouquet is intense and diverse with earthy and savory aromas including of dark pepper, dried herbs, sage, tobacco, old cedar box, leather and a very subtle hint of Graham cracker deep in the bouquet. The predominant fruit aroma is of dark plum. Not shy on the palate, this bottling offers plenty of flavor including of dark plum, black cherry, some briary notes and it lingers with an obvious dark spice component including of cracked peppercorn. The tannins are very well-resolved and rounded in their textural feel (we tasted this wine 5 years post vintage date).
While Aonair focuses on red wines, they do produce several white wines each vintage. The 2010 Aonair Proprietary White is a blend mostly of Sauvignon Blanc blended with Sauvignon Musqué clone and Sémillon. This wine has great color in the glass – it is golden. The nose shows tropical notes along with orange blossom and hints of graphite. It is somewhat floral in nature. The plate is balanced and clean from the entry to the finish. This wine has very good acidity.
The 2014 Aonair Sauvignon Blanc also includes the Sauvignon Musqué clone and a touch of Sémillon. This wine is mostly aged in neutral oak, but Grant does use two new barrels each year to add additional complexities including a touch of spice. Aromatically this wine is generous – with notes of honeysuckle and pineapple. The wine has an impressive mouth feel – one you won't soon forget (not your typical Sauvignon Blanc). It is rich, rounded, soft and creamy. It feels like velvet on the palate.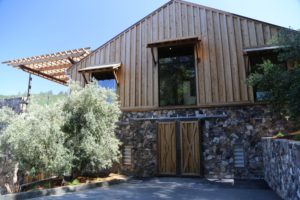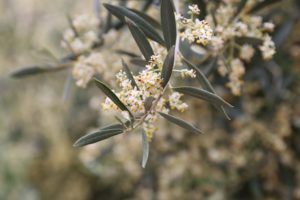 Grant sources from a number of fine vineyards up and down the Napa Valley. Once such vineyard has special significance; the Blue Oak Vineyard is 3 acres dominated by Merlot with smaller amounts of Cabernet Franc and Cabernet Sauvignon.
This vineyard is located in Coombsville (east of the city of the Napa); both Sodaro Estate and Meteor Vineyards are nearby. Blue Oak was founded in 2001 and has had several winemakers through its history. In 2006 Grant picked up the contract for this vineyard fruit and has made the wine ever since. The name of this label is a tribute to the Blue Oaks which are scattered about the property and grow next to the vineyard.
The 2008 Blue Oak Vineyard Merlot is a dark wine in the glass with dark fruit aromas including black cherry, black licorice and cassis. While the fruit aromas are dark in nature, they are not dominating, rather the bouquet is more refined. A hint of pepper rounds out the bouquet. The entry is smooth and soft with well-integrated slightly tannins on the finish.
Grant does not cut corners when it comes to wine making. He judiciously chooses oak that accompanies the wine; his philosophy is to use oak as an integrating tool rather than a dominating one. And a tool that does not impart harsh tannins. His wines finish smooth (even when they are young) without the coarseness or roughness of jagged tannins.
The 2009 Aonair Cabernet Sauvignon is 100% Mt. Veeder fruit and 100% varietal. It's an intriguing bouquet with nice depth of aroma including smoke, meat and a dustiness. As the wine breathes black fruit comes forward including blackberry. While mountain wines in the Napa Valley can often have massive tannins when the wines are young due to a variety of reasons including terroir, vineyard & wine making practices. Grant structures his wines to be approachable while young yet have the depth to as he says, "to peel off additional layers" as they age. This wine is surprisingly well integrated on the finish with lingering dusty tannins as well as fruit that hangs for some time on the palate.
The 2009 Aonair Mountain Proprietary Red is all about the fruit. This is the most aromatic of the wines we tried, showing a voluptuous floral potpourri of fragrance, both red and darker fruits, spices, and chocolate. The palate is juicy and concentrated with a balanced amount of tannins anchoring the fairly long finish. The 2013 (latest vintage we tried) is also aromatic and generous with flavor on the palate.
—
Aonair does not produce a lot of wine – their total production hovers around 1200 cases annually and each wine is in the range of no more than several hundred cases. The smallest produced wine is a tiny amount of port made each year – typically only a barrel available to his wine club on a first come first serve basis. This is not your average port – Grant hand selects and then ages the brandy (used for fortifying) in new French Oak for a number of years. It is clear alcohol when he purchases it, but after it has aged for years, it becomes dark brown and turns into a rich explosion of flavor. This is just the stuff you want to fortify your port with!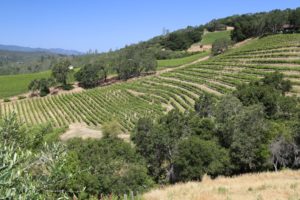 It is rare to find a winery these days whose marketing is held so close to the vest. Their website is mostly a placeholder with contact information – Aonair was not on Facebook for many years, or Twitter or other social media outlets. Grants wine's are sold exclusively through his mailing list. He has no distributors, he is not in wine shops or in restaurants. Aonair has a successful business model that places both wine quality and customer service as its utmost priorities.
As Grant says, "I try to meet with every one of my customers". Without retail outlets – in order to taste his wines you will need to make an appointment. And he is adamant about staying in touch with his customers – his cell phone is on every cork and on the back of every bottle.
Tastings are for serious wine enthusiasts and collectors. A visit is often with Grant or longtime friends he hired to help with hosting visitors. Another one of his friends is a private chef and visits may include locally grown and prepared produce. Grant's hospitality, the winery and vineyard site and the wine are what sets a visit apart here.
Tastings are either indoors in a family room style setting (fireplace, couch) or weather permitting outdoors on a deck (for brisk mornings, there is a fire-pit outside on the deck). Be sure to visit the special 'hidden' room that houses some of Grant's collection of various liquors and other mementos from prominent wine club members.
But you really want to be outdoors here; it is quiet, the views are of terraced vineyards but mostly of rugged forested hillsides stretching out as far as one can see. While this location feels quite remote, in fact it is only about a 12–15-minute drive in from the valley floor and the Silverado Trail.
For contact information visit: www.aonairwine.com