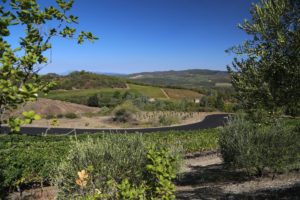 Antinori Napa Valley, formerly Antica Napa Valley, is a 1210 acre stunning wine estate located in Foss Valley at the base of Atlas Peak (or "blue mountain" as the locals call it) in the Atlas Peak sub appellation. While this is part of Napa Valley it certainly does not resemble the main valley floor, and although it doesn't take too long to get here from the valley floor, its location feels worlds away. The estate is planted to approximately 540 acres and is surrounded by hills and native vegetation. Records show that the earliest grapes planted in Foss Valley were in 1881 and the earliest grapes planted in Atlas peak were 1870.
The Antinori's focus on the long term, and they continuously look to the future, making decisions that will influence future generations, decades from now. They respect their long tradition yet are open to new innovation in the industry. Patriarch Piero Antinori was encouraged by his father to look at other wine regions in the 1960s. In 1966 he came to Napa Valley and met with Robert Mondavi and after looking at valley's landscape, decided someday he would have property in the region.
The Antinori's have a remarkable story and history. Their wine business is one of the world's 10 oldest family businesses; they trace their wine beginnings back to the year 1385 and another 200 years before that in finance. That's more than 6 centuries, or in their case 26 generations of involvement in the wine industry. They started their business in Italy 170 years after the Magna Carta was signed in England, during the century of the Black Plague, the Hundred Years War, the beginnings of the Ottoman Empire and the Renaissance. Their business was founded before Columbus set sail and about 450 years before wine grapes were even planted in Napa Valley.
Piero's contributions to the Italian wine world are significant; in 1971 he did something unheard of by blending about 20% Cabernet Sauvignon into Sangiovese and releasing the now iconic wine called Tignanello. It was groundbreaking for a number of reasons; it was the first time Sangiovese was aged in barriques; it was blended with unconventional non-Italian varieties such as Cabernet Sauvignon and Cabernet France and it was one of the first red wines in Chianti Classico region made without white grapes.
And in 1978, Antinori developed Solaia, initially a Cabernet Sauvignon dominated wine blended with a smaller amount of Cabernet Franc including the same two varietals in 1979. From 1980 onwards Sangiovese was introduced into the blend. This wine is only made during exceptional years.
Piero's brother Ludovico is also one of Italy's most influential wine personalities. In 1981, in Bolgheri, he founded Ornellaia (incidentally used to be owned by Robert Mondavi Winery) and Masseto, and then later Tenuta di Biserno, in Bibbona home to his flagship and extremely limited production wine, Lodovico.
In 1985 Piero Antinori invested a small percentage into a partnership with Champagne Bollinger (also a small percentage) and United Kingdom based Whitbread who controlled the majority interest in this Napa Valley estate before selling to Allied-Lyons. Whitbread was primarily interested in growing Chardonnay and Cabernet Sauvignon, but Antinori convinced them to plant Sangiovese, and lots of it, in fact at one point this site was home to the largest Sangiovese vineyard planting in the U.S. (well over 100 acres) and was estimated to hold 80% of the entire Sangiovese plantings in the country. Sangiovese planted on site was from the Grosso clone Antinori provided from Italy. Today the Sangiovese, other than 2 blocks, has been replanted to Cabernet Sauvignon.
Dr. Dick Peterson was hired to oversee the project and was the winemaker from 1986 through 1990. The project was known as Atlas Peak Vineyards; the first wine produced from the vines was a very small production in 1988 which was never released. The first wine released was appropriately a Sangiovese from the 1989 vintage. It was priced higher than many premium Napa Valley Cabernet Sauvignon wines at the time. It was a hard sell. And over time, they learned that Sangiovese doesn't express its best character in California as compared to where it shines the most, in Italy.
This was the first Antinori owned property in California. And it was Atlas Peak Vineyards who successfully applied to gain sub appellation status from the TTB (the branch of the government that oversees alcohol licensing and approvals) in 1992. At the time, Atlas Peak Vineyards was the only bonded winery in Atlas Peak.
Wine grapes were growing on the property before Prohibition but by in large the property was undeveloped. It was however a stop on the old stagecoach line (still marked today). For 15 years the property was leased to one of the partners; after the lease ended in 1993, the Antinori family bought out that partner and took over the vineyard and winery operations of Atlas Peak Vineyards.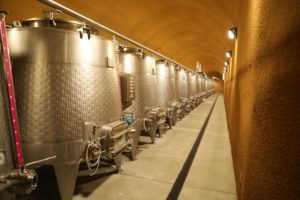 In 1994 the winery was constructed, primarily a 35,000 square foot wine cave drilled into the side of one of the hills on the property. Its size was calculated on needing to store approximately two year's worth of barrels (8,000 barrels). This cave is among the largest wine caves in Napa Valley which includes Palmaz (nearly 110,00 square feet), Jarvis (45,000 square feet) Rutherford Hill (41,000 square feet), Far Niente (40,000 square feet), Stag's Leap Wine Cellars (38,000 square feet), Inglenook (38,000 square feet), Schramsberg (34,000 square feet) and Pine Ridge (32,000 square feet).
Early contemporary Napa Valley cave driller Alf Burtleson was contacted to drill this cave but he and his team were already busy drilling other caves including at Clos Pegase; his wait time was estimated to be a year before he could get to the Antinori project. So long time Estate Director, Glenn Sala and his team visited Alf on the Clos Pegase cave construction site and noted all the pieces of equipment being used. Salva was then introduced to Dominion Steel and Coal Corporation (DOSCO). DOSCO informed him of a mining operation which was permanently closing and all the related equipment was for sale. Salva recalls they purchased everything including sticks of dynamite. Ultimately employees using equipment they purchased from that mining operation drilled the cave; each tunnel is roughly the equivalent to the height of a two story building.
And when construction was completed they sold the equipment to Glen Ragsdale who used the machines to begin drilling caves for wineries for his construction company, Glen Ragsdale Underground Associates. Ragsdale's company has drilled more than 50 caves since then including their first at Pine Ridge Winery. Ragsdale also drilled the cave for Stag's Leap Wine Cellars which Antinori would later become a partner in. In 2007 in conjunction with Chateau Ste. Michelle, Antinori formed a joint venture and purchased Stag's Leap Wine Cellars.
No gunite was used in the original cave and after decades the inside walls have taken the appearance of a much older cave; they are covered with varying thicknesses of a soft black mold which is harmless to those visiting and working inside. For many years the mold was allowed to grow and eventually developed a thick covering over the cave walls. Much of this mold growth has since been removed from the walls and its missing insulative effects were immediately noticeable with a sustained temperature drop inside of about 4 degrees Fahrenheit. The cave remains cool throughout the year, typically between 55 and 57 degree Fahrenheit and also retains high humidity ranging from about 88% to 95%. The inside of the cave looks decidedly European; it has the "character" one often associates with a historic wine cave.
In 2018 one of the cave tunnels was converted into red wine production. The walls were coated with gunite and twenty, four-ton stainless steel conical-shaped fermenter tanks were installed in a long row. A punch down device located on tracks can be moved as needed to punch down individual tanks during harvest. And each tank is setup for micro-oxygenation. One of the key elements of this setup has been their ability to precisely control temperature during fermentation resulting in better extraction in the wines. Both the tanks and their configuration are modeled on a similar setup at Tenuta Tignanello in Italy for their Solaia production. The first vintage produced in this part of the winery was in 2019.
The Antinori's purchased a 40-acre vineyard adjacent to their large property and planted this to vines while they waited for the 15-year lease to finish. As a result, they were able to make their own wine before having to wait for the lease to complete. The first wine commercially produced under Antica was a 2004 Cabernet Sauvignon and a 2006 Chardonnay.
The property ranges in elevation from approximately 1500 to 1800 feet with vines planted both on flat ground and on the sides of adjacent hills. When one stands in front of the hospitality center looking roughly east, the tallest peak with antennas on top is the true Atlas Peak at 2,663 feet. Cabernet Sauvignon comprises about 64% of the vineyard planting along with other Bordeaux red varieties. Chardonnay is about 25% with small plantings of other varieties including, Moscato, Sauvignon Blanc, Sangiovese, Syrah and even Pinot Noir. Limited production wines are produced from these varieties for wine club members only. Salva told us he calculated, based on their spacing and number of vines on the property (slightly more than 1 million), if each one of these vines using their spacing was lined up in a very long row, it would stretch from their property all the way to Ensenada, Mexico (approximately 600 miles). And Antinori Napa Valley has approximately 1/3 of all the grapevines in the Atlas Peak appellation.
Because of the elevation and relatively close proximity to the San Pablo Bay to the south, the site features moderate weather year around. Unlike the the northern part of Mt. Veeder, Howell Mountain, Diamond Mountain and Spring Mountain appellations, this part of Atlas Peak doesn't experience as significant an inversion layer, so the nights are also fairly cool even during the summer. This contributes to a long growing season and hang time. Sugars can get high, but they have the hang time to ensure that other phenolics develop and "balance" out the ripe fruit before the actual harvest.
Antinori produces wines exclusively from grapes from the estate but also sells grapes to a diversity of other wineries. And they offer custom crush services on site as an option for producers purchasing their grapes. Their total production is just over 10,000 cases which is an extremely small amount compared to what they could produce.
Today Piero Antinori has stepped back somewhat from the business and his three daughters Albiera, Allegra and Alessia are in charge of Antinori Napa Valley's operations. In 2006 the name of the winery and property was changed to Antica Napa Valley. In 2023, Antica was rebranded to Antinori Napa Valley. For reference, the name Antica was created from Antinori and California).
Antinori has approached the development of this property with a spirit of innovation and an eye on the future but also with a respect for the past. It has taken them time to refine and learn their property, especially in the vineyards and mistakes have been made, but have importantly resulted in additional knowledge about the intricacies of their property. It has been exciting to witness the changes that have taken place here over the years and the evolution of both their vineyards, cellar, the resulting quality of wines and a focus on elevated hospitality experiences.
Hospitality
A visit by prior appointment includes an overview of the property, a visit to the caves and a sit down tasting inside the 4,000 square foot tasting salon completed in 2022. This building is located near the entrance to the cave. Securing a coveted permit in 1986 in regard to hosting visitors on site was the reason they were able to build the new hospitality center. Piero originally sketched the design for the building; it was overseen by the city of Napa based firm, James Jeffery Architects. This building was completed in 2022 and is located next to the cave entrance. It was built with a liberal use of glass doors (which fully open) to help capture the stunning exterior views from the outside terrace and reflecting pool.
The hospitality space offers intimate looks at the Antinori Family history including related books, the iconic image of their family tree showcasing 26 generations, European works of art and a number of shield shaped art pieces including a wine chalice tied into the Florence vintner's guild, the Arte Fiorentina dei Vinattieri. Heir, Giovanni di Piero Antinori joined this guild in 1385; this is the year when the Antinori family began making wine commercially.
A commercial kitchen is located inside and tastings are paired with a variety of small delicious bites.
As of our latest update to this review, two experiences are offered, an Estate Tasting featuring current release wines lasting approximately 90 minutes and a Library Tasting featuring both current vintages and older bottlings lasting approximately two hours. Several additional member-only experiences are available including a private tasting in a 'show cellar'.
Select Wines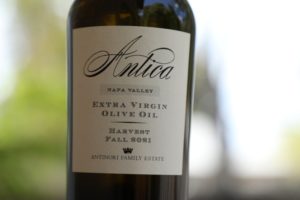 In 1986 it was decided to plant Chardonnay on the property. For reference, in Umbria, the Antinori family have owned Cervaro della Sala since 1940 and had been producing Chardonnay from that estate since 1985 – bottled as Cervaro della Sala. In their search for Chardonnay to plant on their property on Atlas Peak they located nurseries that had plenty of Chardonnay grafted on to AXR rootstock; this was when vines were starting to be removed in Napa Valley due to phylloxera and it was decided to hold off on buying this rootstock. Additional rootstock they looked at grafted to Chardonnay was meant for more riparian areas, not their elevated site.
Glenn contacted Herman J Weimer, a winery and nursery in the Finger Lakes District of upstate New York and inquired to the availability of Chardonnay. Weimer had 3309 rootstock already grafted to Chardonnay; 35,000 vines were ordered and trucked from New York to the Antinori property. This was the Weimer clone of Chardonnay (originally from Burgundy); today several other Chardonnay clones grow on site.
The Antinori Chardonnay is a true expression of the diversity of terroir on their property, primarily planted to red varieties. Despite being so close to warmer parts of the property, there are lower elevation cooler pockets which are ideally suited for growing Chardonnay. Each year they often are fermenting Chardonnay and Cabernet Sauvignon at the same time.
The 2021 Antinori A26 Napa Valley Chardonnay is medium gold in color; the bouquet is highly aromatic and attractive with both floral and fruit scents. It offers notes of star jasmine, honeysuckle along with peach, white nectarine and apricot. The palate offers a rounded texture but is not viscous or heavy. This is an extremely balanced wine between its core components of texture, flavor and acidity. It offers both brightness and energy on the palate with flavors of melon, a light citrus note including ripe pomelo. And those who are used to drinking buttery, oaky and heavy textured wines of this variety, perhaps wouldn't be able to identify this as Chardonnay in a blind tasting.
This wine is a blend of two different clones, Weimar and 96. It did not go through any malolactic fermentation, was barrel fermented and aged entirely in new French oak. In order to minimize oxygen introduction and keep the focus on freshness, the lees were not stirred; it is 13.5% alcohol. This wine is named in homage to Piero's three daughters and the 26 generations of the Antinori family. This wine is also bottled in magnums, some of which are kept for their library and are released at a later date.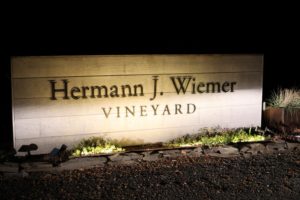 The 2008 Antica Chardonnay shows superb balance – both in flavor, acidity and structure. It's a crisp clean wine that will pair well with food. The bouquet offers notes of baking spices and honeysuckle. The mouth feel is rounded but not too soft and the finish is clean and lingers delicately. Piero talks about making wines that are "fresh", wines that invite another sip; this one certainly does that. It has both style and elegance.
Cabernet Franc was one of the first varieties planted on the property with bud wood originally gifted by winemaker at Chimney Rock at the time, Doug Fletcher from a terraced hillside block on the Chimney Rock property. As they worked with this variety they discovered it was the wrong clone for the property and they realized any Cabernet Franc needed to be planted on some of their most rocky and best terroir. They have since transitioned to ENTAV clones including of Cabernet Franc. Today they have one of the larger Cabernet Franc plantings in Napa Valley at nearly 30 acres. This is an extremely important variety for Antinori and it is blended in several of their other bottlings.
And a huge part of their vineyard development has been implemented from the data produced from the Chianti Classico 2000 Project. This project began in the late 1980s with a goal of elevating and improving viticultural practices in the Chianti Classico region in Italy. It looked at numerous aspects of viticulture including soil management, rootstock, clones, row direction, vine density, cover crops, and types of trellising among other items. Antinori Napa Valley moved to French ENTAV clones and changed the density of their plantings up to 2400 vines per acre in some cases, among other viticulture practices. Salva calls the changes a transition to, "the new generation vineyard".
The first varietal bottling of Antinori Napa Valley Cabernet Franc was in 2019. The 2019 Antinori Napa Valley Cabernet Franc is 83% Cabernet Franc and 17% Cabernet Sauvignon. The wine making team blended in Cabernet Sauvignon to build up the mid palate. This wine is dark ruby and opaque; the aromatics are clearly driven by the Cabernet Franc and not the Cabernet Sauvignon. The bouquet offers elegant scents of dried tobacco leaf, a subtle herbaceous (but not a greenness and that is an important distinction), sweet tobacco and violets. Cabernet Franc should showcase some of its inherent savory qualities and this wine does so. The tannins are medium structured, earthy and linger with both a light dryness and a darker spice filled finish.
The Townsend Cabernet Sauvignon is named after a neighbor June Townsend who in 1998 sold 24 acres of land to Antica that was not yet developed to vineyards. June was a 7th Day Adventist and did not drink alcohol and initially was hesitant to sell her property to be eventually planted to wine grapes. Ironically, her former land is now home to some of Antinori Napa Valley's finest Cabernet Sauvignon vineyard blocks and in tribute to June, they named a wine in her honor. Total annual production of this wine is typically under 300 cases; it does not see distribution. The first vintage of this wine was in 2008 and historically it has not been made every year due to weather issues including fires. Missing vintages include 2010, 2011, 2017 and 2020.
The 2019 Antinori Napa Valley Townsend is 90% Cabernet Sauvignon and 10% Cabernet Franc. This wine is deep ruby in color; the aromatics are immediately attractive including of ripe blackberry, boysenberry, and blueberry with additional scents of dried herbs and a hint of toasted oak sweetness. The lively palate is fresh, savory and very flavorful. It offers bright acidity along with flavors of red plum, currant, cranberry and a darker lingering spice (crushed peppercorn). The well-structured and slightly drying tannins outpace the fruit on the finish. This wine shows plenty of life in its youth and all the characteristics of being able to age for years to come.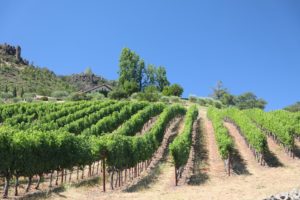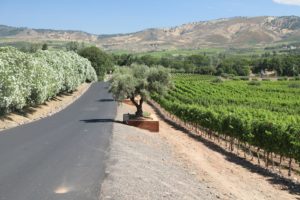 In 2019 Antinori Napa Valley introduced their flagship wine, a Cabernet Sauvignon made from the best lots each year from some of the choicest parts of their property including rocky hillside blocks. The name is taken from the Antinori 800 year old family crest with the words, te duce proficio which translates to, "Following my ancestors, I flourish".
The 2019 Antinori Vineyard Proficio is a blend of 69% Cabernet Sauvignon and 30% Cabernet Franc. This bottling is deep ruby and opaque with an amaranthine rim. The bouquet is as dark as the wine's color, offering aromas of Santa Rosa plum and blackberry along with a dried tobacco leaf spice and a dusty note including of freshly tilled soils. One can smell its mountain site character. The oak is a complementary characteristic here with the fruit the star of the show. This balanced but robust bottling offers plenty of layers on the palate, both in flavor and texture. It shows blackberry, dark cherry, plum, crushed peppercorn and dried herbs, especially noticeable on the finish. It lingers with mouth-watering acidity along with gripping, dry, chewy, dense and long-lasting well-textured tannins. Its savory, its bright and its energetic. The cooperage Taransaud's most premium barrel, the T5 is reserved for the aging of this wine.
The 2007 Antica Cabernet Sauvignon is medium ruby with a noticeable brickish color (we tasted 15 years post vintage date). The bouquet offers plenty of bottle bouquet – we noted initial tertiary aromas of tar, mushroom, a gaminess and forest floor. Give this wine time to open and it will become less 'meaty' revealing brown dessert spices, brown chocolate and espresso. The fruit has taken more of a back seat on the bouquet to these other aromas. The palate offers flavors of raspberry, cooked blackberry and dried cranberry. The juicy finish lingers with a light touch of integrated tannins and higher-toned red fruits. Its peak was probably a few years ago.
The 2006 Antica Cabernet Sauvignon is 100% varietal and is a throwback to when this variety was often bottled without being blended. The wine is dark in the glass and the aromas immediately show notes of smoke, spice and cigar. The palate is all about darker toned fruits including blackberry and plum and is somewhat briary with a finish that shows dusty tannins which are both from the oak and fruit. With nice acidity this is an excellent wine to pair with a variety of foods – pasta immediately came to mind when we were drinking.
When Estate Director Glenn Salva was first exploring this part of Atlas Peak in the mid 1980s, he asked around in regard to who might have been already growing grapes here. He was referred to a Mr. Giuseppe Soracco. Glenn walked up to Giuseppe's house unannounced; initially a bit wary of Glenn's intentions, he asked what he wanted. Glenn informed him he was working with the Antinori's on a new neighboring property. Glenn recalls the mention of the name Antinori to an old Italian was immediately like the 'sea parting' and Giuseppe quickly warmed to him.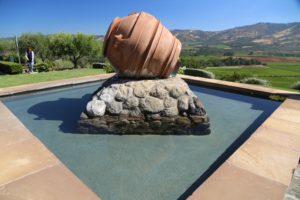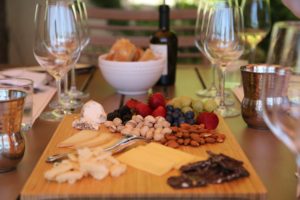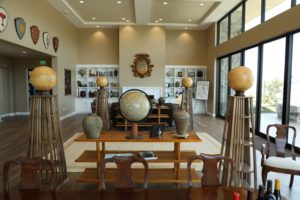 One day Glenn visited Giuseppe and noticed the man wasn't in his normal spirits. Glenn asked him what was wrong and he was told his family wanted to move him to an assisted living facility and that his land would probably be sold. While both men were sitting at Giuseppe's kitchen table, he pointed to a grapevine growing outside. He told Glenn that he and his brother Giovanni had brought cuttings of this vine from the 'old country' referring to their old home in northern Italy (Genova). He asked Glenn if he would take cuttings from the old vine and plant it on the Antinori property. Glenn obliged, and Giuseppe in fact soon moved to an assisted living facility, his property was sold to Silverado Vineyard and the old vine was removed during the new ownership. Incidentally Soracco was part of the family who owns and operates Liguria Bakery in San Francisco's North Beach. This bakery was founded by Ambrogio Soracco in 1911, used to be a full-service bakery but since the mid 1980s has only produced and sold focaccia. We've been enjoying their focaccia since the late 1970s, primarily their delicious raisin bread.
But the cuttings survived and the variety was identified as Moscato. Today Antinori grows 1/2 an acre of this variety and produces a very limited production dessert wine each year. The Antinori Napa Valley G&G Soracco is named in honor of both brothers using the initials of their first names.
The 2014 Antica G&G Soracco (tasted 8 years post vintage) is medium amber in color; the bouquet is sweetly fruited and rich; it smells comforting like cozying up to a roaring fire wrapped in a warm blanket. It offers intense aromas of ripe apricot, warm honey, yellow peaches in light syrup, orange rind, pineapple, bananas on the verge of over ripeness when their skins turn a mottled brown, butterscotch and caramel. Its texture is satiny and creamy, the equivalent on the palate to running ones' fingers over smooth velvet cloth. Some of the aromatics are mirrored as flavors including both ripe and dried apricot, peach, yellow nectarine, honey and caramelized sugars. The finish offers a subtle bitter note at the very end; we are always hyper sensitive to this when tasting dessert wines including wines made from Pinot Gris, but most people will probably not notice this. If you are lucky enough to have this wine in your possession and time is on your side, hold it for several more decades.
The 2016 Antica G&G Soracco is amber in the glass with rich aromatics of honey, stone fruit and an orange peel zest. Certainly, sweet but not cloyingly so, this bottling offers flavors of honey, brown sugar and ripe apricot. Noticeably supple in texture from start to the end, this wine does not show an oily 'heaviness' characterized by sometimes riper and more linearly driven dessert wines of this style. The finish is soft and lingers with flavors of honey. Decent acidity. Definitely serve chilled. The two vintages we have tried to date of the G&G Soracco will appeal to dessert wine enthusiast who love that tantalizing combination of richness, texture, sugar and acidity. And the folks at Antinori can recommend a dessert pairing with this wine, a type of pie from a Tuscan recipe using cosmic crisp apples from Washington state. Perhaps enjoy a bottle of this on May 9th every year (National Moscato Day).
—
Atlas Peak has a long history of fires. Salva recalls visiting the property for the first time in the mid 1980s and noticing the terrain looking like the moonscape from a fire in 1982. In October 2017 the devastating Atlas Peak fire burned around their vineyards and right up to almost the edge of the winery; remarkably the hospitality center and offices did not burn. And only a few rows of Sangiovese were damaged by the fire; such limited losses were quite remarkable considering the scope and power of this fire.
And in addition to the wines, Antinori Napa Valley also bottles premium estate grown extra virgin olive oil which is harvested from approximately 500 olive oil trees growing on the property. The wines can be purchased direct; they do have national distribution but with only about 10,000 cases total, distribution is somewhat selective. Locally one can sometimes find select bottlings at the Bounty Hunter in the city of Napa.
For more information, to purchase wine, or to schedule a tasting, visit: www.antinorinapavalley.com
Antinori Napa Valley

Antinori Caves

Antinori Vineyards

Antinori Hospitality

OTHER ANTINORI OWNED FAMILY PROPERTIES, ITALY
The Antinori family owns a number of vineyard and estate properties in Tuscany, Italy. We highlight the ones below that we have personally visited. Additional notes and photography will be added to this review as time and budget permits as we visit more Antinori owned properties.
Antinori Nel Chianti Classico
This estate is located about 25 minutes outside of Florence Italy in the small town of Bargino. This is almost directly south of Florence, off of Highway SR 2 and only about 30 minutes from the beautiful town of Siena. Many airlines and flights connect to Florence including Alitalia, Air Berlin, Delta, KLM and Lufthansa.
A guided tour provides a general overview of the cellar, the winery and its production. Much of the winery is made from local materials and the cellar is no different. Hundreds of "baked" terra cotta bricks line the architecturally pleasing curved walls with barrels neatly organized. Two tasting rooms are perched deck like over the cellar and are lit by intimate lighting. Tastings are hosted in one of these rooms.
The winery itself was initially designed in 2002 and construction began in 2006 and finished in 2012. Opened in 2013, arguably this beautiful estate is the Antinori family show piece including housing the headquarters for business (previously was located in downtown Florence. The winery itself is an architectural masterpiece. It is rare when a cellar is an inspirational place, almost like being in church, a reverent, darkened spot to bathe in the quiet and beauty of the interior. Nature often personally inspires us, but it is rare when one can be so moved while indoors – especially at such a modern winery.
The 67,000 square foot winery itself is not obtrusive on the landscape – while its physical footprint is a large one it is nearly all housed underground. Large rust-colored vents above ground provide air down to the parking garage. And the restaurant is also above ground where it should be, perfectly situated for the views of the rolling Tuscan hillsides.
The parking garage is an artistic piece in and of itself. Parking garages worldwide are generally mundane boring "boxes" where one leaves an automobile for a while and are constructed in a way that one has no interest in lingering inside. Not so with the one here; it is an beautiful piece of art that create an anticipation of actually seeing the winery. Cities that rotate around the automobile such as Los Angeles would benefit by taking careful notes on this particular design.
A section of the winery houses a small museum. Pucini, the famous composer of operatic scores said he wrote better after he enjoyed drinking some fine Antinori wine. Some of his original scores are displayed under glass. A true highlight of this museum is a massive dual wooden and iron wine press dating back to the Renaissance; this press is unique not only for its size and structure but the fact that is was personally designed by the great Leonardo Da Vinci.
Classical paintings collected over the centuries by the Antinori's, a wine library, models of the family's other estates and other historical artifacts are also on display.
A decent sized auditorium is located next to the museum and features documentaries about the Antinori family history, the construction of the winery (5 years condensed into 15 minutes) and presentations about their other estates.
One does not want to miss a stop at the restaurant during their visit to the property. This restaurant is simply called "Rinuccio", named after a family member who started making wine in the year 1180. It is located on the roof of the cellar and overlooks rolling hills and nearby Tuscan vineyards. Large glass windows bring an "openness" to the dining experience. The culinary focus is on Tuscan cuisine and Tuscan produced wines. Hamburgers are on the menu, but these aren't your normal American hamburgers; instead, they are gourmet, served between local bread and presented on a wooden board. A tasty chicken salad is served on a bed of fresh lettuce.
The staff speak a number of languages, welcome visitors and can suggest food and wine pairings.
The wine store is large and features a tasting room showcasing many of their current vintages.
The estate is located in the small town of Bargino at Via Cassia per Siena, 133 a short drive from either Florence or Sienna. For more information visit: www.antinorichianticlassico.it
RESTAURANTS
Cantinetta Antinori, Florence Italy (opened 1957)
Cantinetta Antinori, London UK (opened 2023)
Cantinetta Antinori, Monte Carlo Monaco (opened 2017)
Cantinetta Antinori, Moscow Russia (opened 2004)
Cantinetta Antinori, Vienna Austria (opened 1995)
Cantinetta Antinori, Zurich Switzerland (opened 1994)
This restaurant is located in the center of Zurich within an easy walk of the Limmat River. This was the first Cantinetta Antinori to open outside of Italy. Parking in this part of the city can be challenging so one may have to park in one of the regional parking garages and walk up to 10 or 15 minutes to the restaurant. Cantinetta Antinori features both outdoor and indoor seating (two floors on the inside). Reservations are recommended but if tables are free they will accommodate walk-ins including for bar seating. Hosts greet visitors in Italian.
Villa Antinori da Bindella, Zurich Airport
This restaurant is located in the Airside Center at the Zurich Airport. Its ownership is a partnership between the Antinori family and the Switzerland based Bindella family. Bar and table seating with some of the seats offering views of nearby planes and one of the take-off runways.
Osteria di Passignano, Passignano
Agriturismo Fonte De' Medici, Montefiridolfi
Procacci, Florence
ITALY WINE ESTATES
Antinori in the Chianti Classico – San Casciano VP
Badia A Passignano – Chianti Classico
Fattoria Aldobrandesca, Sovana
Guado al Tasso – Bolgheri
Hall Castle – Orvieto
Le Mortelle -Castiglione della Pesca
Peppoli – Chianti Classicoia
Pian Delle Vigne – Montalcino
Prunotto Barolo – Barbaresco
Tenuta Montenisa – Franciacorta
Tenuta La Braccesca – Cortona – Montepulciano
Tenuta Monteloro Fiesole
Tignanello – Chianti Classico
Tormaresca Castel Del Monte – Salento
Villa Antinori – Tuscany
NON ITALY, INTERNATIONAL WINE ESTATES
Antinori Napa Valley
Stag's Leap Wine Cellars
Col Solare, Washington
Viña Haras de Pirque, Chile