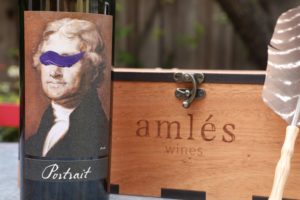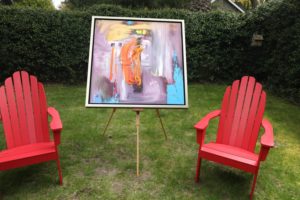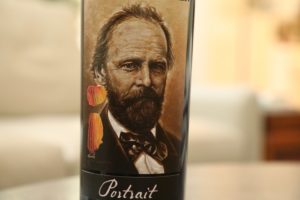 Amlés(pronounced ahmlay) was founded by Scott Miller and his wife Sharon Virts with their inaugural vintage in 2018. This Napa Valley brand is built around Scott and Sharon's interests and passions in life including wine, history, art and charitable giving. The word Amlés was created by spelling Selma backwards and adding an accent mark over the letter e. Selma is the name of their 200+ year old residence, an antebellum mansion in Leesburg, Virginia.
Both Scott and Sharon have accomplished careers based in technology and government contracts. Sharon, from Virginia, started what was called Federal Consulting Services in 1991, a business focused on advising IT companies in regards to strategies relating to the U.S. Federal Government. The company name was later changed to FCi Federal; she and Scott sold the business in 2017. She is also an artist; images of several of her paintings are used as wine labels for the Amlés wines. And she wrote and published in 2021, Masque of Honor, a Historical Novel of the American South. This sizable book is based on a true story and takes place in antebellum Virginia.
Scott is originally from Philadelphia; he developed an interest in wine in the late 1970s. A friend's father was really into wine and over dinner posed the question to Scott, "what kind of wine do you enjoy". Scott recalls he said something like, "Lancers", instead he was soon treated to a 1967 bottle from Burgundy. This bottle set him on a path to explore more French wines including from Bordeaux and Burgundy and then later wines from Italy.
Scott's his first trip to Napa Valley was in 1980. He fondly remembers lunch at the former Etoile Restaurant at Domain Chandon followed by a visit to Robert Mondavi Winery. Two things stood out from that trip: being immediately attracted to the beauty of the valley and how dusty things were. His trip was at the end of summer before harvest.
Around the year 2000, Scott worked with an engineer named Forrest Hobbs. Forrest told Scott his brother Paul Hobbs makes wine in Napa and Sonoma. It was around this time that Scott started thinking about doing something in the wine industry.
Scott was first introduced to one of Philippe Melka's wines around 2008 while on an island off the coast of North Carolina. He noticed the restaurant he was dining at carried as he puts it, "mostly beach wines", lighter styled bottlings. He asked the waiter for a red wine and for something not on the list. And he was told the restaurant had recently received some other wines including a Melka CJ Cabernet Sauvignon. Scott enjoyed this particular bottling and during his next trip to Napa Valley made a point to seek out more of Melka's own wines. He got to know the Melka wines before he even met Philippe. And he became friends with Sylvie Laly, Melka's long time Brand and Sales Director.
When he and Sharon began to consider starting a wine brand he asked Sylvie for a winemaker recommendation, never expecting she would suggest Melka. She eventually introduced him to Melka and over lunch, Scott outlined his goals for a potential wine brand. Melka listened and told Scott the project sounded fascinating, was something very unique and no one had ever presented these ideas to him before. He said, "I need some time to think about this further". After about week, Philippe called Scott back and said something like, "I need to be your winemaker". Scott describes Philippe as a humble guy who makes great wines.
Select Wines
The Amlés portrait series highlights influential personalities who have a historical connection to wine in the U.S. These Cabernet Sauvignon bottlings are Amlés most premium offerings. Scott considers Thomas Jefferson one of his heroes; the first Amlés portrait bottling featured a likeness of Thomas Jefferson on the label. Inspired by Mouton Rothschild who has changed the label of their wine every year since 1945, featuring a different piece of artwork, each year the person featured on the Amlés bottlings for the portrait series changes.
Amlés works very closely with Texas based artist JD Miller; Scott and Sharon have a number of his oil paintings in their personal art collection. In fact several of his paintings are used as images on their bottlings. His works often look 3D as he paints using a 3-dimensional oil technique. And for the portrait series, labels are sent to JD's studio in Dallas where he hands paints a specific image on each label. For example in 2018 he painted a purple sash over the eyes of Thomas Jefferson to represent Jefferson's failings in regard to slavery (turning a blind eye). Each hand painted image differs slightly; it often takes JD several days to paint every label.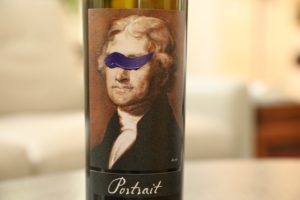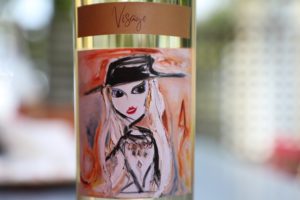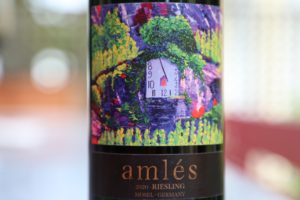 Each vintage of the portrait series is sold as a 3-pack housed within a handsome wooden box. And each box includes material relating to that vintage's portrait. For the 2018 portrait bottling of Thomas Jefferson, a real quill is included with the wines. Once the wine shipment has been confirmed as received, a follow up bottling of period ink (similar to what was used during Jefferson's life) is then be shipped.
The 2019 Amlés Wines Portrait Cabernet Sauvignon Glass Slipper Vineyard Coombsville Nathan Coombs is deep ruby and nearly opaque in the glass; the aromatics are darkly fruited including of blackberry, boysenberry, mulberry and dark plum. But there's more to its aromatic layers including a light wintergreen scent, both sweet and darker pipe tobacco, dark chocolate, old leather (made us think of the smell of a baseball mitt on a warm day), mole (Mexican cuisine) and an appealing note of old cedar. The palate shows the same layered depth as on the bouquet with flavors of blackberry, dark plum, dark currant, crushed peppercorn and some lasting woodsy spices. This wine shows good acidity. One can feel the density of the tannins but without any residual heaviness. And that is an appealing characteristic of this bottling. The finish lingers savory with a persistent dryness. While drinking very well in its youth, this bottling is also clearly built to age.
Nathan Coombs traveled across the U.S. by wagon train from Massachusetts to Oregon in 1842. He made his way down to California in 1843 where he took a job in Bodega Bay, Sonoma County. He moved to Napa in 1845; for reference the first western settler in Napa Valley, George Yount built his log block house near present day Yountville only 9 years earlier in 1836. At the age of 20 in 1846 he participated in the Bear Flag revolt in nearby Sonoma. In 1847 he purchased 80 acres and the next spring at age 22 he surveyed and founded what became the city of Napa. Incidentally, the first building in the new city was a saloon built from lumber milled at the Bale Grist Mill near St. Helena.
Coombs died at age 51 in 1877. The December 28, 1877 issue of the St. Helena Star listed only four short lines in reference to his death. But the December 28, 1877 issue of the Napa County Record had a much more detailed obituary noting his election as a member of the Assembly in 1855, his love for horses and the breeding of numerous thoroughbred colts on his property.
To honor Coombs's contributions, JD Miller painted two small orange/reddish markings on the left side of the label. These represent 'trail markers' indicating Coomb's trailblazing and pioneer spirit as he migrated by wagon to the west coast of the U.S.
The Reflectionist Series wines feature an image of an abstract painting by JD Miller and are wines produced in homage to Reflectionism, a belief rooted in perspective in regard to people's thoughts and reactions reflected based on their life experiences. The 2019 Reflectionist Cabernet Sauvignon is deep ruby/garnet in color; the bouquet is attractive and smells youthful with the fruit aromatics showing most prominently and the barrel influence a complementary character. It offers scents of blackberry, dark cherries, raspberry and rose petals along with notes of dark pepper, a hint of tobacco spice and mocha/chocolate as the wine continues to evolve. This very balanced bottling reveals flavors of plum and dark cherry. It's textural feel is seamless with fine and rounded tannins lingering with a light dusty nuance. The image on the label of this bottling is titled, Expression of the Vine. This wine was aged for 20 months in 100% new French oak barrels.
In 2021 Amlés produced their inaugural Napa Valley white wine, a Sémillon / Sauvignon Blanc blend called Visage. Each variety was fermented separately in oak barrels and aged for about 16 months before being blended together. We first tasted this wine a few hours after it was bottled and made a point to revisit it 1.5 days later. This bottling is medium yellow in color; the aromatics are bright and fresh and remind us of spring with scents of lemon juice, citrus blossom, the fine mist of pomelo rind when it is being peeled, freshly mowed lawn, melon, papaya, and as it evolves, a hint of star jasmine. Everything about its character speaks of balance from its mouth-feel, flavor and acidity. It offers a rounded and light creamy texture with flavors of apple, lime, white nectarine, peach and lychee. Lingering with plenty of fruit and bright acidity, refreshingly this wine begs another sip. And also refreshing is the fact that it is only 12% alcohol. The attractive artwork on the label is an image of a woman painted by Dallas based and talented artist Lea Fisher, titled, California Dreamer. And if one runs their fingers over it, one can feel its texture.
In addition to their Napa Valley wines, Amlés also produces wines Scott refers to as the colors of the wine world. These are wines from around the world created through a partnership between Amlés and select international wineries. Their inaugural vintage was a 2020 Riesling from the Mosel region in Germany. This wine was fermented both without the skins in steel vats and on the skins. And 30% of the grapes used for this wine were harvested from the winery's Bernkasteler Lay Kabinett sites (blue slate soils).
An image of a colorful painting by Sharon titled, Sonnenuhr is used as the label. It is based on the Sundial Blue Slate Vineyard, the source of the Riesling grapes for this wine. This wine was made by Ernst Loosen of Dr. Loosen Estate. Additional wines are produced from Tuscany with Italian winemaker Giacomo Neri of Casanova di Neri.
Jefferson's Monticello

Charitable Efforts
Sharon founded the Sharon D. Virts Foundation in 2016, today known as the Virts Miller Foundation. This non profit primarily focuses on supporting healthcare and education needs in Loudon County, Virginia where both Scott and Sharon reside. The Inova Virts Miller Family Emergency Trauma Center located at Inova Loudoun Hospital is named in honor of their generous support.
The foundation offers a yearly grant program with support provided for reading, art, and music programs, provides financial help to students who need it the most and supports a diversity of after-school programs.
Preservation is also one of their core principles; the foundation has been been involved in restoring several historic homes in this part of Virginia, providing financial support to the Loudoun Museum as well as to the burial grounds of the enslaved at Belmont Plantation.
Proceeds from the sales of Amlés wines are donated to a variety of charities in Virginia. And as their charity works continues to grow, they have supported Calfire and Harvest STOMP, the fundraiser event for Napa Valley Grapegrowers and the Napa Valley Farmworker Foundation.
—
The wines are sold direct but also have limited distribution in several states including Virginia (where Scott and Sharon reside), Florida, New Jersey and Texas among others. For more information and to sign up for the Amlés allocation list, please visit: www.amleswines.com