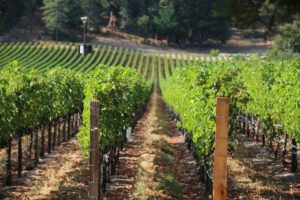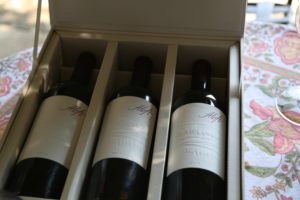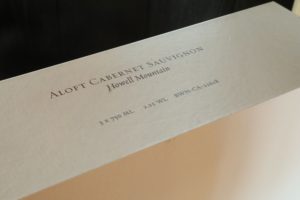 Aloft Wine. Looking up the definition for aloft one finds references to "up in, or into the air or overhead". Appropriately named, the wines are sourced from a single vineyard high on the slopes of Howell Mountain at an elevation of approximately 1650 feet.
Before Aloft was even conceived, founders Marc Mondavi and his wife Janice moved to Howell Mountain in 2001 with the purchase of 20 acres. The land had never been planted to vines – after several years they planted 10 acres entirely to Cabernet Sauvignon and named their vineyard Rocky Ridge. This is a prime vineyard neighborhood; nearby vineyards include one owned by Pine Ridge, the Lucia Abreu Vineyard owned by David Abreu and the historic Bancroft Vineyard with fruit being sold to Beringer.
This is also a very historic part of the Napa Valley. Nearby Rancho La Jota was founded in 1843. The first Euro-American permanent settler in the Napa Valley was George C Yount (namesake for Yountville) who moved to the valley in 1836. Mr. Yount was given a 4,454-acre Mexican land grant called Rancho La Jota from then governor of California at the time.
Marc grew up on the Charles Krug Winery property and worked with his father (Peter Mondavi) for decades learning about wine making, vineyard management and the business side of the operations. After years of working at Charles Krug he eventually realized that he might want to branch out on his own (while still remaining very much involved at Krug). Eventually he approached his father about using grapes from their new vineyard for Charles Krug, Peter wasn't interested, so Marc sold the grapes to other producers for the first several harvests.
However, several years later, Peter changed his mind (not hard to see why it took him a few years to come around to the idea having only worked with valley floor vineyards for decades – and with wines that were produced in much larger quantities). A premium, limited production single vineyard wine from the hillsides was a foreign concept in his mind at the time.
We first heard about Aloft when we interviewed Peter, who was in his late 90s at the time. He had come around to the quality and pedigree of Marc's hillside wines – calling the Aloft wines 'outstanding" and was visibly impressed with the results of the early Aloft vintages.
In 2005 Marc and Janice purchased another property on Howell Mountain which has provided the grapes for every vintage of Aloft Wine since their inaugural vintage in 2008. The property is 60 acres of which they planted 24 acres to Cabernet Sauvignon and 1 acre to Petite Verdot. The remainder of their vineyard is a mix of manzanita, pine and various oak trees. Marc named this special piece of land, the Cold Springs Vineyard.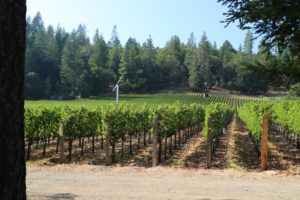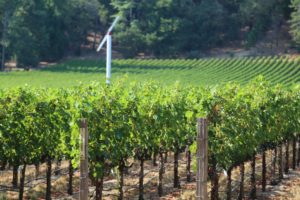 Founding winemaker Thomas Rivers Brown was soon hired; he produced all vintages through 2015. Today Aloft is very much a Mondavi family affair; Angelina took over as the primary winemaker in 2016, Alycia helps with the sales and marketing and Janice, according to her daughter Alycia "is the glue that holds all of this together".
When looking for a vineyard manager, Jim Barbour was an easy choice for Marc. They both have been friends for decades. Alycia speaks reverently of Jim Barbour along with a select few other Napa based vineyard managers who she says, "can walk an undeveloped site and quickly gauge its vineyard potential and based on location, determine what varieties will grow best". Jim manages both the Rocky Ridge Vineyard and their Cold Springs Vineyard.
In a unique twist of fate, Charles Krug once owned several parcels of land on Howell Mountain including what is now a neighboring vineyard to their Rocky Ridge Vineyard (owned by Pine Ridge) – and remarkably the land that is now their Cold Springs Vineyard.
Select Wines
The focus each year is on one premium wine – a Cabernet Sauvignon.
The 2012 Aloft Cabernet Sauvignon is immediately intriguing – the bouquet is very well layered and reveals a diversity of aromatics as it opens. Initially notes of spicy ripe black plum show, there are floral nuances (violets) and rich fruit including boysenberry and blackberry. Also hints of dust (Angelina likes to call the soils in this vineyard "moondust" for its fine dusty qualities). Shows a richness of flavor along with excellent acidity and a lingering tartness on the finish framed by slightly dusty tannins. This wine should age very well but also drinks wonderfully 5 years after the vintage date.
In addition to his vineyard duties and work at Charles Krug – Marc occupies some of his free time by 'water witching' – which he has done so for decades. He was first introduced to this through the father of a girl he was dating in high school. He refined his craft by going out with old timer and Napa Valley farmer Laurie Wood on the weekends – practicing and visiting a number of properties in the valley. Marc says not everyone can be successful at looking for water in this manner. He told us that one must have the right energy. He estimates he has looked for water on hundreds of properties both in Napa and throughout other parts of California – including on their own properties.
After Marc indicates where to drill for water – the actual drilling of the wells can cost tens of thousands of dollars. If Marc was wrong about where to drill, his career would not have lasted so long. He certainly has the right type of energy for this type of work.
—-
Tastings
Private tastings by appointment are held in the Winemakers Den at Brasswood Winery located just north of St. Helena. This private room within the Brasswood Winery complex of buildings is a comfortable place to hang out – an hour can quickly turn into two with good friends and excellent wines. Both the Aloft and the Dark Matter wines can be tasted here (and both brands are produced at Brasswood). Formerly the St. Helena Factory Outlets, the property now features a number of tasting rooms, the physical winery, an art gallery and a restaurant and a gourmet deli.
This is a very unique Napa property. It is approximately 50 acres and straddles two sub appellations including Spring Mountain and St. Helena. While no grapes are currently planted on the property for commercial use, they have up to 20 acres to develop in the future. The property also comes with a variety of valuable permits – one being the extremely rare Napa permit to allow weddings on site.
This "campus" if you will, features four tasting rooms including the main tasting room where most walk-in visitors will taste wines), The Winemaker's Den, an appointment only room across from the main tasting room, the Vintner's Den just outside of the wine cave and one within the winery.
The property allows a number of their custom crush wineries to host visitors. Guests interested in tasting the Aloft wines can reserve several visit options including a sit-down tasting or a longer experience in which their wines are paired with a several course lunch from Brasswood Bar + Kitchen.
Food is an integral part of the property. Brasswood Bar + Kitchen is a Gastro Pub; the large window behind the bar looks north towards the actual winery facility; you can watch harvest activities on the crush pad during September and October from your bar-stool seat! Their founding chef has Michelin three-star experience; he joined them previously from The Restaurant at Meadowood, also located in St. Helena. The sizable commercial kitchen easily has enough space to accommodate both the restaurant and the cafe's needs. Weather permitting, guests can eat outside on the patio overlooking the grounds, a great place to see and be seen, inside in the booths or at the bar.
Some of the fresh ingredients used by chef are sourced directly from the property – from a culinary garden growing on the south side of the property.
This experience typically lasts a minimum of 90 minutes up to 2.5 hours for a more leisurely lunch and occurs outside on the Brasswood patio (weather permitting) or inside the restaurant. Aloft wines are poured in between each course.
We always recommend guests coming to Brasswood Estate to arrive early to spend some time browsing the grounds including The Shop at Brasswood + Mercantile. This small store offers a collection of hand selected products from around the globe – it is a unique shopping experience for this part of Napa Valley. Both men and women's fashion, home décor, artisan jewelry, culinary tools, fine textiles, ceramics, hand-blown glass, specialty cosmetics and even a few electronics are available.
And this shop also contains wines from Brasswood wine partners as well as products from Brasswood Spirits, American whiskey, gin and vodka.
—
Sojourn Cellars Connection
Angelina is affiliated with Soujourn Cellars (known for their Pinot Noir) with partners who also own the property that was the site of the old Ravenswood Winery. Sojourn Cellars currently maintains a tasting room on the square in Sonoma and will base its operations at the Ravenswood property (18701 Gehricke Road). Angelina also is connected with Harrow Cellars (15 acres of historic Zinfandel vines) and wines from both producers will be made at this winery and will also be available for tastings.
We will update our notes here once we have more details and after we have visited the winery and tasting room.
—
For more information and to join their allocation list, (the wine is sold in 3-packs) visit: www.aloftwine.com
Water Witching

Cold Springs Vineyard