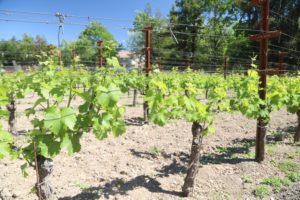 Aileron Estates. Inspiration comes in many forms. Proprietor Shannon O'Shaughnessy became severely ill and had a brush with death when she was only 38 years old; fortunately, she has since recovered but while later reflecting on the seriousness of the situation, she became inspired to get her pilots license and ultimately did so. However, this wasn't her first introduction to flying; her father flew small planes and during high school Shannon even began studying for a pilot's license but at the time, never completed her training.
Raised in southern Minnesota in a farming community, Shannon was attracted to agriculture early in her childhood. Her introduction to Napa Valley was in 1990 when her parents purchased a piece of property on the north side of Oakville Cross Road. Thinking this land was going to be ideally suited for Cabernet Sauvignon, they soon found discovered this was not the case and soon planted the site to Sauvignon Blanc. Later her family established O'Shaughnessy Vineyard on Howell Mountain.
Shannon has worked in the wine industry for more than two decades in numerous capacities, including in distribution, brand consulting, sales and for O'Shaughnessy Estate during their early years.
An Aileron is a hinged surface (little wing) on an aircraft's primary wings used to control an airplane's flight path or direction. These flaps are most noticeable when one sits near a wing in a commercial jet; when landing these flaps are raised and lowered. Dovetailing well with her love of flight, the word aileron also relates to choosing one's own lifestyle and path.
Aileron Estates is located in Coombsville, a sub-appellation located mostly east of the city of Napa. Coombsville is characterized as a moderate to cooler growing climate compared to up valley due to its proximity to relatively flat surrounding lands and proximity to the nearby San Pablo Bay with its cooling morning and afternoon breezes and often influences from fog. Coombsville is generally composed of low rolling hills with a diversity of microclimates.
Aileron Estates is a quintessential Coombsville property with several acres and a tiny vineyard located in the front of the property. About 0.86 acres are planted entirely to Sauvignon Blanc. This property was previously owned by Andy Erickson and Annie Favia (Favia Wines); Shannon purchased the site in 2014. Throughout our journeys up and down the valley sometimes properties for whatever reason catch one's soul immediately. It was that way when Shannon first visited this site, helped by the fact that part of property was already planted to vines; at the time, she knew she wanted to get back into the wine business.
Andy and Annie had planted Sauvignon Blanc in 2006, today managed organically and dry-farmed. Atelier Melka, led by winemakers Philippe Melka and Maayan Koschitzky have crafted the wines since the inaugural vintage (Cabernet Sauvignon in 2016 and Sauvignon Blanc in 2018). And in an interesting connection, through his work at Screaming Eagle Maayan met winemaker Andy Erickson; Maayan actually helped plant some of these vines when Andy and Annie were developing the vineyard. For a number of years, the fruit from this property was part of the Favia Linnea vineyard designate Sauvignon Blanc. Long time vineyard manager John Derr oversaw the planting; Shannon first met John when he was helping develop the original O'Shaughnessy estate vineyard with Pina Vineyard Management.
In 2019 Shannon purchased a second estate vineyard, now called the Altimeter Vineyard high on the slopes of Atlas Peak AVA, not far from the iconic Stagecoach Vineyard. This 20-acre parcel is planted entirely to Cabernet Sauvignon (10.2 acres). Like the soils on nearby Pritchard Hill and through this part of Atlas Peak, the vineyard features red, rocky and iron rich volcanic earth.
Select Wines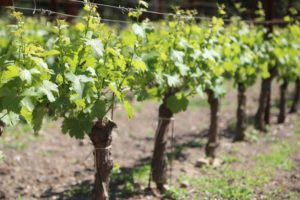 The 2019 Aileron Estates Estate Sauvignon Blanc is medium to gold color and offers appealing aromatics of pomelo, and as it opens shows more floral notes including citrus blossom and jasmine. The wine also offers aromas of lemon curd. Features a lovely texture across the palate which is not heavy or viscous but rounded with a nice cadence. Gliding across the palate, this texture plays well with the bright acidity. Shows mouth-watering notes of apple and citrus with a bright acidity inherent to this variety. The wine is not tart nor does it have a 'nervous edge' inherent to this variety, often from cooler sites. Lingers with some minerality notes. Showcases the 'balance' of Coombsville very well.
The 2016 Aileron Cabernet Sauvignon is blended with small amounts of other Bordeaux red varieties and was sourced from the Rancho Del Oso Vineyard on Howell Mountain; the original block developed at O'Shaughnessy Estate Winery. The wine shows darker fruit notes on the bouquet including plum, blackberry and boysenberry along with a hint of leather, dark chocolate and some darker earth nuances. There are also notes of toasted cedar and deeper into the aromatics, hints of cardamom. Features a nice interplay between the fruit and the oak complements. The tannins are rounded and finely tamed – lingering gently with a mouthwatering finish. The palate has a wide appeal – approachable and flavorful without any harsh edges whatsoever. A seamless presentation.
The 2017 Aileron Cabernet Sauvignon is 100% varietal, primarily due to the fact a number of normally available blending varieties had smoke taint from the devastating fires in October of that year. Dark ruby in color shows aromas of plum, earth notes, toasted cedar and dark olive. As it opens further reveals aromas of mocha. Plenty of fruit shows across the palate including dark cherry. Well layered. Give this wine in particular some time to open as it will become more expressive. Albeit a year younger, shows a different textural profile than the 2016. Both wood and grape tannins linger – with more grip than the 2016 vintage but not texturally coarse.
Select Experiences
By appointment only, well in advance, guests can taste the wines at Brasswood Estate, just north of St. Helena (where the Aileron Estates wines are produced). Shannon hosts this private tasting lasting about 90 minutes. Brasswood Estate is a both winery and lifestyle complex (culinary, art, wine tastings) and also houses the production for a select number of premium producers. It is a very picturesque property.
Guests looking to participate in the adventurous lifestyle associated with Aileron Estates can do so. In May of 2021, Aileron Estates along with Vintage Aircraft in Carneros (at the Sonoma Skypark in Shellville) launched a very fun experience called Take Flight, combining a ride in a vintage open-cockpit Boeing PT-17 Stearman plane followed by a wine tasting. These planes were used for training during World War II.
The in-airtime is about 20 minutes and includes a fly over of both valley floor and hillside parts of the southern Napa Valley. Extra adventurous guests can also opt for additional in-air acrobatics and associated thrills including inverting, a Barrel Roll and a Hammer Head. Those wanting to experience an acrobatic maneuver (especially those who have never experienced this before) may choose to have this executed close to the runway at the end of their flight so that one will be on the ground soon after. And unlike guests participating in the normal flights, the acrobatic participants will be outfitted with a parachute. Bring your phone or camera but make sure you have it securely fastened (straps are offered if needed).
A jacket will be provided if needed as well as earplugs and a vintage helmet. The pilot sits in the rear and passengers sit in the front seat. Flights can be noisy but not loud. Passengers have excellent views from both sides of the plane.
Following the flight, guests will enjoy select Aileron wines in a private tasting in a hangar next to the runway. This experience is offered year-round (weather permitting) and can accommodate 2 to 8 people by reservation only. Three open-cockpit planes are typically housed at the hangar. A boxed lunch is available upon request.
And serious wine enthusiasts who perhaps might enjoy some outdoor activities involving sport shooting, fishing or just hanging out at a private members club (Wing & Barrel Ranch, located off of Highway 37 in Sonoma County) can request a customized experience followed by a private tasting with Shannon of some of her wines.
Cuisine is an integral part of Wing & Barrel's operations with renowned chef Charlie Palmer overseeing the restaurant on site – with both indoor and outdoor terrace seating and great views looking north over the ranch. This experience is available by appointment only and is only offered in the mornings – based on Shannon's availability.
—
Wines are primarily sold direct to consumer although locally some very limited distribution is through ACME Fine Wines in St. Helena and at Angele Restaurant in downtown Napa. For more information, or to join the mailing list, visit: www.aileronestates.com