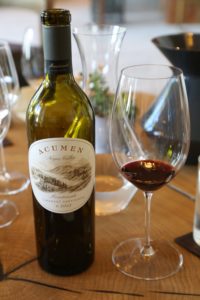 Acumen Wines. Owner Eric Yuang divides his time between the San Francisco Bay area and China. He was introduced to French wines while studying in Paris – and since then, has long preferred a more restrained Bordeaux-esque style of wines as compared to the style of 'riper' red wines that are often produced in the Napa Valley. When he decided to make wine in California he connected with Steven Rea (now the President of the company).
Steven has been instrumental in building the business – taking Eric's vision and making the necessary connections to see it fulfilled including building a well-regarded team. Initially they searched for a specific type of property in both Sonoma and Napa – vineyard land that would produce a more Bordeaux style of wine. Ultimately they found property that was owned by Dr. Jan Krupp – the owner and co-founder of Stagecoach Vineyard.
They purchased one vineyard in 2012 – and named it the Attelas Vineyard (the name comes from roughly combining the word Atlas with Attelier) – 41 acres of which 32 are planted to vine. This was Dr. Krupp's original 'home vineyard' planted in 1992 – predating even his famed Stagecoach Vineyard by 3 years. In 2013 Acumen acquired another vineyard about a 1/2 mile away, and renamed it to Edcora; 180 acres of which 84 are planted. The name Edcora in the jewelry world refers to a nearly 6 carat red pear-shaped diamond considered to be the largest red diamond in the world (whose location is known by a few but well guarded). To some extent, this name makes perfect sense, alluding to their vineyard which is well off the beaten path and the reddish color of their soils (volcanic in nature).
The temperatures here are often 5-10 degrees cooler then on the valley floor; the vineyard site is above the fog line which often blankets the southern part of the valley. Heat spikes are rare with fairly moderate temperature over the growing season. They pick for ripeness but not for over ripeness, striving to produce balanced often lower alcohol wines. They do not shy away from qualities often found in red wines grown in Napa prior to the late 1970's such as herbal notes at times, sage, an earthiness if you will.
The vineyards are planted to mostly Bordeaux Red varietals but other varietals grow on site including Tempranillo, Zinfandel and Sauvignon blanc. Both vineyards are farmed and are certified organic (CCOF). While they made wine prior to purchasing the vineyards – their first commercial release from the estate was the 2012 vintage.
Winemaker Denis Malbec was hired (a strong connection to Bordeaux) but tragically he died in a very early morning car crash in Yountville in 2016. For a number of years, viticulturist Steve Matthiason oversaw their vineyards and also took over Denis's role as winemaker for a short while (however Steve is no longer involved at Acumen). And in a tribute to Denis, look for the "DM" on the upper right hand side of the front labels for their Peak wines.
The estate ranges in elevation from 1300 to 1600 feet in Foss Valley – a part of Atlas Peak. While only approximately 6 miles from the Silverado Trail and the main Napa Valley floor, it feels worlds away. From the highest point in their vineyards the cars to the west on Highway 29 look like ants in the far distance. Views aside, the vineyard produces world class wines as well as plenty of rocks (we initially toured this part of Atlas Peak with Jan Krupp and were amazed by the millions of pounds of rock he had excavated from the various vineyard sites).
Rather tha hire a vineyard management team from any of a number of vineyard management companies – they have elected to form their own in-house full-time vineyard management team. Their vineyard manager Jesus Gonzalez lives on site and the same crew of people continue to care for the vines year after year. In perhaps what is a rather unusual way for keeping an eye on the vines – Jesus and Steven often ride through the vineyards on horseback – keeping an eye on the vines and perhaps spotting certain factors easier seen from horseback then from foot.
Select Wines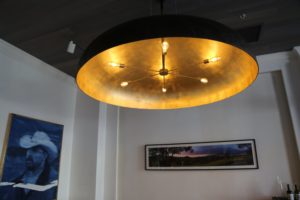 The 2015 Acumen Sauvignon Blanc initially shows some floral notes including jasmine, orange blossom and peaches – with hints of lemon zest. Clean and crisp on the palate this wine delivers plenty of flavor including grapefruit. Good acidity. A lively finish shows some mineral notes (flinty). Balanced and easy to drink.
The 2013 Acumen Mountainside Red Blend shows elegant and inviting aromas including sweet cassis mixed with herbal notes and a hint of cigar smoke. A very balanced wine – lighter in style it still delivers a richness of flavor including black currant, blueberry and lingers with a red cherry/cranberry tartness on the finish. Fine textured tannins persist for some time. And this wine is only 13.3% alcohol. Food friendly and a classic example of a more restrained style of wine they are farming for and one that well represents their particular site.
The 2013 Acumen Mountainside Cabernet Sauvignon reveals a bouquet that shows hints of smoke, dry ground, red licorice and pretty chocolate aromas. Supple on the entry through the mid palate it gains in depth of flavor and structure. A diversity of fruit flavors show including cherry, plum, and red cherry – this is a wine with excellent acidity. Robust tannins anchor a long finish.
—
Their downtown Napa tasting room opened on Memorial Day weekend in 2017. Three tasting experiences are offered; the Mountain includes their most produced wines and are wines that are selectively distributed (these are mainly made from their estate vineyards but may have some fruit blended in from other parts of the Napa Valley), the Peak (limited production 100% estate grown wines) and the Portfolio tasting highlights wines from both the Peak and the Mountain tastings.
The space is somewhat unique for downtown Napa tastings rooms; it used to be a hair salon which sustained damage during the 2014 Napa earthquake. It has since been completely renovated to offer a luxury but relaxed tasting experience. The feel here is luxury combining elements of rural Napa including Oak and Madrone wood from their estate (used in the design of their bar).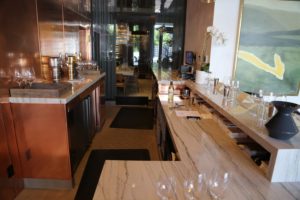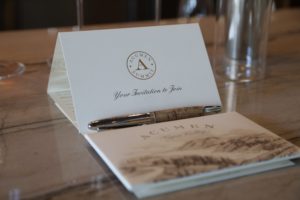 Artist and designer Vincent Xeus (formerly based in the Napa Valley but now living in Manhattan) and his wife Stella are responsible for the design and layout of the tasting room. After one look at Vincent's work we immediately said, "damn this guy is incredibly talented". The interior decoration themes are wine related, ranging from the heads of tanks which were hand painted with gold leaf and used as chandeliers – to another remarkable chandelier created as an homage to lab work featuring numerous test tubes. You just read that correctly, test tubes.
Unlike most of the stand alone tasting rooms in downtown Napa, they have a dedicated space for fine art (most of the items are for sale). Not only was Vincent responsible for designing the tasting room but his paintings were used in their inaugural exhibition (a body of work that focused on vineyard workers and vineyard life). Eventually Vincent would like to donate a portion of the proceeds from the sales of his paintings to fund a college scholarship for children of vineyard workers.
Visits can be made by reservation or walk-ins are also accepted if they are not to busy. A visit is a highly personalized experience with one of their hosts curating the tasting – at your own pace.
NOTE: in mid 2021, Acumen rolled out the Acumen PEAKeasy – a dedicated lounge to both Champagne and sparkling wines from non Champagne regions. This experience is located in a private room off of the main gallery; guests can enjoy either by the glass or by the bottle service. Features iconic wines from Champagne as well as other more limited production offerings.
To join their mailing list and for more information, visit: www.acumenwines.com
Tasting Room, Napa