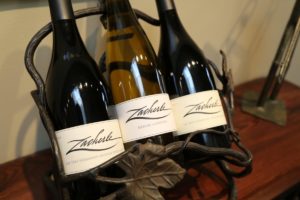 Zacherle Wines is owned and operated by winemaker Nile Zacherle. Zacherle's wines are available through their mailing list and also in the shared Up Valley Vintners tasting room in downtown Calistoga.
Nile, while born in Marin County had a connection to the Napa Valley early on; his father used to make the drive north to purchase grapes for his family's home made wine. In addition his uncle owned a cooperage in Calistoga. While originally studying brewing at UC Davis he fortunately branched off into winemaking. Like a number of his generation of winemakers International travel and winery work called and he found himself interning at wineries in New Zealand, Australia and France. It is this type of International experience that is almost imperative for younger winemakers to have today. He has already worked at a number of well known Napa wineries including the famed Chateau Montelena, Barnett, Sterling Vineyards and currently at both David Arthur and Montagan on Pritchard Hill.
It is extremely rare in the Napa Valley to find a non vintage wine of any varietal much less port. Zacherle's extremely limited production non vintage port is from the Lava Vine Vineyard in Knights Valley just over the county line in Sonoma County. Nile has always tried to find small vineyards and produce wine with unique site expression or terroir characteristics. This vineyard fits the bill in this case – in addition, Nile helped with the initial planting of this vineyards and is actively involved in the vineyard management. The Lava Vine vineyard is very steep, with slopes up to 45 degrees and the soils are mainly composed of volcanic ash, rock and petrified wood.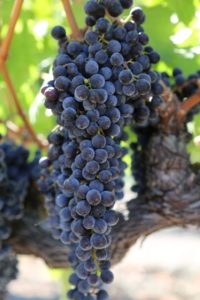 Their first release of Port from this vineyard really delivers well integrated layered flavors. This port is not fortified with brandy, rather grain alcohol is used which helps keep the concentrated varietal flavors at the forefront of the palate. It is composed of three vintages and contains two traditional Portuguese varietals; Tinta Cau and Turiga National both of which are commonly found in parts of Portugal. In our experience of visiting hundreds of vineyards in Napa, these two varietals are extremely rare to find! This wine is dark and dense looking in the glass with aromas of cherry, sage and fully ripe black cherries. The entry is sweet but not overly so with good tannin structure. Flavors include blackberry and coffee bean with a pleasant dustiness on the finish.
As of the time of this review, between both the Zacherle and Lava Vine wines, there are several unique Syrahs available. We tried the 2005 Zacherle Syrah – it is a dark inky wine which at the time of our tasting already had almost a year and a half in bottle. As a result the wine had softened considerably since the initial bottling and was tasting very nice. This isn't a huge in your face Syrah, rather its fairly smooth throughout with an inspirational flavor profile from start to finish.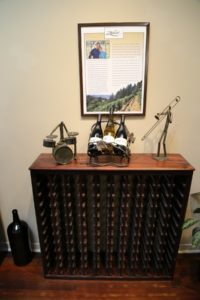 The 2005 Spring Mountain Syrah on the other hand is about as big and chewy with a strong tannin backbone as you will find in a Syrah. This wine is from the bio dynamically farmed Crowley Vineyard located at about 2000 feet above the Napa Valley floor. Notes of spices and crushed black pepper start in the nose and continue onto the palate especially on the finish. While drinking this wine we automatically thought of what this wine would drink well with and concluded that something bbq'd, gamey or oven roasts would make good pairings.
Zacherle's wines are typically produced in quantities of merely several hundred cases with several wines coming in at under a hundred cases. For more information visit: www.zacherlewines.com
Nile's talents with winemaking do not stop there – he also runs Mad Fritz Brewing Company in St. Helena.
Cellar Angels Video