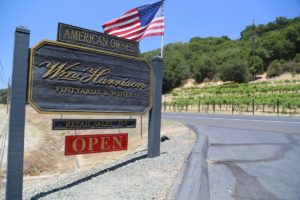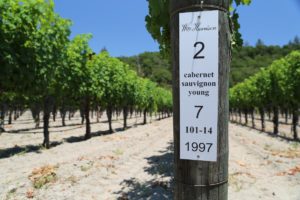 William Harrison Winery produced its first vintage in 1993 although the winery building dates from 1985. For a number of years William Harrison sold all their grapes to other valley wineries. The land was totally vacant when the family purchased it and as a result they planted everything by hand. In addition, they also built the winery building mostly by hand themselves.
The actual winery looks like a cross between an old western building (think of the old TV show Bonanza!) and some of the typical two-story California Mission buildings. The rock used for the first floor walls of this building was actually quarried from the nearby hills across from the vineyard just east of the Silverado Trail. A wooden boardwalk is located in front of the building – a bocce ball court is on site and picnic tables are also available for use. Weather permitting, an outside tasting is recommended as you are surrounded by vineyards and it is a low key relaxed experience. With only several employees this is truly a small winery! As a side note, they are the only wine tasting room that we have visited in Napa Valley that contains a bear – its a stuffed Alaskan Brown.
Bill's family traces their winemaking back to the early 1500's in Italy. They made wine in California since 1902 at various locations including Healdsburg in neighboring Sonoma County. Bill's grandfather, Antonio was actually the first California winemaker to have a wine-making degree. Bill grew up with the wine industry in his blood. Besides his family contributions to the California wine industry, his personal claim to fame is he started the first ever mobile bottling service for wineries. Drive to the wineries, bottle using all your own equipment and then leave.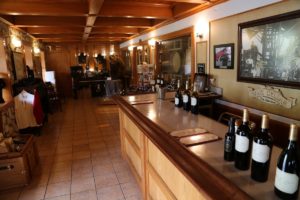 The cost of an individual bottling line is almost prohibitive for small wineries and he saw a niche that wasn't yet filled. However, it wasn't easy proving this service to the banks as he applied for 39 loans before one bank actually gave him a loan on his 40th attempt! As they say the rest is history – as today mobile bottling is huge business in the wine industry. His original bottling business spawned many new similar businesses and today many of the owners based in Napa and Sonoma & beyond received their training under Bill. During our most recent visit, we saw him out front appropriately working on a mobile bottling truck. He still runs his original bottling company called Estate Bottling.
We started our tasting with a 2007 Carneros Chardonnay. This only undergoes partial malolactic fermentation and is not overly creamy. The fruit is well represented both in the bouquet and on the palate. Honeysuckle, dried apricot and minerality nuances are found in the aromas with pear, vanilla and just a touch of toasted oak towards the finish. The 2005 Simpatico is their "Right Bank Bordeaux" version using estate grown Rutherford fruit. It is a blend of Cabernet Sauvignon and Cabernet Franc. This is very drinkable now. The 2005 Estate Cabernet Franc has some minty herbal qualities in the bouquet with touches of mocha followed by a palate layered in flavor – raspberry and some earthiness. The 2003 Estate Cabernet Sauvignon has a nose full of black currant with notes of cedar and mocha and the palate is juicy with black cherry and black currant flavors.
The Rutherford Red is their high end wine and is always made in fairly small quantities; the varietal percentages vary from year to year. The 2005 is a very dark wine and contains a healthy amount of Petit Verdot which contributes to the color, richness and structure of this full bodied wine. Their total production rarely exceeds 1500 cases which makes them one of the smaller wineries in the Napa Valley to have their own tasting room. As a result of their low production the wines often sell out relatively quickly. A number of red varietals are planted on the 9 acres surrounding the winery. These are used for their high end estate red wines and in addition they source fruit from cooler growing regions for their Chardonnay and Pinot noir.
Visit: www.whwines.com