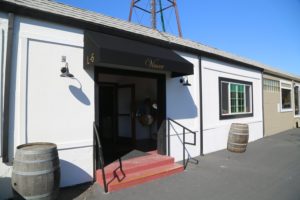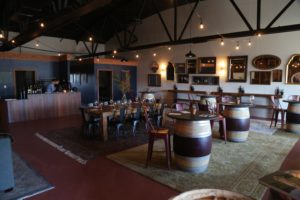 Vinoce & Twenty Rows was founded by Brian & Lori Nuss (tragically Lori, who we first met with passed away in early 2016). For ten years they operated a sizable tasting room at their winery on Vallejo Street just north of downtown Napa; in early 2019 they opened a tasting room in the old Sawyer-Tannery Building for both Vinoce & Twenty Rows in Napa's Tannery Bend District – a very historic part of the city of Napa along the Napa River. The previous tenant used what is now their tasting room space for wine storage as part of a wine shipping company.
Their primary vineyard source is the northern most vineyard in the Mt. Veeder Appellation. During our visit with Lori we walked part of the vineyard – it is planted to 24 acres of Cabernet Sauvignon, Cabernet Franc and Merlot perched on hillsides entirely surrounded by native vegetation. It is also home to mountain lions, deer and sometimes black beer.
Mt. Veeder Appellation has some of the most remote vineyards in all of Napa County and Vinoce's vineyards are no different. Rugged hillsides and forested slopes in all directions make this one of the more remote vineyard locations in Napa County. Brian & Lori moved here in the mid 1980's seeking an alternative to the urban life they left behind in Los Angeles.
Brian was initially involved in a non wine related business but as has happened with a number of people we have met who moved to the Napa area was bitten by the allure of the Napa Valley. Within several years he and Lori had cleared and planted the slopes to grapes. Brian is the vineyard manager as well as the winemaker. He subscribes to the adage that most of wine making occurs in the vineyards and as a result great attention to detail is given to every single vine from pruning and trellising to crop management.
The focus of their production is from Mt. Veeder grown grapes but they do source from select vineyards in other parts of the valley. Vinoce's total production is about 2000 cases.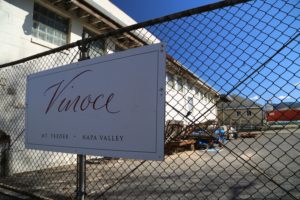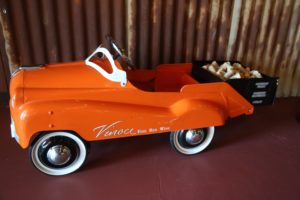 The 2007 Sauvignon Blanc is an easy drinking wine that would pair well with appetizers or by itself before a meal. Aromas of orange, lemon, lemon grass and other herbaceous qualities fill the glass. As the wine opens up melon and slight hints of pineapple come out on the palate.
The 2004 Vinoce Cabernet Sauvignon is produced in extremely limited quantities. The reason for this downturn in production for this particular vintage was a freak hail storm hit the vineyard after fruit had set and destroyed the majority of the crop. An event such as this is much more likely to occur in the Mendoza wine growing region of Argentina (where special nets are placed on top of high end vineyards to guard against such damage). In any case what ended up in the bottle is very representative of Mt. Veeder grown fruit. It is a dark inky wine with forward aromatics along with with earthy nuances and white ground pepper. On the palate, flavors of cherry, plum and chocolate. The finish is slightly spicy, warm and is extended in length.
This winery is very much a family affair – for a number of years Vinoche shared their winery with other wineries including Robert Craig but after the other wineries moved their operations Twenty Rows took over sole ownership of the facility. Robert Craig (long time vintner in the Napa Valley) was Brian's initial inspiration and mentor in the wine industry and helped him during his first years of winemaking. Today Brian is the primary winemaker for both Vinoce (their high end limited production label) and Twenty Rows. His sons Tim and Tyler are also directly involved in the day to day operations of the business.
Twenty Rows
The name Twenty Rows comes from 20 hillside vineyard rows from their home vineyard on the slopes of Mt. Veeder (north west of downtown Napa). These rows have always produced quality fruit but never found a home in their Vinoce label so they decided to bottle this as a separate label.
As Tim told us in regards to the Twenty Rows wines, "this is Napa wine that you can drink everyday". These wines are priced very reasonably for the quality. Compared to Vinoce which is boutique and very small production, Twenty Rows as of the time of this review is around 14,000 cases. The first vintage of Twenty Rows dates from 2003.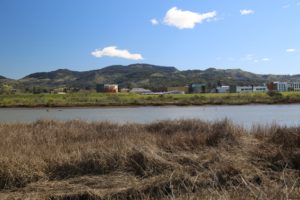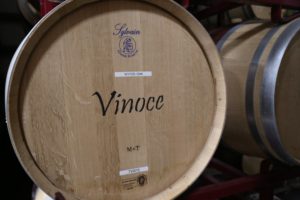 Twenty Rows sources Sauvignon Blanc from Pope Valley in eastern Napa County for every vintage. This is a wine to be paired with food. The 2009 is crisp with notes of lime on the bouquet as well as on the palate. Citrus, herbal notes and pear round out the palate. It has a clean quick finish.
The 2008 Twenty Rows Napa Valley Merlot shows black cherry and baking spices on the bouquet followed by darker fruits on the palate with a finish that is pleasing – soft but with structured tannins. As with their other wines they try to maintain the integrity of the fruit from vineyard to winery. I.e., not picking to ripe – but focusing on the fruits characteristics and eliminating the "showy and bold tannins".
The Grappler is a California red wine blend; the 2006 Twenty Rows Grappler vintage is a unique blend, predominantly Zinfandel with Syrah and Cabernet Sauvignon. A name like this is perfect for this type of blend. It is named after Tim and Tyler who were wrestlers in college. This is not a wine however that needs wrestling with once its in your mouth – it is actually a food wine with nice notes of plum and red cherry on the palate. The bouquet is quite aromatic including aromas of candied fruit and red cherry. Its a lighter styled red blend with just a touch of cedar and spice on the finish.
During a more recent visit we tried the 2012 Twenty Rows Grappler. This wine is 85% Zinfandel, 5% Syrah, 5% Petit Verdot, 3% Cabernet Franc and 2% Grenache sourced from both Napa and other California vineyards. This vintage shows a powerful bouquet, cherry liqueur and a vanilla/mocha component which turns to aromas of brown chocolate the longer the wine breathes. The wine is a lighter style – easy drinking and smooth on the palate. – red and darker cherry flavors show with hints of tobacco towards the finish. The tannins are fairly delicate and start in the front of the palate slowly working their way to the back of the palate.
Their flagship Twenty Rows wine is a Cabernet Sauvignon with fruit sources coming from well-known appellations in Napa including Spring Mountain and Stags Leap. However the price does not reflect the top vineyard sources – this wine is priced similarly as their other reds. The 2008 Twenty Rows Cabernet Sauvignon is ready to drink young; its certainly not one of those "huge" Napa Cabernet's that leaves your mouth dried out but rather is constructed to drink young, with food. It has nice color in the glass and notes of mocha on the nose. It is smooth across the palate with more red fruit rather than dark fruit showing including notes of tangy plum and cherry. This is a rare wine coming from Napa that has the quality yet really delivers on the price point.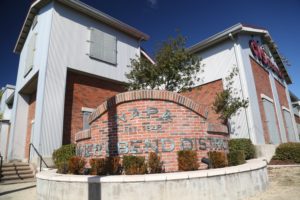 The third wine they make is a proprietary blend of predominately Cabernet Franc, Cabernet Sauvignon and Merlot. Besides available at their own tasting room, visitors can taste the Vinoce wines at Vintner's Collective in downtown Napa. Vintner's Collective is a multi winery tasting room focusing on premium mostly Napa brands. And an interesting piece of trivia: Vinoce was the first winery to have its wines available for tasting at Vintner's Collective (this collective is very selective on whose wines they represent).
The Vinoce wines are also well distributed within the USA and can be found in select locations in southern Vietnam of all places. For more information and or to join their mailing list or wine club, visit: www.vinoce.com and www.twentyrows.com
NOTE: this review is currently undergoing a major update. Please check back by late March 2019.
Old Tasting Room (we keep these photos here for historical sake).