TOR Kenward Family Wines was founded in 2001 by Tor Kenward and his wife Susan. Tor spent many years as an executive at Beringer Winery before "retiring" and jumping into building his own label and wines. Keep in mind that former winery employees never really retire! During his time at Beringer he had access to some of this winery's best vineyards and would make a barrel of wine each year.
His focus for TOR Wines is on single vineyard high end Chardonnay and Cabernet Sauvignon. For some of his vineyards, Tor has a vineyard management company but he is personally very involved in the actual farming decisions which include thinning, dropping fruit, pruning and the canopy management. As a result, this winery plays a vital role in the key decisions that take place within the actual vineyards. The old adage comes to mind here, 90% of the winemaking is done in the actual vineyards.
We tried their 2004 Wente Clone Chardonnay from the Durell Vineyard located in a slightly warmer area than the Carneros region due to its more northerly location. The Wente clone is known for its small berries and concentrated flavors. This wine typically is fermented using only natural yeasts and sometimes can have a very long fermentation period lasting up to 7 months! This particular Chardonnay has a beautiful golden hue in the glass, it is very floral on the nose with a deep rich honeysuckle aromas with hints of peanut brickle in the mouth. It is a wildly popular restaurant wine and is available by the bottle at the French Laundry in Yountville.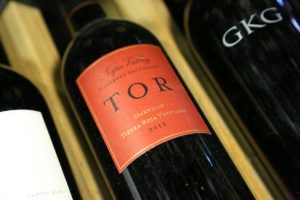 We also tried two of their Cabernet Sauvignons, each one totally different from the other. One is their 2005 Cabernet Sauvignon from the Cimarrossa Vineyard at about 2100 feet on Howell Mountain. This is a big wine but is certainly drinkable now; it exhibits the minerality and earthiness that you often find from Howell Mountain fruit with structured tannins on the finish.
Their 2005 ToKalon Cabernet Sauvignon is their first vintage from this vineyard and hopefully won't be the last (for obvious reasons, if you are lucky to to actually taste this wine). You may have heard of the ToKalon vineyard as it is very historical and produces some of the highest quality fruit in Oakville. This wine has a big mouth feel yet is refined and elegant with a palate that is all about the fruit. Flavors of black cherry and black licorice will seductively coat the insides of your mouth and these concentrated fruit flavors are balanced by good acidity and tannin structure.
TOR has a second label called ROCK which are wines solely made from varietals grown in the Rhone Valley in France. The name of this label is tribute to the huge amounts of rocks found in certain vineyards in the Rhone Valley as well as found in the nearby vineyards that Tor sources fruit from. These wines are mainly Syrah's and Grenaches.
TOR is not open to the public but they do make appearances at a number of select wine tasting events including the very nice Taste of Howell Mountain, held each year, usually in mid June. We've attended this event several times and tasting their wines is always one of the highlights. Visit: www.torwines.com