St Helena Wine Center is located on main street in the heart of downtown St. Helena. This is often confused with the St. Helena Wine Merchants located in the south part of St. Helena. Think Wine Center, and center of town and you will never confuse these two shops again as this wine shop is located right in the center of town. Compared to other Napa Valley towns St. Helena has pretty much been bypassed to date in regards to tasting rooms. This is one of only 2 tasting rooms we know of currently open.In this part of town you will see boutique shops, clothing, antique and art galleries on both sides of the street.
For 7 days a week St. Helena Wine Center sells wine and wine related gifts from Napa Valley wineries as well as from other statewide and sometimes International wineries. We include them in our reviews because they do have a tasting counter and unlike many walk-in wineries who are open for tastings 7 days a week, St. Helena Wine Center is only open for tastings on Saturday. Their small tasting room is a side alcove to the left as you enter the main store. Tastings can be really anything! They see what they have available on any given Saturday and typically will provide 3 to 4 tastings. They have a strong collection of Napa and other California wines as well as a side room for the "locals" which contains only wine from International wineries. Yes, even Napa residents who are surrounded by top notch wineries want an International selection!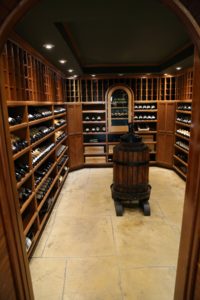 Their very extensive collection of wine is mostly from small vintners with a wide range in price from the teens all the way up to several hundred dollars per bottle. They have a Napa "cult winery" box for sale which contains very high end wines – try Harlan and Screaming Eagle. Unlike many wine shops, this one actually tastes all the wine they sell which allows them to selectively choose the bottles that appear on the shelves. One of their buyers boasts of "having tasted more bad wine than almost anyone, so you don't have to." We can assertively point out that he is not describing wines from Napa! They have a mailing list as well as a wine club which contains many monthly shipment options. The nice thing about their wine club is *you* get to choose, ie the type of wines, how many bottles per time period, price limits etc.
If you are interested in joining they will even help you with recommendations based on your preferences. Their mailing list is free to join via their website and is a good way to stay updated on new limited releases. Parking can be extremely tough on main street anytime as St. Helena Wine Center is located right in the heart of downtown St. Helena. Several nearby side streets do have parking if you don't mind walking a few minutes. Visit: www.shwc.com