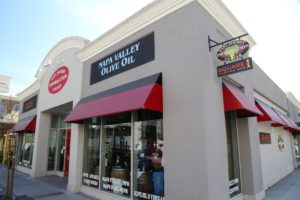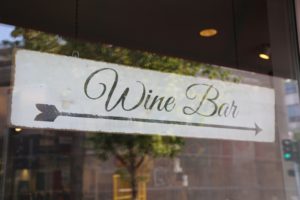 Square One tasting room is located inside the Napa Tourist Info Center in downtown Napa. The center is owned by Ron and Susan Altamura, a name synonymous with the city of Napa, its development and wine industry. Ron's cousin George Altamura is a local developer and was one of the owners of the old Napa Town Center (since sold and completely remodeled) and his son Frank owns Altamura winery in the eastern part of the county.
There are actually two visitor centers in town (sometimes a source for confusion), the official Napa Valley Welcome Center is located on the river front, operated by the Destination Council and this one – but this one is the only visitor center in the valley to also offer wine tasting. Many visitor's stop in to find out about the area's wineries; as a result it certainly makes sense to offer wine tasting on site.
Ron and Susan don't have their own winery but they feature a number of wines from some of Napa's larger, more prominent and often historic wineries including Beringer, Etude, Stags' Leap Winery, Raymond and St. Clement. Other than here, the only way to taste these particular wines in the valley is to make appointments and or visit each winery.
This Visitor's Center is part education, part concierge, part gift shop and part wine or beer tasting. Staff can provide information about wineries, tours, hotels, restaurants and a number of Napa Valley experiences. Concierges can help setup your wine tasting itinerary, provide maps and directions, personal knowledge about specific wineries and or arrange tours. Conveniently, the Altamura's own their own tour and Limousine company and can setup appointments and your own guide/driver for the day. For more information, visit: www.napalimousine.com
The tasting bar is separated from the rest of the center (more privacy) and features the bar as well as chairs and small tables. Along with wine, they also serve craft beer.
In addition the center offers a wife variety of Napa Valley merchandise including wine souvenirs and plenty of books on wine and about the Napa Valley.
Tasting flights include four samples or a reserve tasting. Wines are also available for purchase by the glass or bottle.
A few stand alone wine tasting rooms in and around Napa are starting to also pour beer. Ron and Susan's son Graham is passionate about beer and he has setup their beer tastings to focus on small regional and local hand crafted brews.
Also note the St. Helena Olive Oil company takes up the large back portion of this visitor's center – this is the same company that started in St. Helena – this is their outlet for the city of Napa. Lots of their olive oil is for sale here and you can also taste samples.
This center also holds a number of events including special wine and beer tastings. Visit their website for the latest: www.napatouristinfo.com