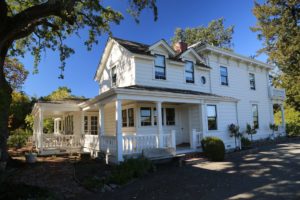 Salvestrin Estate Vineyard & Winery is located just off of Main Street (Highway 29) a few hundred yards south of the historic white stone St. Helena High School. This winery is somewhat hard to spot as it is not located right next to the main road and the small sign does not stand out like most of the other larger wineries located along the "wine strip" between St. Helena to Yountville.
The actual winery is built right among the vineyards and you walk next to rows of grapes to get to the tasting room. This site has been farmed in vineyards since the 1860's even during prohibition when grapes from the property were sold to other wineries for church and medicinal uses.
Walking the property and seeing a variety of fruit trees, farming implements and old vines – one quickly feels a connection to the land here and even if you don't know the Salvestrin's personally, a connection to their family and long history in the valley.
The Salvestrin Family has been farming in Napa Valley since 1932 and selling their grapes to other nearby wineries. John Salvestrin was the founder, his son Ed grew grapes for many years and now Ed's son Richard is the current vineyard manager and winemaker. In 1994 they decided to hold back some of the highest quality fruit from their property and they released their first vintage.
Today Salvestrin manages all their own vineyards themselves (becoming more of a rarity in the Napa Valley) and almost all the fruit for their wines come from the estate. Total production each year typically runs 3500 to 4000 cases. However, it wasn't until 2001 that the current winery & tasting room opened to the public by appointment. The tasting room atmosphere is pleasant, relaxed, easy going and friendly.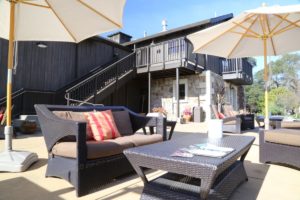 Despite their location just off the very busy part of Highway 29 a visit and tasting here is often private and you certainly do not find the crowds that frequent some of the larger wineries in this area. The winery building is modern, functional and well designed. The tasting room is upstairs in the nicely constructed redwood building and if you step outside onto the balcony you have good views overlooking the nearby vineyards. Windows next to the tasting counter allow you to look down upon the actual production facilities of the winery.
Tasting typically includes three of their current releases. The 2007 Estate Sauvignon Blanc is a crisp fruit driven wine with notes of pear and citrus on the palate. The 2005 Retaggio is a unique Super Tuscan blend of Sangiovese, Cabernet Sauvignon and Merlot. This is a versatile wine that will pair with a number of foods – something with a tomato base would be an excellent choice. This wine has great color with a pleasant underlying spiciness on the bouquet carried through to the smooth silky palate.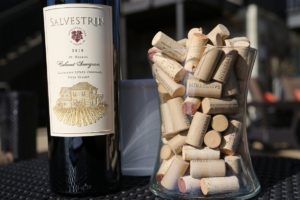 The 2004 Estate Cabernet Sauvignon satisfies the three "A's" the winemakers are looking for; approachability, ageability and acidity. This wine has all of these and more. Ripe fruit, and more fruit! You may find blackberry and Santa Rosa plum on the palate with just a touch of oak and vanilla towards the finish. Salvestrin often has vintages up to 10 years old available for purchase.
Local resident Dr. George Crane was the property's original owner – he was a pioneer in the Napa Valley as he was among the first to plant European wine grape varietals and some of his original plantings are still growing in the surrounding vineyard. Dr. Crane originally planted this vineyard in 1860. A prominent vineyard is named after him – located west of downtown St. Helena and his former winery site (built in 1862) was located where the St. Helena High School now stands. Dr. Crane, David Fulton, Henry Pellet and Charles Krug are credited with being St. Helena's first vintners and of these, Charles Krug was the first and Henry Pellet the second ever commercial winemakers in Napa Valley.
The Salvestrin family operates a 3-room historical Victorian B&B on site called Sunny Acres (which you will pass on their driveway located close to the actual winery building); this was Dr. Crane's home and was built in 1879. Stays here are exclusively for wine club members. Other than the persistent traffic during the day on Highway 29 – this is a central place to stay in the Napa Valley. You are minutes from the town of St. Helena as well as nearby wineries.
Inquire about their barrel tasting and tours by appointment. Parking is limited and they are not setup for large groups. Visit their website for more info & to also sign up for their mailing list: www.salvestrinwinery.com
NOTE: this review has been identified as needing a major update.
View video from Cellar Angels: