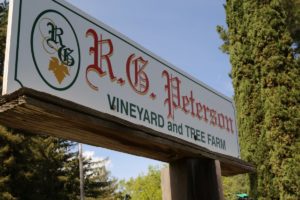 Richard Grant Wine is definitely one of the most unique projects in the Napa Valley with a fascinating story as well as nearly 2000 years of history prior to the grapes that are being farmed today. The wine comes from a single 2 acre vineyard of Wrotham clone Pinot Noir (pronounced Rudem). This winery is run by long time vintner Dr. Richard Grant Peterson. At the time of this review Richard was entering his 52nd year in the wine industry and actually started making wine even early having made home wine for the first time in 1948. As one of the living legends of Napa and beyond he has a storied resume. After graduating from college he went to work for Gallo in 1958 when they were among the top producers by volume in the nation – which included Roma Winery (the largest winery at the time) and the Italian Swiss Colony. By the time Richard left after 10 years Gallo was the number one winery in terms of production. He then went on to become wine master at Beaulieu Vineyards following the famed viticulturist Andre Tchelistcheff and then later at Monterey Vineyard in Monterey County.
It was at Monterey Vineyard that he came up with his ingenious yet simple invention which is now found in the majority of all wineries that we have ever visited. It is the steel double barrel pallet (Peterson Pallet) used for stacking barrels on top of each other. Richard never sought a patent for his invention, instead he presented it as a gift to the industry for the first time at WITS (Wine Industry Technical Seminar) in Fresno in 1974. Before his invention he remembers the incredible work and detail that would go into managing wine barrels, moving, rolling, stacking with wood chips, dropping empty barrels onto tires and then catching the barrel as it bounced back into the air, etc. This invention quickly revolutionized the production side of the industry. Within 5 years this pallet was commonly used and today is found in wineries worldwide. In addition, while perhaps not appearing to be earthquake friendly – the Peterson Pallet has already proven itself during a number of earthquakes. Richard remembers one article talking about a number of items that crashed down in a winery during a particular earthquake in California's Central Coast but how the author made a point to mention that the pallets and the stacked wine barrels remained intact.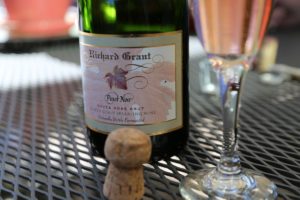 Dr. Peterson also holds several wine related patents including a process to physically inject antibiotics via a screw into the grapevine's trunk to fight Pierce's Disease. Ever enjoy a Seagram's wine cooler? Richard developed their first wine cooler. Richard's daughters Heidi Peterson Barrett and Holly Peterson continue to have much success in the food & wine industry – Heidi is a much sought after winemaker and Holly is a well-known chef. Look for some of Holly's special recipes to pair with this Pinot on their website.
Richard has judged (still does) a number of wine competitions and in 1980 found himself judging a competition in England. Always curious about wine he asked to try some of the local wines and the head of the wine judging said "have we got the wine for you". A very old vine "discovered" in 1950 was growing next to an old stone wall in the village of Wrotham – no one knew anything about this vine other than it was very old and that it looked different from most vines when the leaves were out. After tasting the wine Richard knew it was a special varietal. He had a plethora of previous experience working with fruit from native rootstock and vines in North America and knew this fruit was clearly of much higher quality. He took several cuttings back to the USA where they remained in quarantine for a number of years (were found to be completely disease free).
He eventually planted the cuttings among his rose bushes and watched as the cuttings leafed out and over time never contracted powdery mildew while the rose bushes of course had little immunity. This particular selection of Pinot Noir was resistant to powdery mildew which is a common fungus that vineyard managers spend much time and money fighting with sulfur and other sprays. As a result he took some cuttings to UC Davis where they are genetically trying isolate this particular gene(s). If they are successful this has the potential to completely revolutionize vineyard management and certainly significantly cut down on sulfur uses.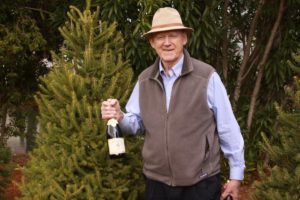 The vineyard is growing in a cooler part of the Napa Valley – a bit north of the Carneros district. The vineyard stands out in stark contrast to typical shiny yellow green grape leaves of the other surrounding vineyards. Richard's vineyard of Wrotham Pinot Noir is actually a grayish color due to all the small white/grey hairs that cover all of the leaves. Another unusual attribute of this Wrotham selection is during bud break and for a time thereafter the small leaves are a distinctive red/pinkish color. This is certainly the first vineyard of Wrotham Pinot Noir growing in the USA and presently there are not even 4 acres planted worldwide.
Pinot Noir is a varietal that tends to mutate and sure enough Richard has found several mutations in his own small vineyard. One vine produced one shiny yellow green leafed shoot in contrast to the muted whitish/grey leaves found on the rest of the vine. During a recent harvest he also found one vine that produced both red and white fruit. These mutations can then be isolated and once they bear fruit it can be determined if the quality is good enough to continue to propagate them.
Because of the limited amount of fruit Richard makes either a sparkling wine or a red wine each year. There are merely 8 or 9 producers that we know in the Napa Valley making at least one sparkling wine each vintage; it is certainly not that common. We normally do not drink much sparkling wine but this is certainly one of the nicer sparkling wines we have tried on this project. The first vintage of any wine from this vineyard was released in 2000. We tried the 2001 sparkling Blanc de noir.
This wine is a pronounced peach/pink color in the glass with a fine bouquet showing wild strawberry and kiwi notes. The mouth feel is pleasing with just a note of creaminess from the time spent on the yeast. Subtle and delicate red fruit flavors show including strawberry, cranberry and a pleasing note of ruby red grapefruit flavor towards the clean crisp finish. This wine should be drinkable anytime from release up to 15 to 20 years. At the time of this review, 2005 was the most recent vintage which won't actually be released for several more years.
The 2006 Pinot Noir was the first ever release of a red wine from the Wrotham clone Pinot Noir. Since this is the first table wine from this particular clone Richard is still experimenting with the winemaking side of things including barrel selection and aging. 516 cases of this wine were released. The bouquet has nice notes of perfume and is somewhat floral including aromas of violet and lavender with some mineralities present. Ripe red fruit shows on the palate including red cherry, raspberry and plum. This is a fairly smooth Pinot throughout the palate with great acidity as well as nice structure and a lingering taste of berries on the finish. From his work at Beaulieu Vineyards Richard discovered that some of Andre Tchelistcheff's early crafted Pinot Noirs at Beaulieu Vineyard actually held up longer than some of the Cabernet Sauvignons. Richard expects this wine to also age very well.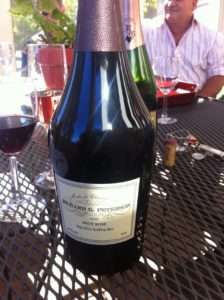 The Wrotham clone dates from at least 1700 years ago when the Romans came to England – the varietal probably was used for wine at that time and then fast forward all those centuries to today for the "modern" take on this Pinot selection. Richard's friend has planted another acre in even cooler Monterey and as a result Richard now has this additional fruit source to work with.
The fruit from the Monterey vineyard will go into his sparkling wine and the fruit from his Napa Vineyard will continue to be used for the Pinot noir.
This particular varietal of Pinot Noir while several thousand years old, is certainly so "new" that Richard is still determining the best way to work with it in the winery (oak program, wine making style etc). It is a varietal that prefers cooler weather and the vineyard in Monterey is even cooler than Richard's vineyard – it will be interesting to see differences between the two vineyards in the coming years. Incidentally the "source" vine in Wrotham died in 1990 but soon thereafter two small seedlings sprouted – which is probably how this vine regenerated itself over almost 2000 years.
Based on Richard's long time involvement as a wine judge it is only natural that the wine from his vineyard has been entered into a number of competitions. Out of 1800 entries at a recent National Women's Wine Competition only 6 double gold medals were given out and Richard Grant took home one of these. He has also won a number of medals at other competitions including nationally and internationally.
A "new" wine as of 2014 that took 7 years to make and another year in bottle before release is the premium Brut Rose under the Richard G Peterson label – the first vintage of this wine is from 2004.
Also note: In August 2015, Richard released a highly personalized 400+ page biography of his decades of work and contributions to the wine industry. This is one wine book you will not want to miss. Read our review here.
The production is so limited each year (usually under 500 cases) that its distribution is almost all within California. You can find the wines locally at Dean & Deluca in St. Helena.
NOTE: Dick sold his Yountville vineyard and Richard G Peterson brand in 2016, but still has access to the Wrotham fruit that his friend grows in Monterey County and is still producing wine under the Richard Peterson label – is no longer using fruit from the Napa Valley.
Wines from this vineyard are now sold in two locations – as a label through Richard's daughter Heidi's Au Sommet and for a short while through Bronco Wine Company – visit: www.richardgpeterson.com for more details.