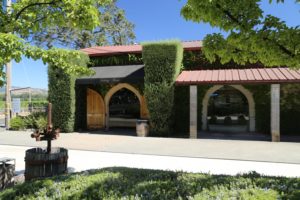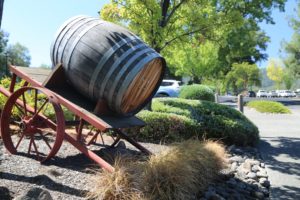 Napa Wine Co is located at the corner of Highway 29 and the Oakville Crossroad (within walking distance of the opposite corner located Oakville Grocery). The small tasting room is located near the large winery building. Park in the shade of the front of the main winery building and walk over to the tasting room. This is one of Napa's great wineries in both a historical and influential sense. The original winery on site, Nouveau Medoc dated back to 1877 (Napa county's 9th bonded winery). The long time Napa Bartolucci Brothers/Family built another winery called Madonna Winery on site in 1892 – Madonna Winery ultimately moved and has been located in the Carneros region to the south for decades.
Ownership has changed at Napa Wine Co over the years with notables being Louis Stralla, one of the founding members of the Napa Valley Vintners Association (he produced the Betsy Ross label here in the 1940's) and years later, the famous Inglenook wines were produced on site. One winery (Brun & Chaix, now Cade at 13th Vineyard) in the late 1880's even used a huge mirror near Howell Mountain to flash signals down to Napa Wine Co that they had just picked the grapes and were going to wagon them down to the production facilities.
Today Napa Wine Co is privately owned by the long time Napa family, the Pelissas and differentiates itself from other area wineries in Napa Valley in that they have one of the largest and oldest custom crush facilities in Napa. Under a variety of programs, they allow other winemakers to use their facilities to make wine – typically 1000 gallons is the minimum which is equivalent to about 500 cases.
We have toured the various parts of their production facilities and barrel rooms – their production space is sizable with special areas separated for both red and white wine making, barrel rooms and two bottling lines. We have heard that something like 1 millions cases of wine are produced here each year.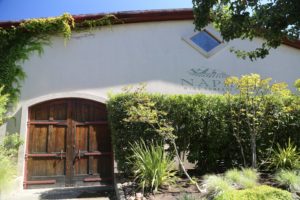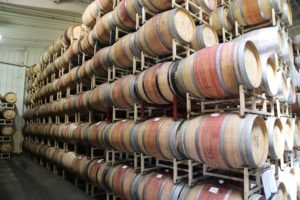 As a result of their reputation for providing state of the art wine making equipment in a cooperative environment a number of wineries made their early vintages here (before they eventually built their own wineries). Some of the more well known wineries to have started here include Bryant Family, Colgin & Marcassin.
Napa Wine Co actually only produces about 8000 cases a year under their own labels. Today Napa Wine Co operates Bonded Winery #9 which is the umbrella company for exclusively their own wine labels which as of our latest update to this review include: Ghost Block, Elizabeth Rose, and Oakville Winery (Oakville Winery is their Napa Cabernet Sauvignon & Zinfandel label).
The Pelissa family are among the largest vineyard growers in Napa County and as a result they have a plethora of vineyard choices from which to source fruit for these three labels. All 600+ family owned acres are CCOF certified organically farmed. Their well-known tasting room called Cult Wine Central serves several tasting flights from many of the small winemakers who make their wine here including Napa Wine Co's own labels. Each winery has their own plaque in the tasting room. Tastings are limited at any one time to wine from 20 brands. This is a great chance to taste a variety of smaller vintages and much lesser known – but still very highly sought after wines. And a wide range of pricing is also available from those on a budget to higher priced collector wines.
A sign in front of the winery on Highway 29 rotates among their brands, featuring a particular brand on any one day. For more information, visit: www.napawineco.com
NOTE: This review has been identified as needing a *major* update.
Exterior

Interior