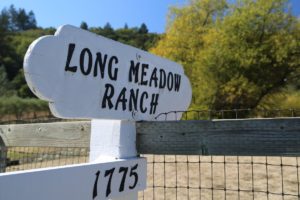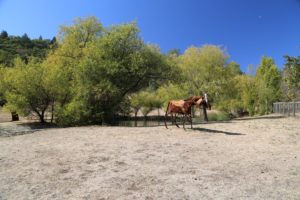 Long Meadow Ranch is nestled in Napa's western Mayacamas mountains off of Whitehall Lane. This is a very unique winery as they are so diversified within the Napa Valley and beyond. The winery and property is owned by the Halls, (no relation to Napa's Hall Winery). Ted and his wife Laddie acquired their property in 1989. Ted has had a passion for wine for a long time, having handcrafted home made wine for 17 consecutive years starting in graduate school while attending Stanford. Today it is truly a family run winery with their son Christopher also actively involved as their National Sales Manager. Long Meadow Ranch is a very diversified winery; besides their wines, they are well known for cattle, poultry, horses, olive oil, fresh produce & unique tours.
There is no signage to the winery either on Highway 29 or on Whitehall Lane. In fact along the way there are actually several signs that highly discourage visitors, such as "no trespassing", "do not enter, private road" etc. If you have an appointment at this winery you can ignore all those signs and drive to the end of the road – which is several miles from Highway 29. The road forks once about 1/2 mile in from Highway 29- stay to the right and wind around for another mile or so using extreme caution on the particularly narrow bends in the road. The main winery building is partially constructed of clay taken from the property; this effectively moderates the temperature year round. This building was designed by William Turnbull who also designed Napa's Cakebread Cellars.
Long Meadow Ranch offers a variety of tours. One is in the open-air 4whd Pinzgauer vehicle, a hike, and a hike or Pinzgauer tour plus a large lunch including estate grown produce and of course beef from their grass fed cattle. We opted for the driving tour having been on more than our fair share of walking tours at Napa wineries and besides there is only one other small Napa winery offering tours using the "cool" Pinzgauer vehicle. The driving tour takes about 45 minutes with several stops one of which affords great views of Napa Valley. Along the way you will probably see their famous long haired cattle, a building which has served for many TV photo shoots, and their main hillside vineyards. The tour guide is a great source of information and questions are encouraged. All their vineyards are certified organic and so to are their other crops. While the valley floor is planted to a mono culture crop, Long Meadow Ranch has always embraced a holistic farming philosophy that multiple crops contribute to the health of the entire farm. They also recycle anything organic that is created or produced on the property.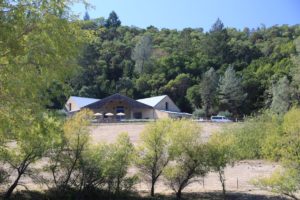 After the driving or hiking tour you will take a quick peek at their olive oil making facility. LMR is one of only two wineries in Napa Valley to make olive oil (the other being Round Pond). Your tasting will actually include shots of olive oil – yes there are special olive oil tasting glasses and a method to tasting olive oil, versus say wine. On to the wines. We tasted their Sauvignon Blanc, Ranch House Red (both wines are light in style and easy drinking). The 2004 Cabernet Sauvignon is rich with ripe fruit flavor and is not a huge alcohol bomb, rather everything in this wine is very well balanced…and the price is rather reasonable by Napa standards as well. This mouth feel is very smooth and is anchored by a rather long finish.
Want some real heat to finish off your tasting? Try their 80 proof Grappa made from Cabernet grapes. LMR also owns the nearly 6 acre Rutherford Gardens located in Rutherford right next to Highway 29. This land has been producing fruit and vegetables since the 1930's and surprisingly has never been planted to wine grapes, especially considering the property is literally surrounded by vineyards. Home grown produce is available for sale from Wednesday through Saturday – check for the latest hours. LMR also sells produce at the St. Helena Farmers Market and they own a 500 acre ranch on the coast in Marin county, home of their famous beef producing cattle. They hold a cattle auction each May.
Long Meadow Ranch has also donated over 380 acres of land as conservation easements meaning these acres will never be developed and will remain in their natural state.
Note: The newest exciting project for the Hall's is the Long Meadow Ranch Winery & Farmstead located along Highway 29 in the southern part of St. Helena next to the Whiting Nursery. This location includes the Farmstead Restaurant featuring dishes prepared with locally grown ingredients (on the property), a wine and olive oil tasting room, a full organic nursery with farm supplies, demonstration gardens, and a seasonal outdoor farmer's marketplace. The restaurant is one of the central features and is located within a contemporary barn with indoor and outdoor seating. Visit: www.longmeadowranch.com
Below photos, Rutherford Estate & Gardens