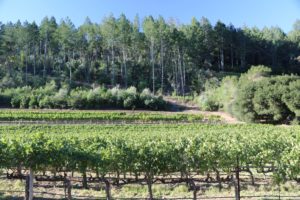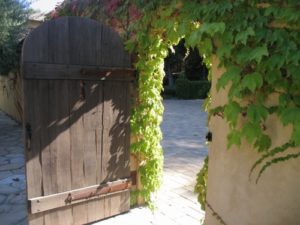 DR Stephens Estate is a beautiful wine estate located in the hills off of Howell Mountain Road just minutes from the Silverado trail. This location is peaceful, secluded and while minutes removed from the valley floor feels much further removed from parts of the busy Napa Valley. Tastings are held at Hunnicutt Winery and are for serious wine enthusiasts. A visit here is usually with one of the family members. Don R. Stephens and son Justin are the owners. During Don's time in law school in the Bay Area he and some partners started a steakhouse restaurant in San Francisco. At this time he gained appreciation for fine wine and especially for how Cabernet Sauvignon paired well with steak.
The seeds were planted! Fast forward many years through a successful career in which he runs a real estate and private equity investment business – to 1996 when he acquired 35 acres and soon planted 9 acres of this to vineyards. They released their first commercial vintage in 2002. The family grew up in the northern Napa Valley, just up the road from their current wine estate. Their original intent with the property was not to get into the wine making business but the acreage they purchased, while never historically planted to vineyards is mostly hillside and is perfect for growing Cabernet Sauvignon as they later discovered.
Founding winemaker, Celia Welch specializes in consulting for ultra-premium wineries and is well known throughout the valley for her attention to detail and high quality wines. Celia is a well-regarded long time Napa based winemaker (been making wine in the valley for more then 30 years) – who has consulted for select premium clients over the years including Scarecrow. She also produces her own small label called Corra.
Born and raised in Medford, Oregon – her introduction to wine came early through her fathers passion for wine. He was a home winemaker and collector and she grew up helping him make wine. Her first introduction to the Napa Valley was in the 1960's during trips with her family. She graduated from UC Davis in 1982 with a degree B.S. degree in Fermentation Science at a time when a number of now prominent women winemakers were enrolled including Pam Starr and Heidi Peterson Barrett and others who work in Napa and beyond.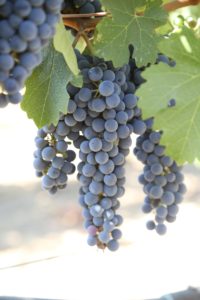 Continuing her education after graduating, she embarked in extensive travels through a number of wine regions including domestically in the Pacific Northwest, the East Coast and then New Zealand – finally working in the Barossa Valley in Australia. She then moved to the Napa Valley and worked at a number of wineries including Silverado Vineyards in 1987, was assistant winemaker at Robert Pepi Winery (now the home of Cardinale) and began her consulting career in 1992 for Staglin Family Winery.
Her focus of consulting is generally for premium producers who own their own vineyards (rather then labels who source fruit) – often (but not always) from hillside locations in the valley. And her work has been highly recognized throughout the industry – in 2008 she was named Winemaker of the Year by Food and Wine Magazine and has been inducted into the Winemakers Hall of Fame through the organization, Women for Winesense.
Today winemaker is Michael Hirby. Michael has an interesting story of how he ended up working as a winemaker in Napa. He was in school at Colorado College (where he eventually graduated with a degree in Philosophy) when he found out one of his classmates owned a restaurant, interestingly named Primativo. With a restaurant name like that they were sure to have a nice wine list and Michael ended up working as their sommelier and gaining valuable insights and tasting knowledge of domestic and international wines. He eventually moved to France to take a job at a winery but just before he was to start he was informed there was no job available. Not exactly the kind of news you want to hear when you are already invested in taking a position overseas.
Mike stayed in France longer and eventually found his was back to the USA and to Napa. He arrived in the Napa Valley without knowing anyone, having housing lined up or a job but fortunately discovered Behrens & Hitchcock Winery high on Spring Mountain. During his time there, he served as their assistant winemaker learning valuable wine making information from owner Les Behrens before branching out on his own. Later he became winemaker at Realm Cellars. Besides running Relic and making the wines for DR Stephens, he is also winemaker for several other boutique wineries.
And Mike Wolf overseas their vineyard operations. Mike was born in New York City and grew up just outside of the city. Viticulture was not a part of his formative years – he graduated with a history degree at Alfred University. He first moved to California in 1972 – to Mendocino County as a farm worker helping manage pears, prunes and grapes. Eventually he oversaw vineyard operations at Juliana Ranch in Pope Valley (one of Napa's larger vineyard sites) and in 1994 took a job managing 500 acres for Beckstoffer Vineyards. He branched out on his own in 1997 and formed Michael Wolf Vineyard Services. One of his early clients was Vine Hill Ranch.
Today Mike oversees approximately 500 acres in the Napa Valley and has managed or is managing vineyards for BOND, Harlan Estate, Lewis Cellars, Meteor Vineyards, Scarecrow, and Vineyard 29. And he has also worked with some of the top winemakers in the valley including Celia Welch, Philippe Melka, Bob Levy and Andy Erickson.
In 2015, Mike was awarded Grower of the Year by the Napa Grape Growers Association.
Initially the focus of DR Stephens was on Cabernet Sauvignon (and produced three wines from this varietal every year) – two vineyard designates and a declassified second label. One is their impressive Moose Valley Vineyard (from their estate) which is 100% Cabernet Sauvignon entirely grown on the St. Helena property. Another was their Walther River Block, also 100% Cabernet Sauvignon from a 1.6 acre vineyard in Rutherford – 2006 was their first release. Finally the DRII, was produced from estate fruit as well as from other Napa Vineyards.
Today they make one Cabernet Sauvignon, a wine from the Moose Valley Vineyard. The 2005 Moose Valley Vineyard and Walther River Block Cabernet were aged predominately in new French Oak and did not see fining or filtration. All grapes are harvested by hand, de-stemmed and then re-sorted so that only the ripest berries are left. These berries are then fermented on the skins before pressing. The 2005 vintage is a very dark wine and its aromas are full of freshly picked ripe blackberries. The palate bursts with ripe cherry and dark chocolate. The tannins are gentle and delicate with a finish full of vanilla and tobacco that lingers well after you swallow.
They also produce one Cabernet Sauvignon and also a Chardonnay, Sauvignon Blanc and a Pinot Noir.
Their wines are well placed within the Napa area, usually found at the higher end restaurants and resorts including Auberge du Soleil and Meadowood. Cases of their wine have received some of the highest bids at the annual Premier Napa Valley which is a mid-winter event mainly for trade to benefit charity organizations. Don and Justin also own a label called Hunnicutt. Note that their mailing list is currently full – but you can join the waiting list for the mailing list. For more information about DR Stephens, or to signup for one of their membership options, visit: www.drstephensestate.com