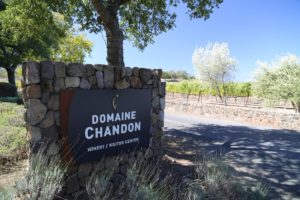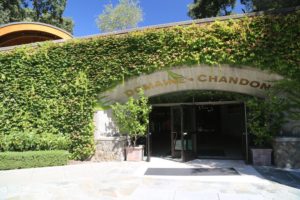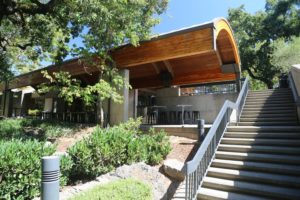 Domain Chandon is one of the Napa Valley's more visited wineries; they are only one of four Napa based wineries that focus on sparkling wine production, i.e. Champagne style wines. The winery is owned by Moët et Chandon, part owner of the largest luxury group in the world – LVMH Moët Hennessy Louis Vuitton SE, or LVMH for short – LVMH also owns or has part ownership of several other Napa Valley based wineries among approximately 70 wineries the company oversees in select wine regions around the world. LVMH is not only limited to wine – under company ownership are numerous fashion, perfume, jewelry and other lifestyle products.
Domain Chandon was founded in 1973 and for many years only produced sparkling wine. They were the first French-owned sparkling producer in the USA. And in a bit of Napa Valley historical trivia, for a short period in the early 1970s despite not producing sparkling wines, nearby Trefethen Winery was home to thousands of bottles of sparkling wine. The reason for this is that Domain Chandon began their wine making efforts here by taking over the second floor of Trefethen Winery for their own operations (before the winery buildings at Domain Chandon were yet built).
In 1999 their long time "riddler" retired (a riddler is one who turns the bottles by hand in order to allow the yeast to slowly work its way out to the stem of the bottle where it can then be removed by a process called 'disgorging'). After his retirement, Domain Chandon decided to begin making limited production still wines in addition to their sparkling wines. Yes, Domain Chandon even produces a Napa Valley Cabernet Sauvignon.
Riddling racks take up a lot of space and like most larger wineries producing sparkling wines, the riddling process is automated. Wineries often come up with creative names for their riddling machines like BOB at Mumm – the staff at Domain Chandon simply calls their riddling machines, VLM for "very large machine". Their former riddling rack storage space is now used for barrel aging the still wines.
The winery uses three varietals for their sparkling wines – Chardonnay, Pinot Noir and Pinot Meunier. Domain Chandon was the first California winery to use Pinot Meunier in their sparkling wines; this varietal is a lesser known cousin of Pinot Noir. Today out of the 1,000+ commercial Napa Valley based wine producers that we have personally visited and tasted with, only a handful of wineries in Napa produce either a still or a sparkling wine from Pinot Meunier. Meunier means "miller" in French – referring to someone who mills flour. For those with a passion for etymology, when you look at the back of a leaf of Pinot Meunier, you will notice numerous fine white hairs – possibly resembling powdered flower to those who originally came up with this name. As a result, vineyards of this varietal are easily identifiable, even from afar – especially early in the growing season by their whitish grey looking leaves.
Domain Chandon owns three estate vineyards in the Napa Valley including in Carneros, Mount Veeder and Yountville – totaling nearly 1000 acres. In addition, they purchase fruit from a variety of northern and central California coastal sites. All their wines are sold either in the United States or in Canada.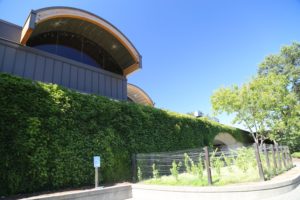 Domain Chandon has been voted Winery of the Year in past years by the California Tourism Association and most recently received a similar award in 2018 at the International Wine & Spirits Competition: Sommelier Challenge. The winery is located just off Highway 29 initially on the same road that leads to the Yountville Veteran's home slightly west of the town of Yountville (only a several minute drive from the center of Yountville). In prior years driving up Highway 29 from the town of Napa, one may have seen a billboard that prominently displayed a picture of a champagne cork and a regular wine cork with the line above saying "which is more fun?!"
Guests who visited the winery in years past were also greeted with signs publicizing their own winery radio station; they were the only Napa winery to have their own station – at the time, it was broadcast on FM channel 88.1.
The property features pretty landscaping including rock sculptures held together with rebar and an intriguing rock "mushroom garden".
A rather lengthy parking lot is divided into an upper and a lower section. The long driveway enters the lower parking lot; if the first 2 or 3 spaces are free take these as they are shaded under the oaks and you do not have to drive all the way through the long parking lot and around to exit when you leave. Rather if you back in to these coveted spots, when you are ready to leave you can simply pull out and already be at the exit. The entrance to the winery is directly next to the lower parking lot – cross the small wooden bridge over the water and make the short walk to the visitor center entrance.
Once inside, you will be greeted by a host who will provide more information about available tastings. Tours range in price depending on the experience. During busy summer, fall and holiday weekends it is recommended to arrive at least 10-15 minutes before the tour starts as tours are offered on a first come first served basis. This will also provide additional time to browse their main lobby as rotating artwork is commonly displayed on the walls, view basic wine educational displays and wander through the small gift shop.
NOTE: at times Domain Chandon does not offer any tours – check their website for current tour status. A typical introductory tour takes about 40 minutes – this was our first introduction to Domain Chandon many years ago. Visitors can choose to pay extra for a taste at the end of the tour or simply take the tour.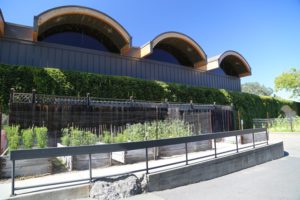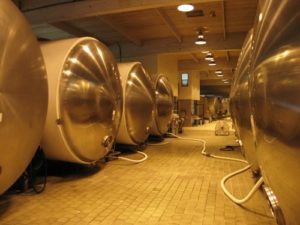 The tour proceeds through part of the main winery – large stainless steel tanks dominate the inside of the winery. Tour groups will stop in front of a small educational exhibit for a question and answer session about their production and methods unique to making sparkling wine. Visitors will be informed that most bottles of sparkling wine contain about 56 million bubbles – apparently a French Champagne house has conducted extensive research on this. A quick stop in the lower part of the winery allows you to see their barrel aging facility.
Note the select presidential menus hanging on the walls near the gift shop – often several menus including both recent and older ones are displayed. It is obvious that their wines are served at the White House fairly often. A good photo opportunity is next to the curved wine cellar in which hundreds of bottles are on display near the main entrance. These bottles must be rarely moved as if you look past the stem of the bottle, you will notice that quite a bit of dust has collected.
Regardless of whether you are on a tour, one can visit Domain Chandon's raised planter beds located outside and near the primary tasting room. These beds are often planted with a sensory component in mind – with plants representing similar odors commonly found in wine. A small demonstration vineyard features primary varietals used in the making of sparkling wines.
Domain Chandon features a modern tasting room with both a bar and a lounge style setting. On warm days the entire glass wall behind the bar opens and one is treated to views and fresh air of the surrounding grounds. A number of small plates can also be ordered with a diversity of appetizer sized bites.
Several unique tasting flights are offered. We always enjoy the "classic" taste – these wines are younger and a bit more fruit forward then their other tastings. Depending on the type of sparkling wine, Domain Chandon ages the wines from one to eight years.
Domain Chandon often holds fun events on a rotating basis. Of mention is the "Bubble & Oysters Hour" featuring fresh oysters from Hog Island Oyster company. In 2018, Domain Chandon began offering Brunch in Bloom every Sunday – an experience where guests sit around a shared table with glasses of Chandon wines paired with a seasonal menu.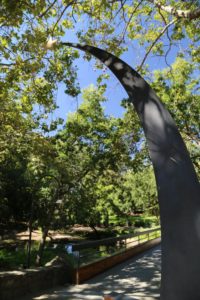 Étoile restaurant was highly rated and was the only fine dining restaurant located within an actual winery in Napa Valley. Unfortunately the restaurant closed permanently in 2015, converted to additional tasting room space. And in an interesting side note, the second chef at Étoile, Philippe Jeanty would go on to open the acclaimed Bistro Jeanty restaurant in Yountville.
Étoile means "star" in French – yes there is a story about this name that dates back to the Benedictine monk, Dom Perignon who is often wrongly credited with founding the méthode Champenoise way of making sparkling wine. Supposedly while drinking his "accidental" Champagne he called to the other monks, "Come quickly, I am drinking the stars". This restaurant was also voted among the top winery restaurants in the world by the popular Travel & Leisure magazine.
It is easy to think that Domain Chandon is the only winery in the Chandon portfolio but in actuality this a very international focused company with wineries that one can also visit in Argentina (the first Chandon winery outside of France – 1959), Australia, Brazil, China, India and the 'mother-ship', Moët et Chandon in Épernay, France.
Moët et Chandon, Épernay
Moët et Chandon was founded in 1743 as Moët et Cie (Moët & Co) in Épernay by Claude Moët, a winemaker and wine merchant. Moët was the first winemaker in Champagne to focus entirely on sparkling wine production. The company took its current name in 1833. Long associated with luxury, some of the winery's first clients were some of the most well to do people in France. In 1987 Moët et Chandon merged with with Louis Vuitton and became LVMH (Louis-Vuitton-Moët-Hennessy).
A visit to the maison is a world of elegance, opulence and refined luxury – framed by an inviting exterior, a lavish interior, endowed with the rich heritage of the company, complemented by well-dressed employees and the feeling of refinement one has when enjoying some of their nectareous products.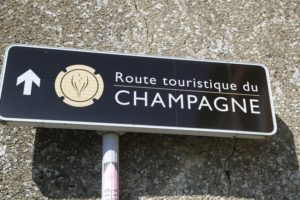 Moët et Chandon is located in the heart of Épernay (there are no vineyards on site – however the company owns some nearly 3,000 acres of vineyards in the Champagne region and purchases additional fruit from other growers). Visitors taking a tour of the historic caves can park across the street on one of the side streets (parking is metered). Prior to tours, guests will wait in the large salon. The highlight of the tour is a visit to the 28km of caves spanning several levels located directly below the maison and underneath numerous streets of the city spanning some 10 to 30 meters (30 to 100 feet) underground. Some of these original caves date back to 1743. One of the tour guides estimated there are around 1000 km of tunnels in Champagne. Like other caves in parts of Champagne the tunnels are carved out of a white chalk (one can feel the walls are slightly damp to the touch).
Of the millions of bottles produced each year approximately 20% are still riddled by hand including their large format bottles which do not fit into the Gyropalette (a machine that automates the riddling process). And only about 2% of their entire production are vintage bottlings.
At one point in the tour guests will be surrounded by bottles of aging Dom Perignon (some of the finest, most well-known and expensive bottles of Champagne in the world). Dom Perignon is a vintage Champagne and is only produced in years of exceptional quality – Moët et Chandon first produced this wine in 1921. It must age for a minimum of 12 years before being released. And while touring the caves guests will also see a large engraved wine cask that was given as a gift to Jean Remy Moët (Claude Moët's grandson) by Napoleon (a friend and a client of the winery) in 1810.
After the tour guests will enjoy several Champagnes in a special tasting salon also located underground. Tours will culminate with a visit to the 'boutique', a high end retail space showcasing their wines including vintages of Dom Perignon. Private tours can also be arranged in advance.
The spectacular Résidence de Trianon estate (orangerie) and gardens across the street were constructed between 1805 and 1817 for Jean-Rémy Moët's two children and were used as private residences for many years. Today this estate is often used for special events and as a reception area for VIPs. And Moët et Chandon has owned Château de Saran since 1801 – located about 15 minutes from the maison and used for hosting guests, private parties and other select events.
For more information and to reserve a tour & tasting, visit: www.moet.com
Bodega Chandon, Mendoza Argentina
—
Note: due to the international scope of the Chandon properties – the significant time and expenses needed to properly write a review of this storied brand based on personally visiting and tasting at all their international properties, this review will be updated very slowly over a span of multiple years. Napa Valley in South America, your next!
For more information or to join their wine club, visit: www.chandon.com
Exterior + Grounds

Interior

OTHER CHANDON WINERY PROPERTIES
MOET ET CHANDON, ÉPERNAY FRANCE
exterior

reception/entrance rooms

caves

the boutique

Épernay, France

BODEGA CHANDON, MENDOZA ARGENTINA
Photos coming by end of 2019
CHANDON, YARRA VALLEY AUSTRALIA
Photos coming at some point
CHANDON, GARIBALDI BRAZIL
Photos coming by end of 2019
CHANDON, NINGXIA CHINA
Photos coming at some point
CHANDON, NASHIK INDIA
Photos coming at some point