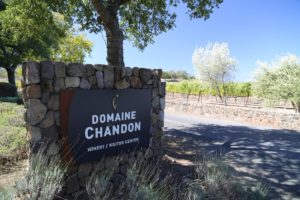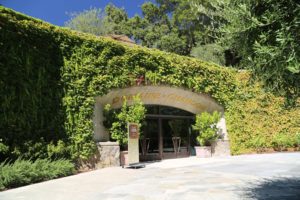 Domain Chandon is truly a destination winery with their focus being sparkling wine production, i.e. Champagne style wines. This winery is owned by the largest luxury group in the world – Moet-Hennessy / Louis Vuitton. You are are drinking classy bubbly here! Their Napa winery was founded in 1973 and for many years they just produced sparkling wine. In fact they were the first French owned sparkling producer in the USA. In 1999 their long time "riddler" retired (a riddler is one who turns the bottles by hand in order to allow the yeast to slowly work its way out to the stem of the bottle where it can then be removed by a process called 'disgorging'). When their riddler retired, the time was right to start making still wines. Riddling racks take up much space and like most larger sparkling/Champagne wineries, the riddling process has become automated (they call the riddling machines at Domain Chandon, VLM or "very large machine!") Their former riddling rack storage space now serves as home to barrel aging for the still wines.
They use three varietals for their sparkling as well as their still wines – Chardonnay, Pinot Noir and Pinot Meunier. This winery was the first California winery to use Pinot Meunier in their sparkling wines; it is a lesser known cousin of the Pinot Noir. Today out of nearly 800 commercial Napa wine producers that we have personally visited and tasted with, only a handful in Napa produce either a still or a sparkling wine from this varietal. Meunier means "miller" in French as in a flour miller. For those with a passion for etymology, when you look at the back of a leaf from this varietal, you will see lots of fine white hairs – possibly resembling powdered flower to those who originally came up with this name!
Domain Chandon has been voted Winery of the Year in past years by the California Tourism Association. It is located just off of the main road leading to the Yountville Veteran's home just west of the town of Yountville. In prior years as you drove up Highway 29 from the town of Napa, you might have seen a billboard that displayed a picture of a champagne cork and a regular wine cork with the line above saying "Which is more fun?!" From this image, obviously its the sparkling wine. Hmmm. Clever.
As you enter this winery you are greeted with signs publicizing their own winery radio station; they are the only Napa winery to have their own station! Be sure to tune your dial to 88.1 as you enter the winery grounds. Very nice landscaping graces the property including rock sculptures held together with rebar and a nice rock "mushroom garden".
There is a large rather long parking lot divided into an upper and a lower section. The long driveway enters the first lower parking lot; if the first 2 or 3 spaces are free take these as they are shaded under the oaks and you do not have to drive all the way through the long parking lot and around to exit when you leave. Rather if you back in, when you are ready to leave you can just pull out and be right at the exit already. The entrance to the winery is right next to this first parking lot – cross the small wooden bridge over the water to walk up to the main building.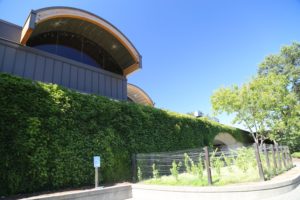 Once you enter you will be greeted by front counter attendees who will provide you more information about any tours and tastings. They offer 3-4 tours all at set times (sometimes they do not offer tours so check their website for the latest, the first tour typically starts at 11am). The tours of course range in price depending on which one you choose. During busy summer, fall and holiday weekends it is recommended to arrive at least 10-15 minutes before the tour starts as tours are served on a first come first served basis. This will also give you additional time to browse their main lobby as rotating artwork is commonly displayed on the walls, wine education displays might be available and there is a small gift shop as well.
Note the presidential menus – as of our latest visit, we saw several menus from this year – during previous visits we saw older menus. Obviously, their wine must be served at the White House fairly often if they are rotating these menus every year! A good photo opportunity is next to the curving wine cellar in which hundreds of bottles are on display near the main entrance. These bottles must be rarely moved as if you look past the stem of the bottle, you will notice that quite a bit of dust has collected.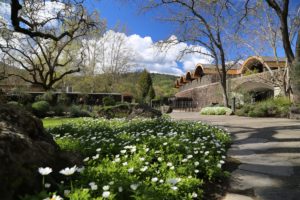 A typical introductory tour takes about 40 minutes (which is the one we first went on) – you can choose to pay extra for a taste at the end of the tour or just take the tour. Domain Chandon has built raised beds, planted to specific plants depending on the time of the season. This is their sensory exhibit and you can touch and smell the plants, each one representing some odor commonly found in wine. There is also a small demonstration vineyard planted which contains the main varietals used in their wine making. Domain Chandon actually owns about 1000 acres, mostly in Napa but also in part of the Sonoma side of the Carneros region. The tour takes you through part of their main winery – huge stainless steel tanks dominate the inside of the winery.
A small educational exhibit makes for a good stop with a question and answer session about the production and methods unique to making sparkling wine. Here you will find out that most bottles of sparkling wine contain about 56 million bubbles – apparently a French Champagne house has conducted extensive research on this! A quick stop in the lower part of the winery allows you to see their barrel aging facility.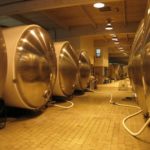 Domain Chandon has a wonderful modern tasting room in a lounge style setting. On warm days the entire glass wall behind the pourers opens up and you are treated to views and fresh air of the surrounding grounds. Excellent appetizers are served here and also at the sit down tables. They offer several unique tasting flights. We enjoyed the "classic" taste -these wines are younger and a bit more fruity then their other tastings. Depending on the type of sparkling wine, they will age the wines from one to 8 years. Domain Chandon often holds fun events on a rotating basis. Of mention is the "Bubble & Oysters Hour" featuring fresh oysters from Hog Island Oyster company (located to the west on the coast). They are also open quite late on certain days – ask or check their website for the latest hours.
Their eToile restaurant was rated 4 stars and was only fine dining restaurant located within an actual winery in Napa Valley! Etoile means "star" in French – yes there is a story about this name that dates back to the Benedictine monk, Dom Perignon who is credited with founding (accidentally) the Methode champenoise way of making sparkling wine. Supposedly while drinking his "accidental" Champagne he called to the other monks, "Come quickly, I am drinking the stars!" This restaurant was also voted among the top winery restaurants in the world by the popular Travel & Leisure magazine. Unfortunately this restaurant closed permanently in 2015.
Visit: www.chandon.com
Domain Chandon Winery Tour Video: