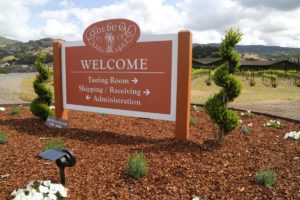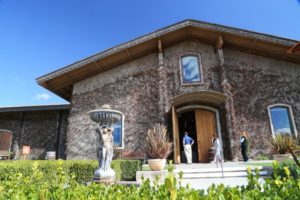 Clos du Val (founded 1972) is still under original ownership and has won many awards for their various wines. The winery and hospitality center is located just off the Silverado Trail in the well-known Stags Leap District. The winery was founded by an American businessman John Goelet and French winemaker Bernard Portet; John hired Bernard to look for high quality wine regions outside of France to grow and produce Bordeaux style wines.
As as result of their French connection this is the one Napa winery where you always see the French flag next to the American flag at the entrance to their driveway. They also own vineyards and a winery in Tasmania, Australia and France and their portfolio of wine estates falls under their parent organization called the Goelet Wine Estates. You can read more about these fine International wine estates here: www.goeletwineestates.com.
In addition to the Stags Leap vineyards near the physical winery they also have large vineyard holdings in the Carneros appellation (south of the city of Napa). Drive down the short curvy road until you reach their small parking lot. Need restrooms? They are in the small building next to the parking lot and the tasting room entrance is on the vineyard side. More private tasting can be arranged at tables in their barrel room next to the current hospitality center.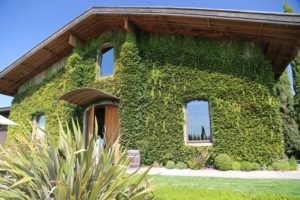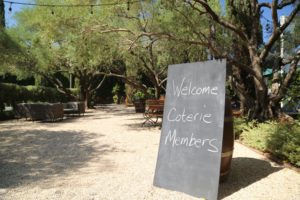 Their Cabernet Sauvignon was one of the 6 Napa Cabernets selected for the now famous 1976 Paris tasting – a large photo of the label hangs inside. As a result they are most known for their Cabernet Sauvignons, but because of the variety of property they own in the Napa Valley they do make other wines. Tasting typically includes a Sauvignon Blanc, Chardonnay, Pinot Noir and of course their most produced wine the Napa Valley, Cabernet Sauvignon.
An extremely light in color wine is the 2007 Searle Carneros Pinot Noir rosé; this is a wine that craves to be paired with a salad. The 2006 Carneros Pinot Noir shows nice fruit on the palate as well as an interesting mix of spices including hints of pepper, cinnamon and even a nuance of ginger towards the finish.
The 2004 Stags Leap Cabernet Sauvignon is a robust wine with mouth drying tannins after the initial fruit – cherries and blackberries along with a mix of interesting spices. This is certainly a wine you can lay down for 10-15 years. The tasting room can get crowded but we lucked out one fine summer morning to be the only one tasting. As with any of the popular more established Napa wineries, an early visit is the best time to ensure a more personal tasting experience. Besides the wines you can also play Petanque (sort of like bocce ball – a French version), picnics are no longer allowed on site or if you are a wine club member, can enjoy the relaxing environment in their small olive grove.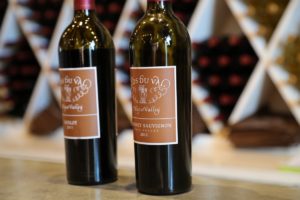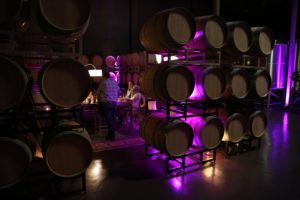 The general tasting is reasonably priced and tours are by appointment only. Reserve and more high end library wines are poured during tastings on the weekends (for an additional fee). Sometimes they even have 10-12 year old Cabernets available in this specific tasting. Brown is decidedly the color of choice here as it graces their labels, table cloths, is the color of the pour bucket and they even use brown napkins.
For more information visit: www.closduval.com
Note: as of late 2017, Clos du Val broke ground on a new 3,000 square foot hospitality center, located roughly in front of their existing barrel room and winery. This will be called the Hirondelle House and is slated to open sometime in August or September 2018. You can be sure we will revisit and update this review sometime around then.
We are highly aware that this review has been identified as needing a **major** update.