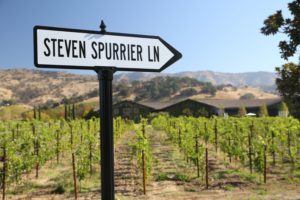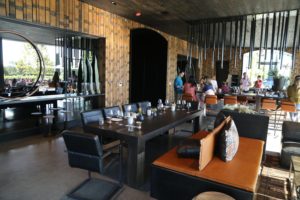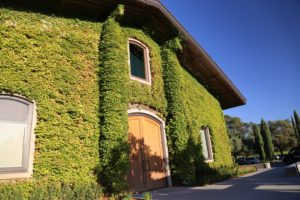 Clos du Val (founded in 1972, means "small vineyard estate of a small valley" in French) is still under original ownership. The winery was founded by an American businessman and prolific patron of the arts, John Goelet & his wife Henrietta. Besides their involvement in the world of wine, John and Henrietta founded the Bhutan Foundation in 1986 whose focus in part is on preserving that country's culture and conserving their natural resources. John also owns The Satmar Company, one of Europe's largest oyster companies – among his other business ventures
John hired French winemaker Bernard Portet (who we originally met with) to look for premium wine regions outside of France to grow and produce Bordeaux style wines. Wine education for Bernard began early in life – his father was a technical director at Château Lafite Rothschild; Bernard was raised tasting vintages every year from this storied winery. Bernard came to the Napa Valley in 1970 and determined the site location for Clos du Val Winery in part due to a broken air conditioner – while driving the Silverado Trail with his hand out the window he noticed at a certain point the temperature dropped as he drove southward (cooler temperatures he preferred for his style of wines). This was in the southern part of the valley near the site of present day Clos du Val.
Bernard oversaw the planting of their initial vineyards and was the founding winemaker in 1972. Bernard's style of wines never wavered over the years – he was trained in classic French winemaking. He told us, "my wines are a reflection of culture" referring to France where meals are usually accompanied by wine. In the early 1970's at Clos du Val, he began crafting wines that were balanced and were meant to pair with foods; these wines were also blended to bring out additional complexities. This was opposite of many winemakers at the time who were trying to preserve varietal characteristics (single varietal wines) and were trying to highlight the richness of the Napa fruit both in the aromas and on the palate.
It was his first vintage (1972) that was one of only several Cabernet Sauvignon wines selected for the now historic famous Judgment of Paris tasting of 1976; the Clos du Val entry placed 8th among the judges in the California Cabernet Sauvignon vs. red Bordeaux tasting of which there were 10 entries, 5 of which were from the Napa Valley. Ten years later in 1986, the same wine took first place in a rematch of the original 1976 Judgement of Paris entrants.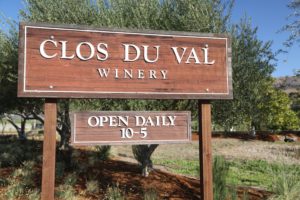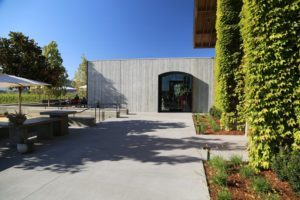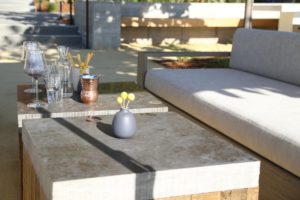 And in a nod to this historical tasting, the driveway into the winery is named Steven Spurrier Way – an homage to the British wine expert who organized the original Paris Tasting. As as result of their French connection one will always see a French flag flying next to the American flag at the entrance to their driveway. Very international in scope, parent company, Goelet Wine Estates also owns vineyards and a winery in Tasmania, Australia and France.
In addition to the Hirondelle Vineyard (the name means swallow in French – and since the winery was built, these birds return every spring to nest on the sides of the building) located on their estate property with its 100 acres of vines, Clos du Val also owns two vineyards near Yountville; the State Lane Vineyard with approximately 18 acres to vine and the Riverbend Vineyard, a 100 acre site. In addition, they also own 180 acres off of Old Sonoma Road in Napa's Carneros District.
While Clos du Val is known for Cabernet Sauvignon, because of the variety of property they own in the Napa Valley they do make other wines. Tastings typically include a rosé of Pinot Noir, a Merlot, a Petit Verdot and several of their Cabernet Sauvignon wines. These are wines that are distinctive – rather than noted for their similarities, they are noted for their differences, their nuances and sense of place.
The 2015 Clos du Val Petit Verdot, Napa Valley (a rare 100% wine of this varietal for a Napa based producer) is noticeably dark ruby/purple in the glass; briary and savory with lots of red fruit on the bouquet and some floral undertones as well as a hint of milk chocolate as the wine opens. Shows dark fruit on the palate including blackberry and plum – this wine is dense, it has a certain 'stuffing' if you will. Well textured the tannins are still a bit tight in their youth – they linger along with hints of cedar, darker spices and plenty of fruit on the long finish. Also noteworthy, the wine features excellent acidity.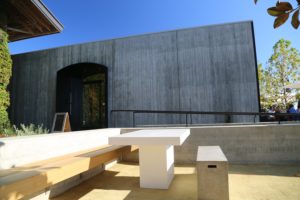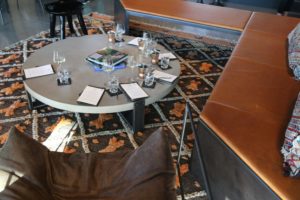 The 2015 Clos du Val Estate Cabernet Sauvignon, Hirondelle Vineyard offers a pretty bouquet, initially with aromas of cigar smoke, a tobacco leaf nuance, hints of clove along with red fruits. Shows a lively palate, bright and dancing fruit – excellent acidity. Very balanced the tannins are fairly well integrated and smooth – a bit dusty in nature. The finish also lingers with a slight red cherry tartness.
The 2013 Clos du Val Estate SVS (special vineyard select) Cabernet Sauvignon is blended with 7% Merlot. Very approachable in its youth, one drinks this wine without analyzing it to closely, it is simply fun to consume. Plenty of bright berry fruit aromas – blueberry, blackberry and even a touch of boysenberry aromas show on the bouquet. Juicy on the palate this wine is all about the fruit rather then any secondary characteristics from the oak aging. Features supple tannins which are slightly earthy in nature.
Perhaps their most acclaimed wine, the Three Graces, is named after a sculpture created in the year 1624 by the German artist, Georg Petel who modeled his gilded bronze piece after the painting of the same name by Peter Paul Rubens. Petel actually saw Ruben's painting prior to creating his own sculpture. The piece changed hands a number of times over the years, in 1969 John Goelet acquired this rare piece and owned it until 1976 before donating it to the Museum of Fine Arts, Boston (now a part of their permanent collection). And this image is of three nude women, each representing three traits: splendor, mirth and joy. The image has appeared on the labels of all Clos du Val wines since their inaugural vintage of 1972.
The 2014 Clos du Val Three Graces Cabernet Sauvignon is a blend of 99% Cabernet Sauvignon and 1% Cabernet Franc hand selected from the finest blocks on the Hirondelle Estate Vineyard. The bouquet is immediately intriguing – it is well layered with many aromatic angles, a wine that as it breathes continues to reveal layers of aroma. Shows pretty aromatics, red and dark cherry, a hint of dry dust, toasted oak and cedar. The entry offers a softness which very quickly evolves to power and richness of flavor. The wine is well concentrated with sizable chewy and dusty tannins anchoring a powerful and long finish – it shows power, yet also simultaneously, restraint. Regardless, this is a wine built for the long term – and should age well for many years to come.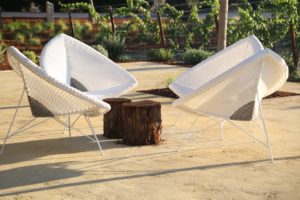 Their prior small tasting room used to become quite crowded especially on the weekends. In late 2017, Clos du Val broke ground on a 3,000 square foot hospitality center, called the Hirondelle House, located roughly in front of their existing barrel room and winery. This exciting and contemporary space opened in early October 2018 and offers a larger and more relaxed space for guests. The focus of visits are on personalized sit down tastings – either inside the Hirondelle House or if the weather permits, outside on the patio. This is an ideal place to watch the setting sun in the late days of summer or into autumn.
The winery and hospitality center are located just off the Silverado Trail in the well-known Stags Leap District. Guests can visit the property for a tasting without having a reservation – although reservations are recommended, especially so for later in the day tastings on busy summer or autumn weekends. In addition to their primary tastings, guests can also opt for additional experiences including a tour of their cellar followed by a private tasting, a library only tasting, or a seasonal tasting in their olive grove with select Clos du Val wines paired with a provided lunch.
Brown is decidedly the color of choice here as it graces their labels, table cloths, is the color of the chill buckets and even the napkins are brown. Often older wines will be available for sale at the winery. Total production as of our last update is around 30,000 cases per year. For more information or to join one of several membership levels in the Coterie club (for access to wine-club member only wines and exclusive winery events), visit: www.closduval.com
This review is currently undergoing a *major* update. Please check back by Spring 2019. We are on our way to Boston this weekend specifically to check out the Three Graces sculpture. Stay tuned for photos.
Winery/Grounds

Grand Val Vineyard, Carneros

Museum of Fine Art, Boston – Three Graces
Photos coming soon!