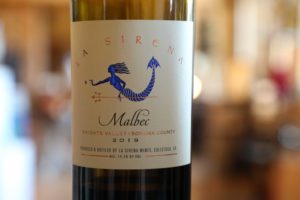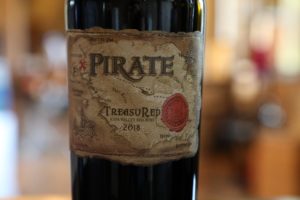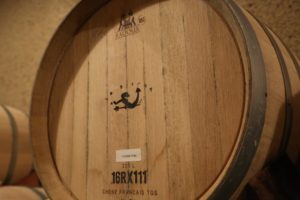 La Sirena Napa Valley was founded in 1994 by winemaker Heidi Barrett. Her first several vintages were of a Sangiovese; the first vintage of this wine was not originally meant for Heidi. Rather she was making it for a custom crush client who for a number of reasons eventually abandoned the project and was going to sell the wine in the bulk market. Heidi realized that the quality of this particular wine was too good for the bulk market, decided to purchase it and then quickly secured all the necessary wine permits as the wine was ready to bottle.
Heidi has grown up in the wine industry and began working in vineyards and in wineries from a young age. She had a very good mentor early on as her father Dr. Richard Peterson is an accomplished winemaker, scientist and vineyard experimenter. He is noteworthy for his decades of winemaking work including at Gallo and Beaulieu Vineyard among others. He also designed and offered at no cost to the industry, the Peterson pallet, the metal racks used for stacking barrels, used at wineries around the world.
And in 1980 he discovered a 2,000-year-old clone of Pinot Noir, the Wrotham Clone growing in Wrotham, England. He brought back cuttings, planted a vineyard in Yountville and began making wine from this extremely rare clone. He continues to produce a limited production sparkling wine each year from the Wrotham clone bottled under Richard G. Peterson, from a small vineyard in the Santa Lucia Highlands of Monterey County.
And perhaps this is the only family in Napa Valley currently with three active generations of winemakers.
Immediately after graduating UC Davis in 1980 with a B.S. degree in Fermentation Science, Heidi went to work for Justin Meyer at Franciscan Vineyards and Silver Oak Cellars (back when Franciscan was under the same ownership as Silver Oak).
By age 25 she was the winemaker at Buehler Vineyards (a well-established winery located in the hills east of the valley floor). By 1988 she decided to become consult and became and independent winemaker. By the mid 1990s her wine making abilities and knowledge were much in demand. Today she continues to selectively make wine and consult for a select group of clients. And along with her husband, Bo Barrett, the proprietor of Chateau Montelena, produce a single Cabernet Sauvignon each year bottled under the wine brand, Barrett & Barrett (see our notes on this site for more details about that brand).
Heidi has worked more than 40 harvests in Napa Valley.
The face of the image of the mermaid on the label of La Sirena is actually a profile of Heidi's own likeness. She and Bo were looking through playing cards of the Mexican card game Lotería when they spotted the "mermaid" card. This game originated in Italy in the 1500s and was brought to Mexico in 1769. Each game is of chance, contains a tabla (board) and 54 cards. One person (the caller) shuffles the deck and then picks cards and announces the image. The players place a marker (sometimes as simple as a dried bean) on their board if the image called matches one on their board. The first person to line up objects in a row is the winner or other agreed upon patterns. And in the original Lotería, La Sirena is card number six. Each card has a corresponding verse; La Sirena's reads as – "Con los cantos de sirena, no te vayas a marear", which translates to: Don't be swayed by the songs of the siren.
La Sirena means mermaid in both Italian and Spanish and based on Heidi's love for the ocean and passion for SCUBA diving; she decided this would be the ideal image to represent her wines.
There is the science and art of crafting wines; some winemakers take a strict opinion on the matter and call winemaking all science, but most we have talked to over the years agree there is an aspect of art that goes into the entire process. Bo likes to compare Heidi's creativity and talent to a painter who works with a variety of paints and brushes (and yes Heidi is also a talented artist). And in a similar comparison, he refers to his own viticulture knowledge as having and knowing how and when to use specific tools from a "toolbox" to manage vineyards.
Select Wines
The La Sirena Moscato Azul is exceptionally fragrant and perhaps unlike other varieties that lose their aromatics the colder they are served; this wine remarkably continues to aromatically produce even when it is kept quite cold. As a result, this wine should be well chilled and as Heidi simply says, "I prefer this wine colder". Muscat Canelli is a variety that is often associated with being sweet. However, this is a dry wine with the amount of residual sugar left so small it is imperceptible on the palate.
The grapes for this wine come from the Barrett's vineyard located near the bottom of Old Lawley Toll Road near Calistoga. For several vintages Heidi had to in part source the grapes from central California, but moving forward this wine is entirely from a small vineyard block in Calistoga. This wine is fermented very slowly and entirely in stainless steel. It is quick to market and is often released only 4-5 months after bottling.
The 2022 La Sirena Moscato Azul is is pale to medium straw color in the glass; the bouquet is memorable for its expressive and wide open aromatic profile which includes plenty of sweet floral notes (jasmine, tropical flowers and honeycomb). There are also stone fruits represented both on the bouquet and the palate and some tropical characteristics including lychee. It offers flavors of pear, red apple, apricot and pineapple guava. It would be nice if more producers made a refreshingly dry wine from Muscat Canelli like this bottling. And if one spits this into a dump bucket during a tasting of numerous wines, like during our latest visit, regardless of any other red or white wines also spit, the aromatics from this wine will absolutely dominate the resulting 'blend'.
The 2013 La Sirena Moscato Azul aromatically shows fresh, lively and floral aromas that quickly envelope the glass and beyond after is poured. The bouquet is built on floral and tropical aromas including honeysuckle. It is a wine that just smells pretty! On the palate it shows a surprising, rounded mouth feel and slight viscosity on the finish (considering how it was fermented and aged). Notes of citrus and some mineralities are revealed mid palate through to the finish. This wine certainly stands out on the shelf and is instantly recognizable due to its blue bottle color. And over the years, it has developed quite the following among the La Sirena customers.
While scanning through her mail one day Heidi noticed a postcard advertising bulk wines for sale. She called the number listed and was connected to a grower in Amador County. She asked if she could meet him and also queried as to whether he had a landing spot for her helicopter. He did. Ultimately she purchased grapes from him and continues to make a rosé from Primitivo. The 2022 La Sirena Rosato (Primitivo) Amador County is an attractive lighter hue of pink in the glass, or as one winemaker in Napa Valley described this color of rosé as, "ballet slipper pink". The bouquet is distinctive with aromas of pink bubblegum, sweet watermelon more like a watermelon jolly rancher candy and grapefruit. Its texture is creamy across the palate, complemented very nicely with a brightness and energy of its acidity. The finish is lively, refreshing and long-lasting, lingering with a note of lime and wild strawberry. The grapes are grown directly for this wine; it is pressed and then goes directly into stainless steel.
When one becomes familiar with the La Sirena wines one soon realizes that each wine has its own inherent character, but also, its own accompanying story; the labeling on each wine is representative of this. And every time we taste some of Heidi's wines, we reflect on her contributions to winemaking in Napa Valley and then we realize that the Queen of the Valley does not only refer to a hospital.
Take for instance the wine named "Pirate TreasuRed". This has certainly earned a solid following among Heidi's fans and is now her most produced wine under the La Sirena brand. The bottle might lead one to believe this is a Port-styled wine but in actuality it is a dry wine composed of seven different varietals. This is a wine she did not set out to make; while making a red wine she reviewed her notes based on the blends that she chose as being the best representation of the lots. Surprisingly she saw seven varieties listed.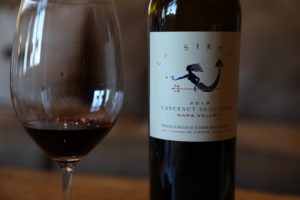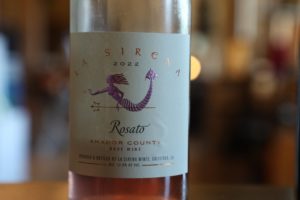 Tying this into a name, she thought about the Seven Seas, the Pirates of the Caribbean and her own diving trips which invariably involve a costumed pirate party. Thus, the name, The Pirate was born. Her creativity on the packaging ties in well with the name. She and her daughter wrote a pirate themed verse for the back label – which in the spirit of this wine involves some salty pirate language. The front label depicts a historical map of Napa County shown as an island with X "marking the spot" of their home vineyard.
This wine is a blend of varieties one would be hard-pressed to find in other wines. It contains Syrah, Cabernet Sauvignon, Merlot, Grenache, Petit Verdot, Cabernet Franc, and Petite Sirah. 2009 was the first vintage of The Pirate; remarkably the name had not yet been trademarked. The 2011 La Sirena The Pirate offers generous aromatics filled with black fruit; it is dusty and slightly earthy along with notes of black licorice and blackberry. The wine is lively on the palate with complexity of flavor carried by bright acidity. This bottling is also offered as a 6-pack, housed in a cardboard box packaged to look like a treasure chest. It is a thoughtful and seriously made wine which is decorated by playful and very distinctive packaging.
The Art Bus Red wine certainly has some interesting origins. One morning Heidi noticed an old "hippy bus" that had been abandoned in the Solari Vineyard in Calistoga (a vineyard she purchases fruit from). She called the owners, and they were immediately apologetic to have such an eyesore show up in a beautiful vineyard. They were surprised when Heidi asked if she could take the bus – which she then towed over to her own property. It reminded her of some of the old buses from the United States that had found second life as school buses or for public transportation in a number of Central American countries.
The image for this wine is the front of this bus with Heidi peering through the window on the driver's side. This wine was made in 2008 and 2009 and was reintroduced to the market with several newer vintages starting in 2012. This wine is 80% Syrah. The 2009 La Sirena Art Bus Red wine shows lively aromas with both red and black fruit and a meaty component along with hints of white pepper. The palate is juicy and mouthwatering anchored by broadly distributed tannins on an extended finish. 15% of all proceeds from the sale of any vintages of this wine are donated to Heifer International, a charity organization working to fight poverty and hunger worldwide.
The 2019 La Sirena Cabernet Sauvignon is 97.5% Cabernet Sauvignon and 2.5% Cabernet Franc. This wine is deep ruby with a dark purple/pinkish rim; it offers scents of violets, sage, rose petals along with plenty of fruit including blackberry, boysenberry, and mulberry. There are also notes of old cedar box and dried herbs. We have noticed that the more descriptors we pick out from a wine's bouquet, the more interesting the character of the wine. The palate is bright and layered showcasing an intensity of flavor without a structural heaviness. It reveals flavors of red plum, red cherries, currants, blueberries and a darker tobacco spice, especially noticeable on the finish. It finishes mouth watering, savory and fresh with grainy textured tannins. We noticed the flavor keeps pace with the texture on the finish, which is not always the case with Napa Valley wines from this variety. If a wine could speak, this wine would say, "keep drinking me".
The 2011 La Sirena Cabernet Sauvignon is mostly sourced from the Barrett & Barrett Vineyard on the rocky eastern hills north of Calistoga (a short drive in on Lawley Toll Road from the Silverado Trail). The bouquet is dusty and smoky with hints of sage and mocha. As the wine breathes the bouquet becomes more and more about the fruit. If there was a quintessential Napa Cabernet Sauvignon bouquet that hooks people to wine, and specifically this varietal, from this region, this is it. The tannins are well integrated with the fruit; this wine drinks very well young but has good acidity and structure for aging.
The 2018 La Sirena Syrah (100% varietal) is sourced from a tiny 1/2 acre property owned by Heidi and Bo (to the north of Chateau Montelena). Bo calls this block the "hells site" referring to its very rocky character. La Sirena ages their Syrah for an extra year which is why current release wine of this bottling are always slightly behind their other red wines. This wine is deep ruby in color and almost opaque; the initial aromatics are brooding, meaty and show notes of mushroom and dried herbs including sage, a California chaparral character and some tobacco spices. If a wine could smell 'sweaty' this wine would be a good candidate. But these more savory aromatics are soon displaced by time in the glass, transitioning to an inner core of beautiful darker fruits including Santa Rosa plum, blackberry and a very subtle note of chocolate. It is layered across the palate without being heavy as the tannins are soft and almost cushiony in their textural feel; they are polished and integrated. This wine lingers with bright acidity, a light dryness and tobacco spice. Like the bouquet, the palate is also savory. We tasted this wine 5 years post vintage; it has lots of life ahead of it.
The 2018 La Sirena Studio Series is a red blend of 48% Syrah, 47% Cabernet Sauvignon, 3% Petite Sirah and 2% Cabernet Franc. This wine is deep ruby in color and nearly opaque; the bouquet is darkly fruited including cherry and plum along with attractive darker spices including a nuance of pipe tobacco and white pepper. It is layered and well-concentrated showing primarily darker fruits. The finish is savory, with notes of old cedar box, dried tobacco leaf and lingers with grainy, textured but seamlessly integrated tannins along with a slight herbal note. Despite only 2% Cabernet Franc in this blend, its contribution is noticeable, albeit more subtly. The image for this wine changes every year and is also based on a piece of art that Heidi painted.
Le Barrettage is a wine creatively named after Heidi had an inspiration in the car while driving to Lake Tahoe for a ski trip. She has long enjoyed some of the Rhone wines from L'Hermitage but did not want to simply call this wine a Syrah. Rather she borrowed a bit of French, her last name, the image of a crown (common in labels from this part of France) and an old-world design to come up with a catchy label and name. The 2012 La Sirena le Barrettage vintage is a dark in the glass; this muscular wine is chewy with a robust structure that lasts for some time on the palate. The bouquet shows an eclectic mix of aromas including black olive, forest floor, white pepper and meaty components. The fruit on the palate is decidedly black in nature with rich mouth filling flavors.
—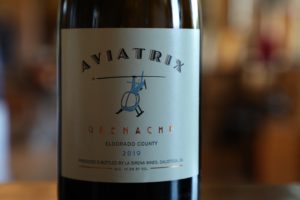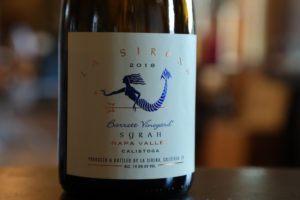 For many years there was no wine club or allocation for the La Sirena wines. When the wines were released, they were available on a first come, first serve basis. However, La Sirena launched it's first ever wine club in 2023 called La Sirena Mermaid Circle with three tier membership options including wines from Barrett & Barrett & Aviatrix. The wines are generally available as a three-pack, six-pack or in magnum format. Production of each wine varies each year but is usually no more than 300 cases per individual bottling.
In 2016, Heidi's youngest daughter Chelsea created a label called Aviatrix (a Grenache) sourced from the El Dorado Hills. Aviatrix refers to a female pilot; Heidi is a helicopter pilot. An accompanying sparkling wine was also produced in 2016 and select other wines other than Cabernet Sauvignon. The wines are made by Chelsea with blending consultation from Heidi and are released and available for purchase as part of La Sirena. Chelsea's sister, Remi Barrett rounds out the family Aviatrix team; she is the sales and marketing director for the brand.
The 2019 Aviatrix Grenache El Dorado County is medium ruby in color; the bouquet offers some immediate spice notes including of white pepper and dried herbs along with aromas of strawberry and rhubarb. The palate is bright showcasing lively acidity with red fruited flavors including cherry, currant and cranberry. This wine shows a fairly unique flavor we rarely pick up in red wines, of orange rind. The texture is slightly creamy and rounded with tannins well-integrated and supple on the finish. It lingers with a light sweetness including a hint of tarragon found very deep in the finish. This is a very versatile wine; we were told it goes well with a diversity of food, ranging from ribeye to pizza.
For visitors to Napa Valley, tastings of the La Sirena wines are by appointment at a winery with a cave located just south of Calistoga where Heidi makes her wines (part of a custom crush operation).
For a few years, La Sirena was also represented as one of the vintners at the no appointment needed Cellars of Sonoma tasting room in downtown Healdsburg (neighboring Sonoma County). Cellars of Sonoma offered a rare La Sirena only tasting (see photos below). The latest update we have in regard to this shop, is that it is now closed.
Total production each year is approximately 2,500 cases. A very limited number of library wines are sometimes available on the website. For more information, to schedule a private tasting, to sign up for their mailing list or to join one of their wine clubs, visit: www.lasirenawine.com