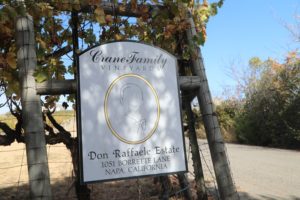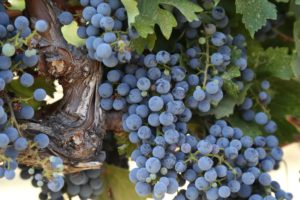 Crane Family Vineyards was founded by Peter and his wife Frances (who we originally met with); their son Tom Chiarella eventually took over the business from his father. Their family name is not to be confused with Michael Chiarello the chef who has his own Napa wine and coincidentally whose family also comes from the same small region of southern Italy as Peter's family. Peter's dream of owning a vineyard in Napa was born from a very interesting source. While commuting to work in New York City he read a feature in the Wall Street Journal about a select few top businessmen who had other avocations aside from their primary businesses. Reading about each of these individuals Peter saw that these were actually all business failures save for one. He read about a successful individual who owned vineyards in Napa as a second business and was successfully selling his fruit to other vintners and making a profit.
This was a business that highly appealed to Peter. Unlike many who come to the Napa Valley in retirement with no plans to become either growers or vintners but then get sucked in by the "Napa allure", Peter came to Napa during his career – because of his company's decision to locate their offices from Santa Monica. He worked for the Doctors Company; the largest physician owned medical malpractice insurer in the country. At one point the relocation team identified 17 different communities and on Peter's strong recommendation, finally settled on Napa for its agricultural feel and dedication to preserving some of the surrounding land…and of course, no big freeways!
Once he moved here permanently, he started looking for a home and existing vineyard on the same property. Not finding this he started from scratch with land that previously was only used for grazing and never planted to grapes. Seeking out the advice of a top vineyard manager and soils expert (who had spent time in Pomerol, Bordeaux), he gave Peter suggestions for possible varieties. In addition, neighbors owned several existing vineyards. After determining this slice of the Napa Valley is prime for both Merlot and Cabernet Sauvignon, he planted these varieties along with just a small amount of Cabernet Franc. Crane Family Vineyards owns 7 acres in the shadow of Mt. Veeder on the west side of Napa Valley on the southern spine of the Mayacamas mountains.
The vineyard is located merely 3 miles from downtown Napa in the city limits but on its far western edge. It is named Don Raffaele which in Italian translates to "Sir Ralph" in honor of Peter's father Ralph who was knighted by Italy after World War I. Tom remembers Ralph visited his namesake vineyard from New York in 1992 when he was 94 years of age. He recalls that Ralph spent two weeks working among the vines. These vines are now more then 30 years old – while their production has dropped in about half over the decades, they are still producing excellent fruit.
Not to be overshadowed, Crane is Frances's maiden name (she died in 2011) and since the vineyard was already named after Peter's side of the family it only made sense to name the wine in her honor. Peter's father used to own a restaurant in Coney Island on Surf Ave called The Napoli Seven Seas – Tom remembers spending time here when he was a child. This restaurant unfortunately has since been demolished, making way for a parking lot.
When Peter was ready to retire from overseeing their tiny brand in 2011 – he told Tom something like, "I'm ready to shut down the winemaking and go back to just selling grapes". Tom thought about this for a week and then realized his father's decision didn't feel right – so he offered to take over the operations. And it was through the wine business that he met his wife – she fondly remembered a tasting at Cliff Lede Vineyards; on a return visit to the valley, she wanted to return to Cliff Lede but had forgotten its name, only remembering that it started with a C and that she thought there might have been a bird in their name (mistaken). She asked around and was told by someone to check out Crane Family Vineyard. So, she simply showed up at Crane Family Vineyard with a friend one day – and immediately hit it off with Tom. They married on the property in 2020.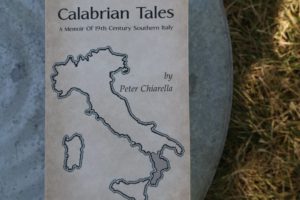 Once the vineyards came into production Peter started selling the fruit to several premium wineries. Fortuitously he met Jack Cakebread of Cakebread Cellars through a mutual friend and Jack convinced him to join his board of directors – as Peter says, his "retirement" became one year, then two and finally resulted in his becoming the President of Cakebread Cellars for 5 years. During his time there, he started thinking about making his own wine and a statement from Jack Cakebread set him in motion. Jack said, "if you really want to know wine you have to make it yourself."
Peter then held back some of his own grapes and built a very cute small, bonded winery in 1995 just above his vineyard which he now refers to as "the house that Jack built". While the rest of their wines are made at Laird Family Estate (since 1999 and are one of Laird's oldest custom crush clients), the dessert wine is made on property in the winery. This is certainly one of the smaller standalone bonded wineries in Napa. Surrounded by the caliber of Cakebread's winemaking team and other area vintners Peter had plenty of initial help as a first-time winemaker. Wining top honors in almost every competition they placed wine in – as well as taking home a double gold medal in the 1998 California State fair (only 13 double golds out of 2700 entries) – indicated that they were onto something special. The first commercial vintage of Crane Family Vineyard was in 1999.
Peter is both understated yet passionate and committed when it comes to his wine. He and his son in law were the winemakers for the first few years before eventually hiring Alison Doran who continues to make the wines today. Alison trained with famed vintner and soils expert André Tchelistcheff and today consults for several small brands. Her family owns and operates Hoot Owl Creek Vineyards in Healdsburg of neighboring Sonoma County.
As of our latest update to this review, they focus on several different wines all of which are from their property with the exception of their Chardonnay and a dessert wine which has been sourced from various vineyard sites within the Napa Valley. They produce several wines; Chardonnay, Cabernet Sauvignon, Merlot, a Cuvee named in tribute to Alison and their Zinfandel dessert wine.
Select Wines
When Peter's son Tom took over the operations in 2011, he decided to introduce a non-estate white wine, a Chardonnay which has been produced every year since.
The 2018 Crane Family Chardonnay Reserve was sourced from a Doug Hill managed vineyard within the Napa Valley. Medium to deep gold in the glass; immediately offers appealing aromatics including honeysuckle, mango, vanilla, citrus, warm popcorn butter and other sweet dessert spices. Noticeable on the palate is the wine's supple texture – rounded and creamy it glides over the palate smoothly. Shows flavors of mandarin orange, papaya and pineapple – there is plenty of richness on this beauty. There is a pleasing interplay on the finish between fruit sweetness and acid. This Chardonnay went through 30% malolactic fermentation and was fermented in neutral French oak barrels. This wine is a clearly a standout and is one of the best Napa Valley Chardonnay's we have tried from this particular vintage.
The 2016 Crane Family Reserve Merlot (with 3% Cabernet Sauvignon) is deep ruby in color; offers an elegant bouquet with aromas of red cherry, tobacco spice, some sage and dried herb notes, cassis and a noticeable mocha/espresso nuance. Has an appealing savory quality to aromatics. Offers a complexity of flavors across the palate including red cherry, red currant and plum with darker spices and earthiness on the finish. Bright, fresh and lively, this wine is anchored by its vibrant acidity. Lingers with firm, still very tightly woven and drying tannins along with old cedar box and dried tobacco leaf. Good grip but not heavy. A great food wine that clearly has plenty of age ahead of it.
The 2005 Crane Family Vineyards Estate Merlot has very rich large aromas (for a Merlot) – a nice spiciness with cassis represented on the bouquet with more terroir driven mineralities as it opens up. A row of bay trees grows near one part of the vineyard which may in fact contribute some of this spiciness to both the nose and palate. Pleasant dark cherry notes show on the palate with slight touches of mocha on the finish.
The 2015 Crane Family Vineyards Cabernet Sauvignon (is blended with 4% Merlot). One can smell the varietal characteristics in this wine – has some herbal notes, hints of eucalyptus perhaps – the bouquet is elegant and certainly more old world-esque then 'riper' Napa Valley wines from this variety. Shows both red and darker fruits on the palate – the tannins are granular but not course and are well integrated into the finish. Also lingers with some darker spices including white pepper.
The 2015 Crane Family Cavaliere (crafted to honor Tom's grandfather – Cavaliere means knight in Italian) is a blend of 70% Cabernet Sauvignon, 20% Merlot and 10% Petite Verdot. Offers plum, cherry and darker licorice notes on the bouquet. This wine has a nice complexity on the palate – anchored by dusty tannins and the same darker spice we picked up in the Cabernet Sauvignon of this same vintage.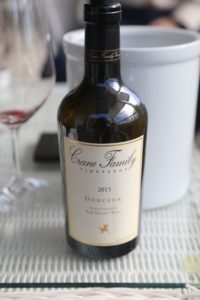 The 2005 Crane Family Vineyards Alison's Cuvee Reserve Merlot also is blended with smaller amounts of Cabernet Sauvignon and Petite Sirah. This is an elegant Merlot that is very dark crimson in color. It is a wine that is well structured yet at the same time has the balance to be consumed now. Spicy pepper, tobacco and cherry aromas lead to a mouth feel that is very smooth and silky. This is their premium wine.
Their dessert wine is typically only a barrel production; it is usually made from either Zinfandel or Petite Sirah. The first vintage of this was produced in 2005 in honor of the birth of Peter's grandson; it was going to be just a onetime production to be saved for his grandson's 21st birthday, but this wine came out so well, they decided to incorporate it into their annual wine production.
It is called Douceur or "sweetness" in French. It is sweet and very rich, deliciously so. The 2005 Crane Family Vineyards Douceur opens with boysenberry jam aromas leading to a palate that shows chocolate, cherry and additional berry flavors. The mouth feel is velvety in texture but with layers of fruit. This is one of Napa Valley's smallest production consistently produced dessert wines. In 2015, for the first time and just for this vintage, the Douceur was sourced from outside of the Napa Valley – with the grapes coming from the Sierra foothills.
—
Peter is also the author of two books, (Calabrian Tales and Out of Calabria) which take place in a region of Southern Italy; each book is based on the real-life tales of his mother and father's side of the family but somewhat dramatized. Out of Calabria is really well written – a story for hopeless romantics and for those who believe that the power of perseverance and love will ultimately overcome tragedy and hardships.
The winery is not open to the public and does not host tastings. The best way to acquire their wine is via their mailing list. In the past certain wines have been available in select Trader Joe's in California displayed in their premium wine section. One may sometimes find the wine locally at Backroom Wines in the city of Napa. For more information, visit: www.cranefamilyvineyards.com