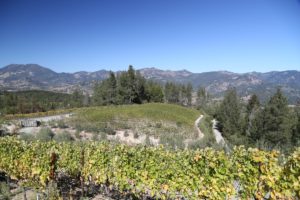 Mueller Vineyards is a fairly new producer in Napa Valley (first vintage 2007) but the first vintage doesn't necessarily tell the history needed to understand this wine. Frank and Angela Mueller (both are originally from Minnesota) moved to the Napa Valley to practice medicine over 30 years ago. Frank is a Family Physician and Angela is a nurse. While living in Calistoga they decided that because of their wine country location they would learn about the wine industry and ultimately make wine.
Surrounded by vineyards and winemakers it is rather easy to meet those already in the industry; they met Vincent Arroyo (who runs Vincent Arroyo Winery) and he told them about a piece of property in what is now the Diamond Mountain appellation, just south of Calistoga. Frank remembers visiting the property for the first time and having a difficult time reaching the end of the dirt rutted road which was nearly overgrown and hardly passable. As he says, "I bought the land because I wasn't able to turn around on the narrow overgrown dirt road before reaching the end of the road!"
The property is classic Diamond Mountain land, steep, rugged, brushy, rocky, and east facing. The Mayacamas mountain range in this region, of which the Diamond Mountain appellation is part of, is similar to the Sierra Nevada's on a much smaller scale in that the western side of the range has a more gentle elevation gain while the Eastern side drops off rather dramatically. You can experience this on any of the steep narrow roads that climb out of the Napa Valley floor crossing over the Mayacamas.
Flat land is at a premium here and only an acre of plantable land is found on the property; today it is planted with several clones of Cabernet Sauvignon and a very small block of Petit Verdot. Visually, Diamond Mountain has some of the most stunning views in the valley (when you get high enough in the appellation). The small vineyard overlooks these vistas and is surrounded by native vegetation. When one see's the vineyard one is struck by how rocky it is. It had to be "ripped" several times before the vines could actually be planted.
The Muellers have been making home wine in the Napa Valley for 25+ years. Upon purchasing this property they had no plans to develop a vineyard. However, Frank had provided medical care to a vineyard manager's sister for many years. This longtime Napa vineyard manager, Jess Madrigal manages a number of vineyards in the valley and has access to good terroir, vines and fruit. Frank casually asked Jess one day what he would estimate the cost of planting grapevines would be.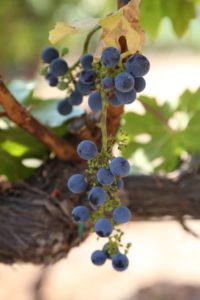 Not long after that conversation Frank and Angela discovered 250 vines planted around their home. Imagine their surprise! Jess told them this was his gift for taking care of his sister for so many years. The vines got them thinking about expanding to a larger vineyard with the intent to produce wine commercially. Jess took some soil samples and decided they would be able to plant vines here. The majority of the Cabernet Sauvignon is the Spottswoode clone – from the well-regarded Spottswoode Winery in St. Helena.
The planted vineyard land is only an acre and sits at an elevation of 1100 feet. This is a special microclimate – it can be warmer here during the winter than the valley floor and opposite in the summer. They have no frost protection – often there will be frost at lower elevations and higher elevations but not on their property. Their production is usually at or under 200 cases per year making them one of the smaller producers within Napa.
The 2007 shows a very complex nose which continues to develop additional nuances as it breathes. Initially it is loaded with fruit, showing black cherry but then it reveals notes of mocha, cocoa and even baking spices. The palate has a nice balance between fruit and acidity and structure. Its not too fruit forward nor a lean wine either. Elegant flavors run the length of the palate. Pleasing soft tannins complete the finish.
The 2008 vintage has certainly followed up their inaugural vintage well. No sophomore slump here! This wine is well balanced for being so young. The bouquet is floral, with a mix of both red and dark fruit. The fruit aromas remain constant as this wine breathes. The entry is soft and gains complexity by the mid palate. This wine shows a bit more dustiness, earthiness and structure than the 2007, especially towards the finish. Also notes of cedar and dark spice. This is a wine that will age well.
Despite the small production the wine is actually well distributed throughout the Napa Valley. You can find the wine locally at a number of high end restaurants as well as wine shops including Backroom Wines in the city of Napa, V Wine Cellars in Yountville, St. Helena Wine Merchants in St. Helena and Cal Mart in Calistoga. For more information visit: www.muellerfamilyvineyards.com