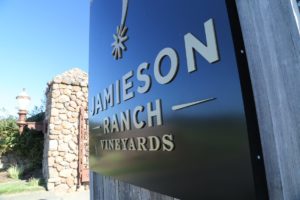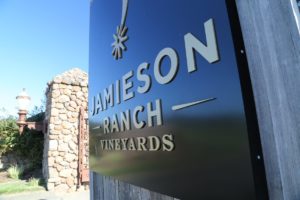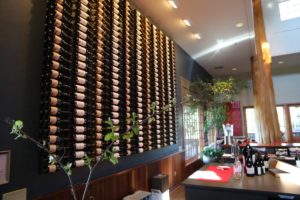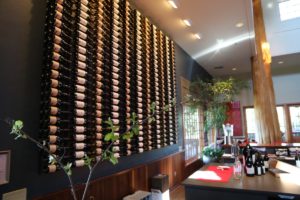 Jamieson Ranch Vineyards. The winery was founded in 2011 (their first vintage dates from 2009) and is named after John Brocklebank Jameson a rancher whose namesake is used in several places in parts of the Napa Valley east of the city of Napa. Jamieson Ranch Vineyards used to maintain a tasting room off of Highway 12 but on March 25, 2019 they moved out of their tasting room. They have plans to open a new retail space somewhere in the Napa Valley.
The property where they maintained their original tasting room used to be part of a huge cattle and horse ranch. Several wines had already been released from the estate at the time of our first visit many years ago. Initially when they first opened the tasting room, In they released wines made from non estate fruit sourced from other areas of the Napa Valley. As a result, they had quite a few wines already available for tasting and still do.
The Jameson Canyon area of the Napa Valley is a somewhat similar growing climate to the more famous nearby Carneros region. Both share climatic similarities because each region is located relatively close to the San Pablo Bay. This is the closest Napa winery to Sacramento. You can make it here from downtown Sacramento in just under an hour.
The land and the winery facilities where Jamieson Ranch Vineyards used to produce their wine are owned by Ken Laird, one of the largest private vineyard landowners in all of Napa County. The site is approximately 300 acres. In 2016 much needed vineyard replants were conducted on the surrounding acreage. More than 100 acres of Pinot Grigio, Chardonnay, Viognier, Pinot Noir, Merlot, Syrah and Cabernet Sauvignon are planted around the winery and their old tasting room. In Napa, this is an ideal area (along with neighboring Carneros) to grow cooler weather varietals, most notably, Pinot Noir and Chardonnay. Other wineries have vineyards in the area including Artessa and Laird.
Long time industry wine veteran Bill Leigon and several investors purchased the brand and existing inventory in 2015. Legion has been involved with wine for many years; he co-founded Ariel Vineyards (a non alcoholic wine brand, was national sales manager at J. Lohr and was president of Hahn Estates in Monterey.
In 2017, Novato based WX Brands (they also maintain an office in London) purchased Jamieson Ranch Vineyards and associated brands and as of our latest update to this review, is still the current owner. WX Brands was founded in 1999, at the time called Winery Exchange; over the years they have acquired numerous wine labels and continue to do so. In addition to wine, which is their primary product, they also produce beer and spirits. And other parts of their business include contracting supplies for alcohol products placed in large retail stores, bottling (their bottling line is based in Sonoma) and private custom labeling services.
The original winery location for Jamieson Ranch Vineyards was formerly known as Kirkland Ranch Winery, Reata Winery and Valley Gate Vineyards. Dutifully, we visited this winery after each name change. To further add to the confusion, the name Jamieson Ranch is a different spelling then the name of the road, Jameson Canyon. To further add to the confusion this space was being used by other brands for tastings and hospitality including Roots Run Deep and Educated Guess.

And ownership of Jamieson Ranch Vineyards seems to change every few years or less. Things change in the Napa Valley continuously, but not at the pace we've seen associated with this winery over the past 10 years. We have been trying to hang with all these changes and will update this review once the dust settles (if ever) and or if and when Jamieson Ranch Vineyards resurfaces with their own tasting room. At that point we will need to meet with either Linda or someone from WX Brands.
Select Wines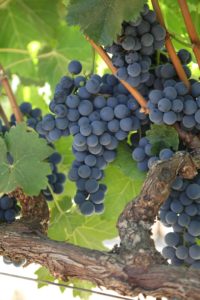 In homage to both John Jameson and Napa's Valley's early ranching heritage, all the labels produced by Jamieson Ranch Vineyards are named in tribute to ranching. As of our latest update to this review, they produce the following four primary labels: Double Lariat (Napa Valley wines), Reata (in Spanish means Lariat & features California coastal climates), Whiplash and Lighthorse (both California appellation wines). Several other labels are also produced. The wines are sourced from not only the Napa Valley but also select parts of central and northern California. All of the Jamieson Ranch wines are reasonably priced (certainly not common from a Napa based winery).
The 2009 Jamieson Ranch Viognier is from the estate; the bouquet is pleasing showing notes of cinnamon, baked red apple, aromas of pineapple and hints of lemon. Flavors of pear and white peach show on the palate with a slightly earth finish.
The 2009 Jamieson Ranch Pinot Noir reveals cranberry and blueberry aromas – this wine is very much fruit driven both in the bouquet and on the palate (certainly a part of being such a young wine). Its crafted in a lighter style; a clean easy drinking Pinot Noir. The mouth feel is soft and the wine shows nice acidity. Their winemaking philosophy is to try and make wines that are food friendly (this one is a good example) and to keep the alcohol levels lower.
Their first Zinfandel release is from 2009 and is the biggest wine in their lineup. Red and black cherry show on the nose, its not a spicy bouquet. Expansive fruit flavors, just slightly jammy (blackberry, with a big finish showing broad tannins with just a touch of oak that lingers. This is a good value wine.
For more information, to purchase wines or to join one of their appropriately named, Spur wine clubs, visit: www.jamiesonranchvineyards.com
NOTE: This review has been identified as needing a *major* update. The latest information we have about a potential tasting room, is Jamieson Ranch may open a tasting room off of the southern part of the Silverado Trail (on site of a Laird owned property with vineyards). On this site, the original winery (Pannonia Winery was founded in 1979 and over the years has had numerous owners with various winery names including Louis K. Mihaly Winery, Silverado Hills Cellars (owned by a Japanese company), Silverado Hill (Big Horn Cellars) owned by William Hill, Crushpad, Laird Winemakers Studio – and now waiting for a tasting room tenant. Stay posted for updates to this review.
In early 2021 we just got word that WX Brands is still planning a tasting room to open in Fall 2021, perhaps somewhere along the Silverado Trail. Our bet is this will be at the Laird Wine Studio which recently was undergoing a remodel. But we have not yet confirmed this. We will significantly update this review once we have more details. Thank you for your patience.
Original Tasting Room + Winery (we keep these photographs here for historical purposes only)