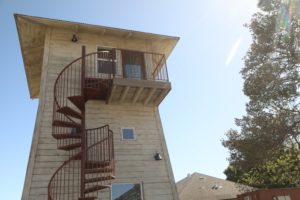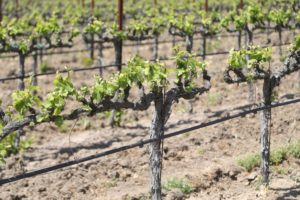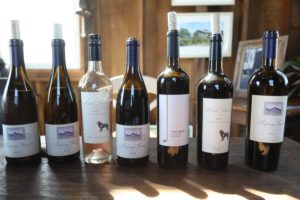 Dearden Vineyards. Calling Chris Dearden a winemaker is certainly very true – and he has left his mark making wine for a number of notable producers in this valley over the past 35 years, but just referring to him as a winemaker is is not entirely accurate as he is a man of many talents and has made valuable contributions in a number of ways to the Napa Valley wine industry and beyond.
Chris is the 3rd generation of his family to be raised in California; originally from Porterville in the San Joaquin Valley, he went to the University of California Davis and studied viticulture and enology, in the process creating his own major, Winery Operations and Management, an extremely important decision that would serve him well in his career. Upon graduating he moved to the Napa Valley; as he says, "I never left". His first full time winemaking job was at Madonna Estate in Carneros where he helped produce a wide diversity of wines.
He has held several winemaking positions over the years including for Hublein (Beaulieu Vineyard/Inglenook/Christian Brothers) where he was privileged to know and work with both André Tchelistcheff and his son Dimitri. He told us that he considers his time working for Seguin Moreau Cooperage in the early 1990s (right around the time that Sequin Moreau built their cooperage south of the city of Napa) an integral part of his winemaking education. He traveled to Europe where he visited numerous well-respected wineries and met with a number of vintners. But Chris admits, he missed making wine during this period; he eventually took a job at Benessere where he produced wine for 14 years working with a number of Italian varieties (Benessere's focus). And over the years he has been a consulting winemaker for several small premium Napa Valley based wineries or brands.
The Property
In 2006 Chris partnered with vineyard manager and good friend Sam Turner (now retired and formerly of T&M Agricultural Services) and purchased nearly 12 acres off of Las Amigas Road on the Napa side of Carneros. Later Chris bought out Sam's interest in the property. The property had never been used for growing grapes – previously it was owned by Harold Diefendorf who for 35 years worked as a marine machinist including building submarines at Mare Island Naval Shipyard in Vallejo.
This property and the property of nearby neighbors used to be owned in the late 1890's by Boon Fly (a restaurant carrying his namesake operates at the nearby Carneros Resort and Spa). Boon is buried in the Tulocay Cemetery in the city of Napa. Incidentally Boon Fly's son, Camillus Sidney (Buck) Fly was an accomplished photographer who took the only known photographs of Native American leader Geronimo prior to his surrender to the U.S. military in 1886 and was also a witness to the Gunfight at O.K. Corral in 1881 which happened right outside his studio – the C.S. Fly's Photographic Studio in Tombstone, Arizona.
About 11.6 acres of the site are planted to vines. Like other parts of the Carneros AVA, the soils are very shallow, sitting above a hard pan. When deciding what to plant, Chris reached out to several winemakers and mentors including Larry Brooks, former founding winemaker at Acacia Winery who had significant experience working in Carneros. Chris ultimately decided it was best to plant multiple clones of Pinot Noir. The property is planted to ten acres of 5 different Pinot Noir clones including Pommard, 115, 777, 459 and a Josh Jensen, 'Calera' clone. A small section of old Wente clone Chardonnay is planted on the exterior of one side of the property.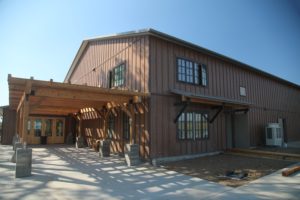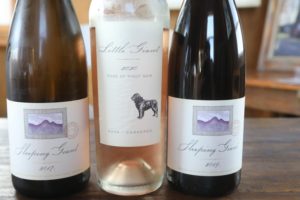 The site is a special and picturesque part of Napa that most visitors to the valley will never see despite being located only about a 15 minute drive from downtown Napa. Dearden Vineyard is framed by quintessential Carneros views – rolling vine covered hills. Nearby winery neighbors easily seen from the property are Bouchaine and McKenzie Mueller. And bordering the property is the old Carneros School (now a private residence).
A culmination of many years, the winery is slated to be completed by late summer 2021 and replaces an old barn and chicken coop. It will be used for both Chris's wines but also select small custom crush clients. The hospitality section of the winery faces to the west; this is not a bad place to watch the sunset over the rolling vineyard covered hills of Carneros. Curtain style glass doors/windows are installed to take full advantage of these views yet also are used to prevent the often-strong cool Carneros breezes.
Select Wines
When it comes to making his style of Chardonnay, Chris considers winemaker John Kongsaard a mentor – even calling this Chardonnay the Kongsgaard cocktail. Chris has worked with the Buena Terra Vineyard in the Russian River for some years and using grapes from this vineyard, has made one of our favorite Chardonnays from a Napa Valley based producer – for Shibumi Knoll Winery. The Dearden Chardonnay is barrel fermented for both primary and secondary fermentations; Chris takes a liter of wine that has begun fermenting (all indigenous yeast) and inoculates each barrel with this. Later in the fermentation, often primary and secondary fermentation occur simultaneously.
The resulting wine has Konsgaardesque Chardonnay characteristics with also a number of similarities to the Shibumi Knoll bottling. The 2017 Sleeping Giant Russian River Chardonnay from the Buena Tierra Vineyard is deep golden in color with aromatics of honeycomb, honeysuckle, crème Brule and as the wine opens further, reveals an aromatic sweetness of vanilla, white chocolate and some butter notes. Also shows tropical fruit notes. So much fruit here! There is an intensity and a richness of flavor that carries throughout the palate with a very long finish. Flavors of ripe melon, dessert spices and crème Brule notes linger. The texture of this wine is noteworthy – oily, rounded and somewhat viscous, the wine glides smoothly across the palate.
The 2018 Sleeping Giant Paige's Vineyard Chardonnay, from the estate, is named after Chris's late wife Paige. This wine is made entirely from old Wente clone Chardonnay growing on the perimeter of the property. Shows medium to deep gold in color – while this wine saw the same oak program as the 2017 Buena Tierra Chardonnay, the oak is more pronounced on this wine, both on the bouquet and the palate. Offers aromas of vanilla, melon and a stony minerality. Shows flavors of citrus on the palate including mandarin with a toasted oak nuance and some darker desert spices that linger. Very rounded and smooth; the wine's texture is complemented nicely by its crispness.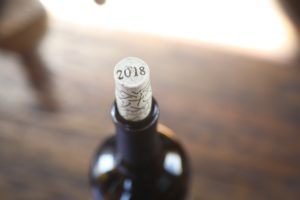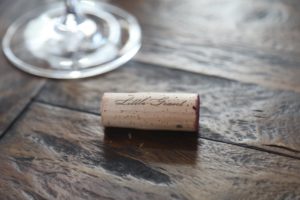 The 2020 Little Giant, Rosé of Pinot Noir was made direct to press rather than bleeding off the juice (saignée). It is salmon colored in the glass; initially its aromatics are very pronounced showing wild strawberries but evolves further with minerality notes, rose hips and ruby grapefruit. This wine features a nice juxtaposition of sweetness from the fruit versus tartness from the acidity, lingering along with flavors of jolly rancher watermelon. Crisp and lively with bright youthful fruit, this wine begs for another sip.
The 2019 Dearden Vineyard Pinot Noir Sleeping Giant is light to medium ruby in color; showcases bright and ripe fruit on the bouquet including cherry, currant and cranberries with almost a candied fruit note and accompanying sweet aromatics. The wine has higher toned red fruits with hints of cedar, mocha and cinnamon stick on the bouquet. Still one can tell this is Pinot Noir – but shows a ripeness both on the bouquet and the palate. Rounded with soft texture, lingers with some darker spices and hints of cedar. Very balanced. This wine was made from all five Pinot Noir clones on the property, each of which produced about 3/4 of a ton. Each clone was fermented separately from each other – the free run juice was kept separate while the pressed juice was blended together.
The 2018 One Iron Napa Valley Meritage is a red blend of 62% merlot, 30% Cabernet Sauvignon and 8% Malbec. Medium ruby in color. Offers aromas of red licorice, dried herbs, berry fruits and cedar on the bouquet. The hallmark of this wine is its bright acidity with flavors along the red fruit spectrum, including cherry and currant. Bright and lively, this wine sings with liveliness. The tannins are still a bit tight and a little astringent; lingers with a red fruit tartness along with a hint of dried tobacco leaf. We immediately thought of pizza and or pasta as an ideal pairing.
The 2017 Little Giant Cabernet Sauvignon Napa Valley Lamonica Vineyard is located just south of Darioush Winery on the east side of the Silverado Trail. Features distinctive aromatics including blueberry and raspberry coupled nicely with notes of old cedar box, hints of dried herbs and mocha. An aromatic sweetness shows as the wine continues to evolve in the glass. The bouquet is elegant. Red and darker fruits show across the palate with drier medium-bodied tannins and a tobacco leaf note on the finish. Plenty of life ahead of this wine.
The 2017 Sleeping Giant Cabernet Sauvignon Inglewood (from a vineyard on Inglewood Ave in St. Helena) offers dark cherry, plum and chocolate. Lingers with both noticeable wood and grape tannins and some toasted cedar notes. There is almost a hint of mushroom and forest floor like aromas as the wine breathes. Big but balanced, the tannins while pronounced are more rounded than jagged and are not harsh in their feel. Also lingers with a sweetness of fruit and vanilla. 100% varietal. This wine was aged in French oak for nearly 24 months.
All Dearden's wines are distinctive with their own personalities.
Sleeping Giant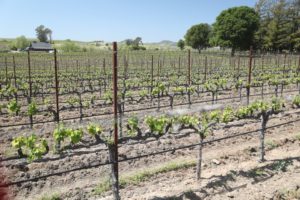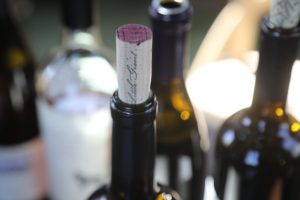 After Chris and Sam purchased their Carneros property they hired noted viticulturist and water witcher, Laurie Wood (died 2011) to search for water on the site. Ultimately his efforts were unsuccessful. However, Laurie helped contribute to the name of Chris's wines. Chris lives in the Oak Knoll District near the base of the southern Mayacamas mountains – northwest of the city of Napa. Laurie originally told Chris about the Sleeping Giant – a Wappo legend referring to the shape of the mountains in this part of the range which somewhat resembles a "sleeping giant". And Chris overlooks these hills from his property. The image on the label for this brand reflects the outline of the "sleeping giant."
Little Giant
One day, while driving by Jamieson Ranch Rescue property (close to Dearden Vineyards), Chris decided to stop. He inquired about the availability of retired show dogs and was offered a Newfoundland breed of dog. The intent with the Little Giant wines was to create one off bottlings. Its inception came about when Norman Spencer (owns a vineyard in Oakville near Opus One) offered Chris 5 tons of fruit in 2010.
The image on the label for these wines is of one of his Newfoundlands – enormous dogs he refers to as the sleeping giants. We first met one of Chris's dogs years ago at Benessere Winery – such is their monumental size; we almost mistook one of them for a bear!
—
Total production is around 2,500 cases with the wines primarily sold through the mailing list. Once the winery opens, wine will be sold direct to consumer based on on-site visits. Additional distribution is limited and available in select parts of New York, Florida, Texas, Illinois, Oklahoma and California. For more information, visit: www.deardenwines.com