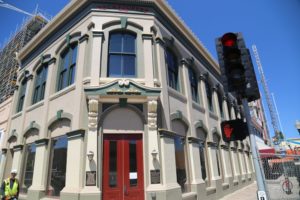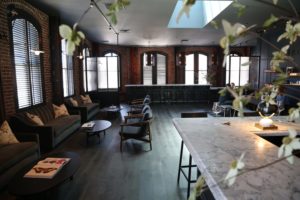 Brown Downtown Napa opened in April 2017 in a prime downtown location at the corner of Coombs and First Streets (just down the street from the nearby Archer Hotel and slightly further from the Andaz Hotel). In addition the former Napa Town Center, completely remodeled and re-branded as First Street Napa is next door (featuring 40+ fashion and specialty retailers and restaurants). This is all part of the continued exciting renaissance of downtown Napa – especially following the earthquake damage of August 2014.
This building was purchased in early to mid 2014 by the Beckstoffer Family (prominent grape growers in Napa, Lake and Mendocino Counties). The Napa earthquake hit in August 2014, mere months after their purchase. The building sustained some damage and has since been renovated and restored. The name of the building was renamed to The Beckstoffer Building and was placed in a family trust where it cannot be sold or torn down.
It was built in 1905 and housed the first offices for the Napa Register until 1965. The building has survived three major earthquakes – the 1906 Santa Rosa/San Francisco quake, the 2000 Yountville quake and the 2014 Napa quake. More recently it housed Sushi Mambo (who moved up to Calistoga). Brown Estate was the first tenant in the building since the Beckstoffer's acquired the property.
While open to the public by walk-in (guests enter from Coombs Street) – due to their somewhat hidden location – most people don't necessarily find them by walking by on the street. Rather visitor's find their tasting room through referrals from area businesses, general word of mouth or existing clients. Located on the second floor, one takes an elevator to reach their space. Almost reminiscent of a speakeasy – their tasting room features a somewhat retro feel with both a bar and a lounge area surrounded by brick walls.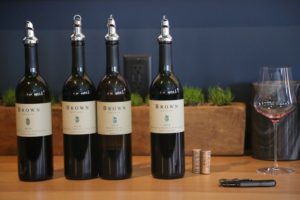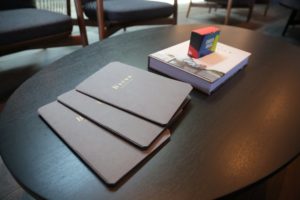 In 1980 Dr. Bassett Brown (died 2019) and his wife Marcela located what is a fairly remote (by Napa standards) piece of property in what is now Chiles Valley (one of Napa's 16 sub appellations located about 20 minutes from the floor of the Napa Valley). They were looking for a place to get away, relax and introduce their children to a more rural lifestyle (at the time they lived in the Los Angeles area). The property needed vision, which they certainly had.
Thousands of bats were living in an old house and the stone and wood barn was in disarray. They remodeled both the barn (dates from 1859) and the Queen Anne Victorian (dates from 1885). Today, looking at the estate and holding a photo taken of the property in 1980, you would not know your standing in the same area. The Browns planted their first 9 acres of Zinfandel in 1985 and sold the fruit for a number of years. In part with encouragement of one of their winery "neighbors" the Nichelini's and recognizing an increase in demand for their grapes – they decided to produce their own wines. Today 50 acres of vines are planted on the their approximately 450 acre property.
Their first vintage was from 1996 – they made subsequent vintages at Rombauer Winery until they outgrew that space. The winery on their estate property was initially built in 2002 as a production facility – not with the intent of hosting visitors. But as word got out about the quality of the wines (first vintage was their Napa Zinfandel at about 700 cases) and the beauty of their rural location – they adapted part of the facility to host tastings. And while they still selectively see visitor's at the winery, this downtown space is much more conducive for seeing visitors. Today production varies but has increased to up to 7,500 cases annually.
They offer several tasting experiences downtown including two Introduction Flights – where guests choose to taste several of their most often distributed wines – or a Zinfandel only tasting. Their Lounge Tasting is available by prior appointment. Because they are open later (until 7pm with the last tasting offered at 530pm), this makes an excellent pre-dinner stop.
Our tasting focused on Zinfandel – the Mickey and Rosemary blocks of their vineyard are named after Marcela's brother Mickey and his wife Rosemary – Marcela originally stayed with them after moving from Panama to the United States.
Select Wines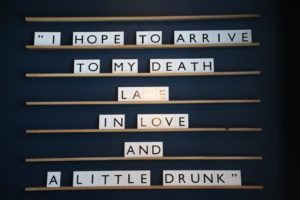 The 2015 Rosemary's Block Zinfandel shows bright aromatics – at times alternating between smokiness and earthiness with notes of cedar. Somewhat floral as it continues to open. Like the other two Zinfandels we tried, shows a slight perceptible sweetness on the palate. Very balanced on the palate showing more red higher toned fruit flavors then darker fruits. Fairly soft across the palate and features well integrated tannins.
The 2015 Mickey's Block Zinfandel sees the same barrel aging program as the Rosemary's Block – 50% French Oak, 50% American Oak of which 1/3 of the total is new. Some earth nuances on the bouquet but mostly ripe fruit – especially blackberry. A depth of flavor shows with riper characteristics then the Rosemary's Block. Rounded mouth feel anchored by long lasting ripe tannins.
Sometimes they call these two wines the Yin and Yang of their Zinfandel production. The Rosemary's block grows in a an east to west orientation and receives quite a bit of shade – especially from old oak trees that line parts of this vineyard. In contrast, the Mickey's Block is grown more south to north and receives quite a bit more sunshine and often producers a richer styled wine.
The 2015 Chiles Valley Zinfandel shows a variety of intriguing spices on the bouquet including vanilla, cardamom, toasted cedar and some notes of chocolate. Fairly dark in the glass. Plenty of fruit to, including ripe blackberry. Layered on the palate, shows good acidity and depth of flavor. A blue fruit component. Features long lasting, somewhat dry and robust tannins. Very good acidity.
For more information and to schedule an appointment, please visit: www.brownestate.com/visit