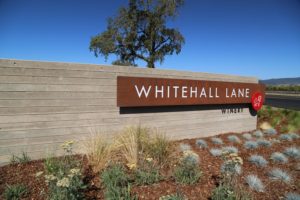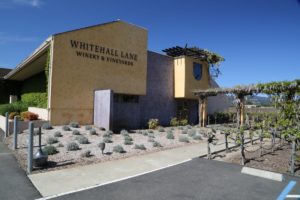 Whitehall Lane Winery is located on the west side of Highway 29 several minutes south of the town of St. Helena close to the only section of Highway 29 where the train tracks cross the road. Note that the winery and tasting room are located right next to the highway and are not located on nearby Whitehall Lane. Just look for the distinctive yellow and blue colors of the winery and not the road with the same name!
The winery was founded in 1979 by the Finklestein's, a well known wine making family in Napa who have since gone on to build two other wineries. In 1993 they sold Whitehall Lane Winery to the Leonardini Family who are the current owners. After the purchase the Leonardini's updated the winery and wine making facilities and found new sources for grapes.
They actually own approximately 125 acres of mostly valley floor vineyards which as of press time are separated into 6 uniquely different vineyards. Most of Whitehall Lane's prime vineyard land is in the central part of the valley in Rutherford and St. Helena with one south valley vineyard in the Oak Knoll district.
Today all of Tom's children are involved with the winery and it is truly a family run affair. Whitehall is certainly not white from the outside and the winery building is a very distinctive yellow and blue color that you can't miss as you drive by. There is a unique window that is in the shape of the top of a wine glass. With the addition of their new barrel storage facility and VIP room, Whitehall now actually has multiple built in wine glass windows!
This winery has a well rounded slate of premium wines (at decent prices) which have won numerous awards; their Cabernets and Merlots are very rich and complex both in aromas and flavor and these are in fact their two most produced wines annually.
They have long used screw cap enclosures (among Napa's first wineries to do this) for some of their wines and the reserve Cabernet is actually enclosed with what is called a Vino-Seal, a glass enclosure. As well as being perfectly functional, this enclosure also makes a neat conversation piece as well as a souvenir from the bottle of wine. This is the first Napa winery to use an enclosure such as this one. The cost is a little more than a cork but the overall savings and benefits to both the winery and consumer is great. These type of enclosures prevent the problems you sometimes have with corked wine.
The 2005 Cabernet Sauvignon has a pleasant fruit driven nose followed by a palate rich in fruit including blackberry and black cherry. A soft entry carries all through the palate and is anchored by velvety tannins. It has just the right amount of tanginess and tannin structure to pair very well with a variety of foods. This wine is also priced well for the quality. The 2005 Reserve Cabernet is 100% varietal and shows concentrated dark berry fruit on the palate with smoky nuances and hints of mocha.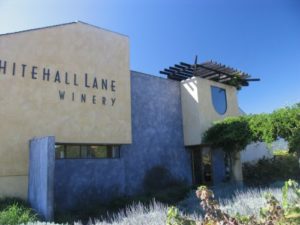 For dessert wine lovers their Belmuscato (an Orange Muscat) is sweet with a long finish and not overly syrupy like some of the Muscat wines we have tried. We also had the privilege of trying their Belforte Port. This type of port is not often found in Napa as it is made from Petite Sirah grapes. Most area wineries that make a port often use Zinfandel grapes. The 2005 vintage is rich in alcohol and flavor with a moderate balanced amount of residual sugar. In other words you won't be left gasping because of the sweetness in the back of your throat!
The tasting room is rather spacious and the staff is very knowledgeable and friendly and can give you recommendations for other area wineries. Like other nearby Highway 29 based wineries the tasting room can become very crowded especially on summer and harvest weekends. If you are looking for a more private tasting experience Whitehall offers a reserve tasting program. This is a private tasting with a wine guide and lasts about 1 hour. Their annual open house is typically held in September.
Whitehall Lane offers an under the radar, "Cooking Demonstration and Wine Pairing Experience" offered most Fridays and Saturday by appointment only. This two+ hour experience is available for a minimum of 4 people and a maximum of 8. Their private chef prepares a lunch for the guests along with identifying the best Whitehall Lane wines to pair the particular dishes.
You can also join their mailing list online. Visit: www.whitehalllane.com or check out their blog here: blog.whitehalllane.com