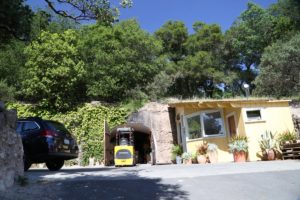 White Rock Vineyards is a small hidden winery that you will typically not find in any of the Napa Valley winery lists. They are family run and their focus is all about the wine. They offer tasting and tours on a limited basis for serious wine enthusiasts via email.
The original thick stone winery was built in 1871 from rock hand quarried on site and still stands. Henri and Claire Vandendriessche, the founders of White Rock live in this original stone winery (converted into a house). Henri moved to California from France to study economics at UC Berkely in 1960. He never left – instead moved slightly north to the Napa Valley where they purchased this 64 acre estate. This property was originally in a much larger land grant owned by Salvador Vallejo.
When the Vandendriessches purchased the property all the vines had been pulled out by 1965. The vines were replaced by horse training grounds by a well known polo player from San Francisco. Henri planted vines in the late 1970's, sold fruit to other wineries for several years and ultimately started making their own wine – the first vintage dates from 1986.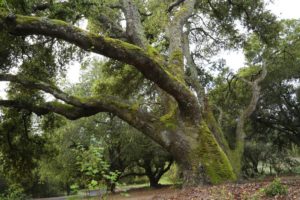 The property encompasses a beautiful tucked away part of the Napa Valley at the base of the Stag's Leap District. a variety of hillsides combined with a lower smaller valley – they planted Chardonnay in the lower section and Cabernet Sauvignon on the hillsides. A small block is planted to several red varieties and is the source for their claret wine.
In the 1970's few in Napa were making a wine from blended red varieties. Henri planted part of the vineyard to the red varieties with the intention of making a red blend.
The soils here are very rocky yet crumbly – about a foot of topsoil is on the hillside part of the vineyard and below this is a white volcanic rock called tufa or compressed volcanic ash. Vines have to truly work to force their roots down into the ground – finding cracks and other soft spots in this particular type of rock.
The vineyards are all managed organically (no pesticides or herbicides). Caves were dug in the late 80's and true to its name, a good portion of the front of the caves were dug through a chalky white volcanic rock . Parts of the cave are left raw (no gunnite) and it is interesting to see the white tufa and also in the back of the cave, a very red iron rich much harder rock.
Henri is still very much involved in White Rock but today his two sons manage and run the winery operations. Christopher is the winemaker and his brother Michael is the vineyard manager.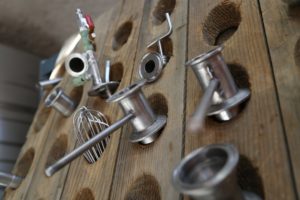 When Henry had the caves dug he made sure to dig a number of small 4-5 foot deep alcoves within the cave. These were not dug to house an art collection – rather they were specifically created to for aging their red wines. Four sets of bottles are stacked tightly from the bottom of the cave to the top – ultimately completely filling these alcoves with wine.
Each of these alcoves can hold between 4-6 thousand bottles – and with the number of alcoves built into the cave, up to 45,000 bottles of wine can be stored at any one time! During the Napa earthquake in August 2014 White Rock lost no barrels of wine – however bottles equivalent to about 50 cases fell down from one of the alcoves – approximately 25 cases worth of wine actually broke. In all the years of wine making here, this has been the only damage to wine at the winery Henri has seen from an earthquake.
After visiting 1,00+ Napa wineries and producers to date, we can think of no other winery in the Napa Valley that uses this type of stacked bottle aging system. Only the "sparkling house"…Schramsberg ages some of their sparkling wines in that manner. For those who have never been in the company of fermenting wine or listened to the sound it makes, White Rock Vineyards has creatively recorded an almost 3 minute audio for your listening enjoyment. Don't expect a Pavarotti type performance!
For many years White Rock specialized in three types of wines, Chardonnay, a red blend called Claret and a Cabernet Sauvignon. However in more recent years they began producing several very small production wines from newer plantings in the vineyard of Syrah, Viognier and Malbec. These wines are part of their "Hand Press" series – each wine made is usually only a barrel or two and all are made by hand using a small basket press.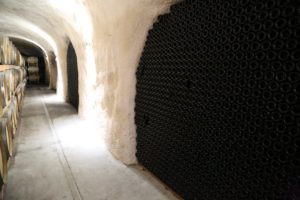 Their Chardonnay is made in a Burgundian style – it is barrel fermented and barrel aged. Over the years they have pulled back on the new oak used during the aging and currently only use a small percentage of new oak. Additionally, this wine does not go through malo lactic fermentation. The most recent vintage we tried, the 2012 is impeccably balanced and one of the nicer Chardonnay's we have tried in all of Napa. It retains very good acid, is crisp and clean on the palate and can age better than most Napa Chardonays. During it's aging it is left on the lees and regularly stirred which gives it some nice weight and creaminess.
A reserve Chardonnay is made from a barrrel selection in which one of the barrels is allowed to undergo full malo lactic fermentation and then blended with the other barrel that just underwent the primary fermentation. This is a very limited production wine and usually sells out quickly.
Their Claret is a blend of Cabernet Sauvignon, Cabernet Franc, Merlot and Petit Verdot and is barrel aged for up to 2 years, then bottle aged for up to two more years so by the time it reaches the market it has had 4 years of aging. Very few wineries have the luxury of aging a wine this much before it is released to the consumer.
The Claret blend typically changes each year but Cabernet Sauvignon is always the majority variety. It is a very Bordeaux style wine that is great with food. The 2002 vintage is all about the fruit with juicy flavors across the palate as well as structured tannins that provide the backbone to a pleasing finish.
Tasting notes on more current vintages of their Cabernet Sauvignon coming soon.
All of their red wines tend to be very age worthy.
To purchase wine online, to join their wine club or for more information visit: www.whiterockvineyards.com
Outdoor/Vineyards

Cave