Vinoce Vineyards is owned and operated by a husband wife team, Brian & Lori Nuss (tragically Lori passed away in early 2016). Their vineyard is the northern most vineyard in the Mt. Veeder Appellation. We recently had a chance to visit their vineyards which contain 24 acres of Cabernet Sauvignon, Franc and Merlot perched on hillsides entirely surrounded by native vegetation. Mountain Lion, deer and sometimes black beer call this area home. Note: since our initial visit to their original property, they have sold the vineyards to Robert Craig Winery.
The Mt. Veeder Appellation has some of the most remote vineyards in all of Napa County and Vinoce's Vineyards are no different. Rugged hillsides and forested slopes in all directions make this one of the more remote vineyard locations in Napa County. Brian & Lori moved here in the mid 1980's seeking an alternative to the urban life they left behind in Los Angeles.
Brian was involved in a non wine related business but as has happened with a number of people we have met who moved to the Napa area was bitten by the Napa Allure. Within several years they had cleared and planted the slopes to grapes. Brian is the vineyard manager as well as the winemaker. He subscribes to the adage that most of wine making occurs in the vineyards and as a result great attention to detail is given to every single vine from pruning and trellising to crop management.
All grapes for their wine come from their estate vineyards with the exception of their Sauvignon Blanc which is sourced from Napa's Pope Valley. Vinoce's total production is about 2000 cases. We started our tasting with the 2007 Sauvignon Blanc. This is a nice easy drinking wine that would pair well with appetizers or by itself before a meal. Aromas of orange, lemon, lemon grass and other herbaceous qualities fill the glass. As the wine opens up melon and slight hints of pineapple come out on the palate.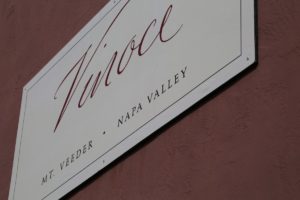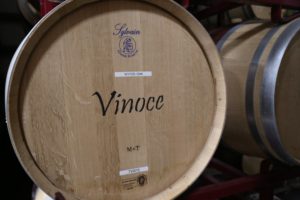 The 2004 Cabernet Sauvignon we tried was produced in extremely limited quantities. The reason for this downturn in production is a freak hail storm hit the vineyard after fruit had set and destroyed the majority of the crop. An event such as this is much more likely to occur in the Mendoza wine growing region of Argentina (where special nets are placed on top of high end vineyards to guard against such damage). In any case what ended up in the bottle is very representative of Mt. Veeder grown fruit. It is a dark inky wine with a big nose with earthy aromas and white ground pepper followed by flavors of cherry, plum and chocolate. The finish is slightly spicy, warm and is extended in length.
The third wine they make is a proprietary blend of predominately Cabernet Franc, Cabernet Sauvignon and Merlot. You can taste their wines at the Vintner's Collective located near downtown Napa. Vinoce was the first winery to have its wines available for tasting at Vintner's Collective. They are also well distributed within the USA and can be found in select locations in southern Vietnam of all places! The Nuss's also produce Twenty Rows. Visit: www.vinoce.com
NOTE 1: this entire review has been identified as needing a **major** update.
NOTE 2: after 10 years of operating their tasting room out of their Vallejo Street location, the tasting room closed on May 1, 2018. As of this latest update, plans are under way to relocate to a new winery space along the Napa River – along the Tannery Bend at 68 S. Coombs Street. Plans possibly also call for sharing the space with a Bourbon producer.
As of our latest update, the grand opening will come sometime in late fall. We will keep an eye on the new space and will update this review and our review of Twenty Rows soon after their new tasting space opens. Gracias.