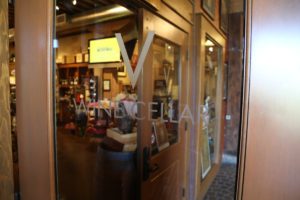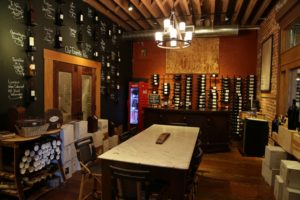 V Wine Cellar is located in the charming and historical V Marketplace, an upscale shopping center in the heart of Yountville formerly known as Groezinger Winery. The winery complex was founded in 1870 (among the older wineries in the Napa Valley) and ran until 1955. The location was converted into shops and reopened in 1968 taking the name, Vintage 1870.
A visit to V Wine Cellars should be a must stop for any serious wine enthusiast coming to the valley. This is a boutique wine shop with a full tasting bar and several thousand bottles of wine in their selection. The store is located on the Washington Street side of V Marketplace – enter to the left as you walk in the main entrance.
V Wine Cellar used to be located in the back/west side of V Marketplace; of note their old location is now home to the well known TV Celebrity chef, Michael Chiarello's gift shop (currently being remodeled and re-branded).
V Wine Cellar excels in carrying difficult to find wines, especially from small local area wineries. However, they also carry a number of the Napa "classics" – wines that are easily recognizable such as Rombauer Vineyard and Stag's Leap Wine Cellars. These more well-known wines are located near the entrance to the store – keep browsing further, you will soon discover the limited production wines from mostly boutique producers based in Napa. And some of these are worth asking about as unlike the larger more established wineries with good National distribution channels, wines from these smaller producers often can only be found in the Napa area.
V Wine Cellar estimates they taste over 4,000 different wines each year. Many of these wines are from wineries that are completely private so you will never be able to visit the physical locations. One of their rooms is devoted entirely to "cult" wines, some of the wines represented here are older vintages from Napa notables such as Harlan, Bond, Far Niente etc. Large format bottles are also available on site. If you are stumped by their large selection, ask the owner Scott Lewis or employees for recommendations especially if you are looking for a specific type of wine.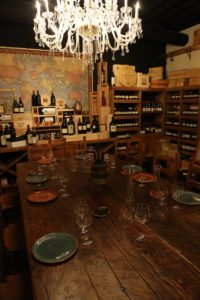 They also carry select older French wines – often dating back to the 1920's and at times they have even stocked wines dating back to the late 1800's.
The side tasting bar is located near the entrance and showcases both wine making styles and regional differences. Their "off the beaten path" flight features premium wines with very limited distribution – many from Napa but also from throughout parts of California. These tastings always vary; you never know what types of wine will be served. And if you are interested in certain wines, the staff is happy to make recommendations for what to taste based on what they have open at the time. Also note that both Scott and some of his employees own their own labels – including Pneu Cellars, ADDAX and Waterfall Cellars.
During prior visits, we have spotted several Charbono wines; very few Napa area wineries make this wine and V Wine Cellar is a great one-stop source for this varietal. Weather permitting there are some tables nearby in their nearby patio for outdoor tasting; this overlooks a lawn area and is great place for relaxing.
Disappointed that most Napa wineries close at 4 or 5pm? Stop by V Wine Cellar before dinner – they are open until 7pm for tastings. A seductive sofa/lounge seating area is available next to the fireplace. The interior is nicely furnished, from the antique wood and beveled glass doors to the original red brick and mortar and the hardwood flooring. Look for their "wall of wine antiquities"; this is next to the fireplace and features empty bottles all from premium producers – most dating back at least 50+ years.
Come here for the tasting and to shop for wines but also spend additional time browsing the quaint stores located in this shopping complex including antiques and art galleries. Plenty of parking surrounds both sides of the V Marketplace but on busy summer weekends sometimes even this is often not enough. Yountville is small and chances are a brisk stroll will get you here from one of your nearby hotels or top restaurants. Throughout the year special events are often held at V Marketplace including the Taste of Yountville Appellation event in which main street is closed to traffic (vendors setup on the street during the actual event).
Scott is actively involved in Sense Yountville, an annual event promoting both area restaurants and wineries. This is a unique event not only because of the caliber of the participating wineries and chefs, but also because it is a rare opportunity to taste pre-releases from the wineries bringing "futures" of their wines to the event. More information about this can be found here: www.senseyountville.com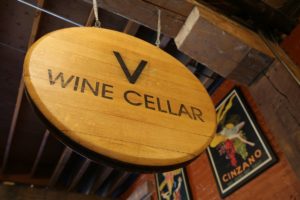 V Wine Cellars also sells Cowgirl Creamery products including their artisan cheeses – available in their lounge or if weather permitting outside on their patio terrace.
Looking to host a private event in the Napa Valley? Look no further than V Wine Cellar. In conjunction with Villagio Inn & Spa and the Vintage Inn on The Vintage Estate, V Wine Cellar offers a unique location for private events, wedding receptions, winemaker dinners or a special wine-tasting event hosted by sommeliers. Getting married? V Wine Cellar offers a bridal registry in which you sit down with one of their sommeliers and try different wines based on taste and sensory evaluations.
Interested in the art of blending? V Wine Cellar offers a small private blending seminar (by appointment only) and will work with you depending on your level of experience and palate. As you can see, this is not just a wine shop! Visit: www.vwinecellar.com