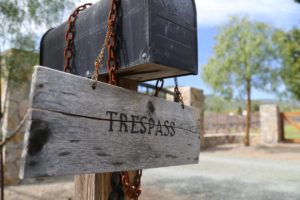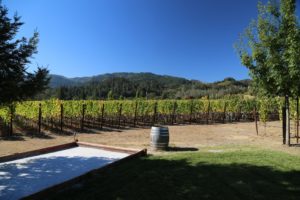 Trespass Vineyards is an interesting name for a winery but this starts to make sense when you visit the actual vineyard location. It is a 5 acre vineyard accessed by driving through residential St. Helena streets. You enter the vineyard via a dirt road at the end of a residential street. This used to be just bare ground and nearby neighbors would walk their dogs or "trespass" over the property before owners Don and Dana Gallagher purchased the property. The Trespass wine is made by accomplished winemaker Kirk Venge.
All visits are private, for serious wine enthusiasts and are always conducted with either Dana or Don. The vineyard location is an ideal spot to relax in as you are surrounded by vineyards in all directions with the nearby forested Mayacamas mountains to the immediate west of the property. Despite being so close to residential St. Helena, this really feels like you are in the country and certainly far from the traffic that often bottlenecks coming into and out of St. Helena.
Production is extremely small – usually around 700 cases per year and focuses on both small lot estate wines as well as wines from select vineyards elsewhere in the Napa Valley. The estate is planted to Cabernet Sauvignon, Cabernet Franc and Merlot. Kirk really likes the Cabernet Franc that comes from this property – so they planted additional Cabernet Franc vines more recently.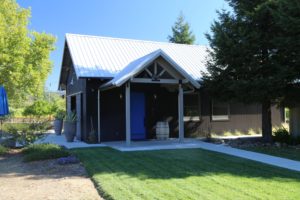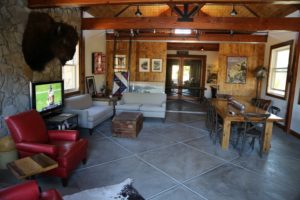 The first vintage of Trespass dates from 2000 – the first two wines included a Cabernet Sauvignon and a Cabernet Franc. Trespass makes a delicious and balanced Cabernet Franc. We have noticed that this varietal is slowly becoming more popular as a single varietal wine in the Napa area. Their 2005 version is full bodied, smooth and has a delightful nose with aromas of berries and black cherry. It does not have the "vegetal" characteristics you sometimes find with a different style of Cabernet Franc.
In addition it is interesting to note some background characteristics of this wine. The orientation of their vineyard rows and trellising exposes some of the fruit to the morning sun while some receives plenty of warm afternoon sunlight. As a result parts of each row were fermented and aged separately until creating their final blend. This wine is 100% Cabernet Franc.
Their wine labels feature an image of the property and have names such as Mayhem and Rendezvous – in tribute to as Don says, "what goes on in the vineyard at night".
The 2013 Cabernet Sauvignon shows an elegant nose initially focusing on fruit aromas rather then barrel characteristics. Sweet black fruit, cassis, violets and notes of ripe plum show. As the wine breathes secondary aromatics show including dessert spices and browned sugar. Young robust and grippy tannins hold to the finish for some time. Needs some foods with fat to help cut through the tannins. It drinks well now but should also age for many years.
Trespass is also produces an old vine Zinfandel from 110+ year old vines grown just south of the town of Calistoga.
Donny's self appointed "man cave" is located next to the vineyard and is a great place to relax regardless of what the weather is outside. Features a television and comfortable amenities – including several art pieces that are for sale.
To join the mailing list or for more information, visit: www.trespassvineyard.com
NOTE: This review has been identified as needing a major update.
Tasting notes video from Wine Expedition, 2005 Cabernet Franc