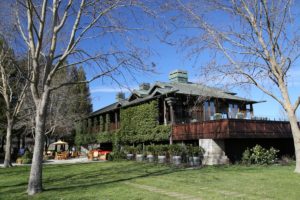 Sullivan Vineyards is located just minutes off the main busy "wine strip" of Highway 29. Their location makes it very easy to find yet at the same time seems as if you have landed in the middle of an oasis away from all the traffic and hustle and bustle. It is quiet here! There is a pond on the estate as well as beautifully landscaped gardens. The wine tasting room adjoins the barrel room and is across from the main residence. Note the design of the main residence; it was designed by John Marsh Davis who also designed Joseph Phelps winery.
This original family owned winery produced its first vintage in 1981 (prior to that the Sullivan's were producing grapes for other local wineries). In late 2017 the winery was sold to the investment firm VITE USA Inc., – based in Sausalito.
Sullivan was founded by the late Jim Sullivan and his wife JoAnna. Jim was a graphic design artist and worked with several well known rock bands in the 50's and 60's. His daughter Kelleen is an artist in her own right, mostly wine related and her pieces command hefty prices (some of her works are on display in the tasting room and in the main house). Their initial search for land took them to many areas in California; they of course finally settled on the prime Rutherford bench land which is where their vineyards are winery are located.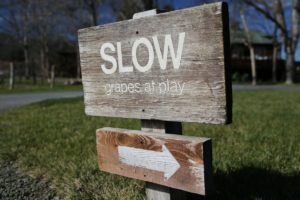 The Sullivan's strongly believe in dry farming (stressing the vines contributes to specific characteristics within the actual grape) and the flavors in their wines truly represent the "terroir" or land from where the grapes were grown. What used to be the norm in the Napa Valley was managing your own vineyards. Today vineyard management companies control the majority of Napa's Vineyards. The Sullivan's came to the valley as farmers and up until they sold the winery were still managing in-house all 23 of their own vineyard acres.
For a small winery (about 5000 cases) they offer a nice selection of various wines including the "popularity priced" (good prices, lighter wines) and their "premium" wines (featuring the estate and very limited production Reserve wines). A special note about their Reserve wines – they are not made every year, as a result are only produced when the wines are of the highest quality. Sullivan has these wines available in older vintages. During our most recent visit they had just recently tasted through a vertical of wines all the way back to the 1981 vintage. Nice! Unlike many wineries who don't make older vintages available, Sullivan does have some of these earlier wines – in very limited quantities.
A tasting here is always un-rushed, down to earth, private and geared to your wine interests and what wines will pair with the types of food you enjoy. We tried a number of their wines and will spotlight a few here. The 2005 Red Ink is 85% Cabernet Sauvignon and 15% Syrah. With a very decent price tag this is one of the better quality to value ratios for a Napa grown Cabernet. The nose is quite fruit driven with a mid core palate of earthiness and leather. This is an outstanding choice of wine to have with anything tomato based, especially pizza.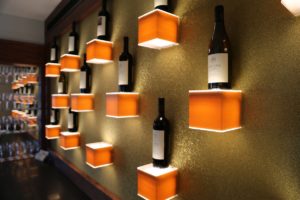 The 2003 Reserve Merlot always comes from a single block within the vineyard that year in and year out produces the highest quality fruit of this varietal. The nose is very earthy with some spices – the mouth feel is soft yet the wine has huge flavors on the palate.
Their Cabernets are drinking very well now but with good acidity, fruit and tannic structure will age quite well. The 2004 Coeur de Vigne which means "heart of the vineyard" in French is a Bordeaux style blend. The nose is decidedly fruit driven with pungent aromas of candied fruit and almost floral qualities. Bright fruit, lively acidity and structured tannins will ensure this wine will also age well. It is drinking very nicely at the time of our review with a soft palate of mocha, blueberry and a nuances of tangy cherries.
Sullivan has won many awards and in the early 90's was voted as one of the top wineries in the world by The Wine Spectator. You can also request a private reserve tasting – an extremely personalized experience focusing on some of their best wines. The great majority of their wines are sold directly through the tasting room or their wine clubs. Visit: www.sullivanwine.com
NOTE: this review has been identified as needing an update.