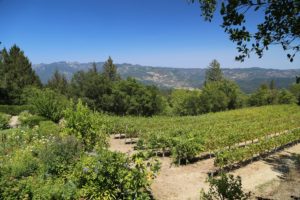 Stony Hill Vineyard was a complete anomaly in Napa Valley until 2009 – producing only …drum roll… white wine, and did so since 1952 (their first commercial release). In fact they were one of the first Napa wineries built after prohibition (who are still in production). Starting in 2009 they began producing a Cabernet Sauvignon from their property – after selling the fruit for several years. Initially they began to produce a red table wine for themselves, friends and family – and ultimately decided to bottle this as a commercial release.
If Stony Hill was going to make a red wine, their Cabernet Sauvignon is exactly the style of wine they would make. This is a wine that is lean, focusing on good acidity, a balanced wine that is very food friendly. This is a style of wine that Napa in general has not seen in several decades. It is a wine that is lower in alcohol compared to today's Napa standards – the 2011 vintage came in at exactly 13% (there are plenty of red wines made in Napa today that are 15% or higher alcohol).
Stony Hill was founded by Fred and Eleanor McCrea in 1943 when they purchased 160 hillside acres (initially a goat ranch). At that time they hung a sign out on St. Helena Highway saying "visitors by appointment" – today a sign still says the same thing in the same location. They built the winery in 1951 and bonded it in 1952. Their focus has always been and is still on producing fruit driven, non-oakey, and no malolactic fermented Chardonnays. In other words making Chardonnay like it used to be made and producing a wine reflective of the variety rather than post initial fermentation manipulation. This is quite refreshing in today's world of oak driven, malolactic fermented Chardonnays.
In 1948 when they planted their vineyards there were only about 200 acres of Chardonnay growing in California and most of the general wine consuming public was not even familiar with this variety. Despite viticulturists encouraging them to plant other white varieties, the McCrea's followed their gut instinct and planted Chardonnay. Today their hillside vineyards are all dry farmed and there is a unique minerality and flintiness represented in their wines that you may not have from the cooler popular Chardonnay region of the Carneros further south.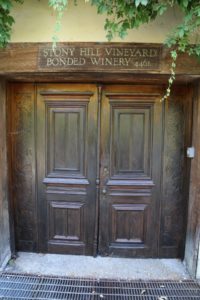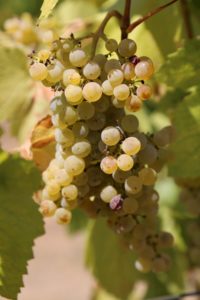 This is one of our favorite Napa wineries for the experience, its isolated feel and the actual wines. It is the oldest continuously operating winery in the Spring Mountain District. Stony Hill is still owned by the McCreas and is currently being run by the 3rd and 4th generations.
Visitors enter by the Bale Grist Mill just north of St. Helena and then drive up what is one of the longer private driveways to any winery in Napa Valley. It is a very narrow one lane road so drive cautiously. A visit here is like going back in time to when Napa was less developed, less crowded and had more of a agricultural feel. Winemaker Mike Chelini has been with Stony Hill since 1972. A tenure that long at a Napa winery today is unheard of where winemakers often move to other wineries or take consulting jobs which come and go. Every year we think we are going to update this paragraph when Mike retires, but each year comes and goes and he remains lead winemaker at Stony Hill.
Allow about 90 minutes for the tour and tasting; the tour takes you into their fermentation and barrel room and you won't see much steel here as this room mostly contains very old wooden barrels which actually look much older than their true age.
By now you may realize that change comes very slowly to Stony Hill and that is not a bad thing at all – especially in a valley dominated by constant change.
The wooden tanks housed in the winery date from the 1950's and 1960's. It is these barrels that are used for the aging of their Chardonnay and after seeing these you can clearly understand why their Chardonnays are not flavor driven by oak. This is in complete contrast to most of the other Napa wineries whose cellar and fermentation rooms have steel tanks and modern looking barrels. A visit to their cellar is really like walking back in time.
Stony Hill maintains a mailing list which was first started in the early 50's when Fred and Eleanor McCrea sent hand written letters to several of their San Francisco Bay Area friends. The list now often spans several generations of consumers. In more recent years they began a wine club.
Tasting is inside Fred and Eleanor's old home (at their dining room table) if cold outside but if its a nice day your tasting will be outside on the deck overlooking the property and the valley in the distance. We've visited several times and we are always struck by just how quiet it is here. There are also great views of parts of Napa Valley and surrounding hills.
Their wines are very "balanced" – what this means is they strike a harmony in the wine making process between their rich hillside fruit and the acidity which provides the aging potential for their wines. Yes, you can age these and the wines don't start peaking until several years after release, although they can certainly be consumed at the time of purchase.
They produce several Chardonnays, a lean Riesling, a Gewurztraminer and also a fantastic dessert wine, the Sémillon de Soleil which is produced in extremely low quantities (first produced in 1972) so it sells out rather quickly.
The 2013 Sémillon de Soleil (only available in half bottles) is remarkably dark golden in the glass for such a young wine. It reveals generous aromas of honeycomb, ripe apricot and a juicy white peach. On the palate it is certainly sweet – but with a clean taste profile (and as expected from Stony Hill – showcasing the ripe fruit rather than any oak) tempered by a decent amount of acidity. This particular vintage has truly produced an excellent wine of this style – with excellent aging potential. Best enjoyed anytime accompanied by a Hilary Hahn Beethoven Violin Concerto.
NOTE: after a remarkably long family run – Stony Hill Winery was very quietly sold in summer 2018 to the owners of Long Meadow Ranch, the Halls. Like a number of transactions in the valley, those in the industry knew of this sale well in advance before this news reached the media. Sadly, a very unique period in Napa's history came to a closure with this sale – we will revisit once we determine more details of the sale and any changes moving forward with the transition in ownership. At which point we will update this review.
For more information and or to join their mailing list, visit: www.stonyhillvineyard.com and view our mention of their Chardonnay in a Robb Report focusing on premium Napa white wines here: www.robbreport.com/paid-issue/whites-roses