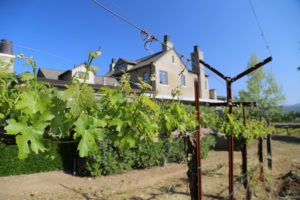 Staglin Winery is located at the end of a dead end road just north of the large Robert Mondavi Winery in the Rutherford Appellation. They produce extremely high quality wines and are owned by Garen and Shari Staglin and family. Their appreciation for the Napa Valley began in the 1960's – Garen attended Stanford Business School and both would visit Napa during breaks in their schedules.
They lived in the San Francisco Bay area for a number of years and then in 1985 had an opportunity to purchase a 50 acre piece of land owned by Beaulieu Vineyards at that time as well as another 12 acre adjoining parcel. This vineyard is one of Napa's most historic – originally planted in the late 1860's.
When the vineyard was owned by Beaulieu Vineyards, well regarded winemaker, soils and viticulture expert Andre Tchelistcheff originally helped convert what were prune orchards on the property back into vineyards – his viticulture knowledge played a prominent role in the types of vines planted here and how the vineyard was laid out. We've heard differing opinions on whether the grapes from these vines were used in the well-known Georges de Latour Private Reserve label that BV popularized (and still makes today).
Today the Staglin's still own nearly 62 acres of prime land in the heart of the Rutherford Appellation. Their vineyards are located on that wonderful bench land soil in the heart of the Rutherford appellation. These are deep slightly gravelly brownish soils that were formed during millions of years because of erosion and run off from the nearby Mayacamas mountains. As a result of this type of soil, its excellent drainage and the climate, this is excellent terroir for growing Cabernet Sauvignon.
Well regarded vineyard manager David Abreu is in charge of managing their vineyards all of which are CCOF farmed organically. Solar cells on the property supply about 75% of their total energy needs. Staglin is in the enviable position on sunny days of providing extra energy back into the grid.
Famed French blending master Michel Rolland also consults for Staglin and helps with their final blending decisions. You can see that everything at Staglin is about quality and producing the best possible wines they can from their unique terroir.
The actual winery is completely underground; it is entirely self contained within their 27,000 square foot cave system. Note the very high ceilings, they are much taller than most winery caves. The only exposed area of this winery is their crush pad outside.
A visit is for serious wine enthusiasts and collectors and will include a quick overview of the vineyards and a sit down tasting in the beautifully restored historic Steckter House (dates from 1864). The main dining rooms opens up onto a deck which faces east and overlooks down on their vineyards and much of the rest of Rutherford and Oakville.
During one of our visits we enjoyed both the Salus and several Cabernet Sauvignons. The 2005 Salus is a very approachable wine with wonderful black fruit aromas including blackberry and black cherry. The mouth feel is supple and deliciously velvety framed by good acidity and manageable tannins for early approach-ability. This is 100% Cabernet Sauvignon.
The 2004 Staglin Cabernet Sauvignon is a more robust wine showing notes of cedar intermingled with ripe black cherry. This wine does not disappoint with big ripe layers of flavor including plum blueberries and subtle notes of pepper towards the finish. Good structure, good acidity and great fruit will ensure this wine will only age gracefully. You may have heard people talk about Rutherford Dust; this wine has a slightly dusty quality towards the finish. Unfortunately, their much sought after Chardonnay was sold out at the time of our last visit. We will track down a sample of this wine at some point!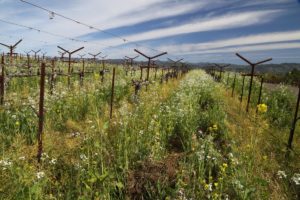 Staglin is also very well known for their popular annual Music Festival for Brain Health event held on site every September. Inspired to fight brain illness after their son Brandon was diagnosed with schizophrenia in 1990. Since the inaugural event in 1995 in they have raised several hundred million dollars towards research and medicine for mental health related diseases solely from this annual event. This is one of (if not the largest) annual private Napa winery charity event; it is *the* winery event to attend in the valley. Typically well-known musicians will headline and about 75 high end wineries, including a number of Napa's cult wineries are on site pouring their own wines. Celebrity or other well-known chefs always prepare the gourmet dinner.
This is not the only fundraiser that Staglin supports; their wine is often one of the higher bids at Auction Napa Valley and the Naples Winter Wine Festival. They do an amazing amount of work with charities and have directly contributed nearly 1 billion dollars to charity efforts over the years. Staglin's cases of wine have also produced very high wining bids at the large Auction Napa Valley (annual wine charity fundraiser)
Film enthusiasts take note; Staglin has a direct film connection to Hollywood – the late 90's version of the Parent Trap movie was filmed at the Staglin's home located in the hills east of the winery.
Also note that in 2007 Staglin purchased the historic Steckter House within their vineyards (built in 1864). It has been restored wonderfully and now serves as their main hospitality center and tasting room. Visit: www.staglinfamily.com
Estate

Cave