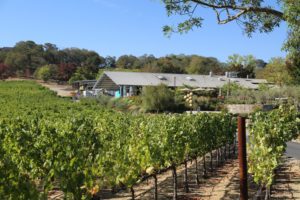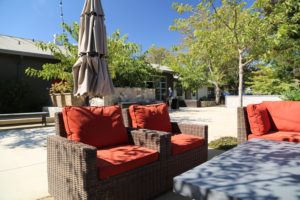 Shadybrook Estate Winery at Rapp Ranch. Proprietors, David & Alice Alkosser first purchased property in the Napa Valley in 2005 in Coombsville (prior to it being an approved viticultural area). Both have enjoyed fine wine for many years having furthered their education through travel to some of the world's most well-known wine regions. Alice became interested in wine while studying Food Chemistry at UC Davis; while pursuing her degree she also took viticulture and oenology classes. After graduating she worked for a number of prominent food companies including Hunt Wesson and Gerber's Baby Foods.
David graduated from Cal Poly Pomona with a degree in engineering – working as an industrial engineer post graduation. He and Alice met, married in 1980 and built their own real estate business including real estate development.
As Alice recalls, "In 2005 our intent was to simply purchase a small home with maybe two bedrooms and two bathrooms overlooking someone else's vineyards". Their plan went accordingly but the allure of owning their own vineyard piece of Napa was too strong. They purchased two adjoining parcels of land for a total of 25 acres (12 are planted to several clones of Cabernet Sauvignon and the remainder to the four other primary Bordeaux red varietals.
Initially they decided to sell the grapes to other producers – however after being introduced to winemaker Rudy Zuidema they jointly decided to make a barrel of wine from each block in the vineyard to better understand the quality of their grapes (they were also approached by other premium wineries to purchase their grapes). Alice remembers a call one day from Rudy that went something like this, "I'm sorry but you cannot sell these grapes any longer". Fearing the quality of the grapes might be an issue, Alice questioned Rudy. "You have no choice" Rudy said – "you need to make wine". In reality, Rudy quickly realized the quality of their site was excellent and it would be a shame if the the Alkosser's didn't make their own wine.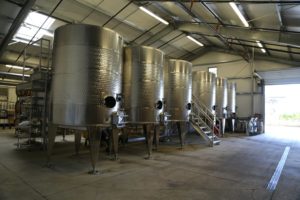 The first release of Shadybrook was from 2010. Rudy has made their wine since day one. Three years later they expanded their efforts in the Napa Valley with the purchase of the 156 acre Secret Rows Ranch in Pope Valley; they also use some of the grapes from this property in their Shadybrook Wines. This ranch is aptly named in reference to a 'secret' cutting taken from Italy many years ago.
And now they have a permanent home for their wines – on February 1, 2016 the Alkossers purchased an additional 25 acres tucked away in the hills of Coombsville. Their purchase included an existing winery (the former Chateau Lane Winery) located only about 2 miles from where they both live. This is a very unique property in Napa; along with the winery and 12 acres of vineyards are existing horse stables, related facilities and an Olympic sized indoor horse arena. This was built by Jerry Rapp in 1982 and was a premier Quarter horse breeding facility for many years.
Visitors who enjoy both horses and premium wines take note of this property. Rather then dismantle the equestrian facility the Alkosses embraced the idea of creating an experience for guests that incorporates elements of both lifestyles. Guests can choose to take a 45 minute to 1 hour horse ride on trails around the property. This begins at their Western Barn where riders saddle up and culminates with a tasting on their 4,000 square foot outdoor patio (weather permitting), or indoors with excellent views of the surrounding rolling hills.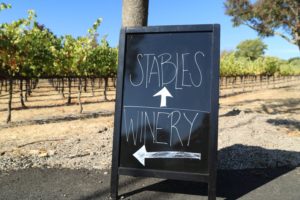 While the winery is state of the art, with even their own bottling line on site – the equestrian center continues to be remodeled and improved – improvements are also being made to the surrounding grounds – the Alkosser's hope to have all the renovations and improvements to the property completed by the middle of 2017.
This winery location is one of Napa's better kept secrets (even one of their immediate neighbors recognizes this hidden location choosing a name of Covert) but in reality Shadybrook Estate is only about a 10 minute drive from downtown Napa.
Coombsville wineries are under the radar, small and include a number of producers who don't have their own wineries. This property is unique in that they can host events and have the space to do so, In addition, a commercial kitchen is located on site and guests can elect to also have lunch here with their wine tastings.
The Shadybrook wines have done well in a variety of tasting competitions. In reference to the horse heritage on site, Alice indicates their own trifecta win at the 2016 San Francisco International Wine Competition. Among 4,600 entries, their 2013 Shadybrook Estate Malbec won a Double Gold Medal, the 2013 Shadybrook Estate Cabernet Sauvignon took a Gold Medal and the 2014 Shadybrook Estate Platiné Blanc earned a Silver Medal.
The 2013 Platine Blanc (meaning white platinum in French) is 72% Sémillon and 28% Sauvignon Blanc. This is a unique blend of the two varietals where in Napa at least, if a Sauvignon Blanc is blended with Sémillon, the Sauvignon blanc is usually the dominant varietal. This wine is modeled upon the white wines of Graves where Sauvignon Blanc is the lesser varietal in the blend.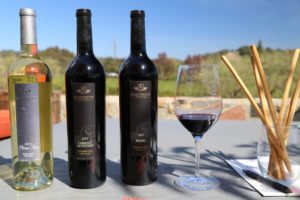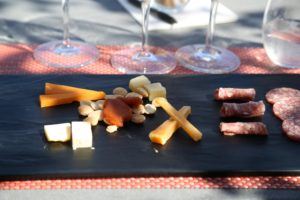 Similar to their other wines, these white varietals are fermented and aged separately until the final blending decisions are made much closer to bottling. Aromatically this wine opens nicely as it is allowed to breath. Aromas of melon (cantaloupe), grapefruit and honeysuckle show. The feel on the palate is creamy and rounded with richness of flavor but not the weight of viscosity. The finish is clean with flavors that linger for quite some time – along with some nuances of almond and hazelnut.
The 2013 Malbec is a very limited production wine (only 70 cases were produced) – only a third of an acre is planted to these vines. This wine was blended with 12% Cabernet Sauvignon and 2% Cabernet Franc. The bouquet shows darker fruit, blackberry, ripe plum interwoven with a subtle smoky or cigar smoke aroma and hints of toasted cedar. Very lively aromatics. The darker fruit continues onto the palate – with earthy, both wood and grape tannins present (both well integrated with the fruit).
The 2013 Cabernet Sauvignon shows a core of beautiful layered aromas on the bouquet (desert in the glass)! Boysenberry, chocolate and huckleberry notes show along with a minerality note and as this wine breathes a dusty aromas is revealed. On the palate broad fruit flavors show including blackberry and blueberry with meaty grippy tannins. This wine does well with a variety of cheeses and charcuterie meats (provided with your tasting) which helps smooth out the tannins. Fairly well balanced. A good example of the power of Cabernet Sauvignon in the 'right' year from the cooler Coombsville region.
The three websites associated with their Napa vineyards & winery are: Secret Rows Ranch, Shadybrook Estate and the winery, Shadybrook Estate Winery at Rapp Ranch (Chateau Lane).