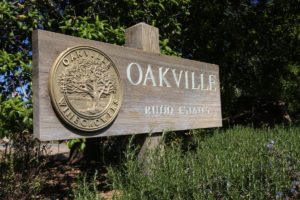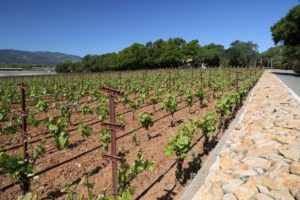 Rudd Winery is a premium estate owned by Leslie Rudd an individual who has his hand in more Napa area winery businesses than most people realize. Among his more well-known businesses were the famed Dean & Deluca specialty stores (wine, cheeses & more), and currently the Oakville Grocery, Press of St. Helena, and 209 Gin. With the Oakville Grocery and Rudd Winery, these two businesses anchor both ends of the Oakville Cross Road! Rudd Winery, however, is one of Leslie's main passions and it certainly shows. The vineyards are among the most well-manicured of all the Napa Valley vines; they are so tightly packed that a vertical trellising system is required. The vines are so neatly organized and when the cover crop has been tilled underground, they really stand out against the red rocky soil that they are planted in. This is the heart of Oakville, one of Napa's best known Cabernet Sauvignon producing appellations.
The terroir in this region is fantastic – just look at the wineries and or vineyards that run through this west to east belt of Oakville. Wineries such as Harlan, Paradigm, Silver Oak, Screaming Eagle, Tierra Roja up to Dalla Valle. This is prime and rare vineyard terroir.
Rudd established this winery in 1996 when he purchased what used to be Girard Winery and then incorporated only the state of the art into the new design and expansion of the winery. He had 22,000 feet of caves dug, put in custom-designed square fermentation tanks (don't see that at to many Napa wineries!), and incorporated the use of concrete egg tanks (one local winery has even named their "eggs" Humpty and Dumpty), again, these are not often used in Napa Valley.
Leslie has seen that every attention to detail be factored into his wine making and it shows with the extremely high quality of wines. They have two main tours; one in the morning which takes about 2.5 hours at minimum and includes a tasting & food pairing and an exhaustive estate tour, and one in the afternoon which typically runs about 30 minutes and concentrates on tastings but may incorporate a very quick tour.
If you have a chance, be sure to check out their wine library which is enclosed within glass walls in one of the cave tunnels. This is how a top wine library looks for a wine and food connoisseur of Leslie's caliber. He has many rare and older vintages from wineries world wide. The elegant wood paneled tasting salon is upstairs – simply take the elevator from one of the cave tunnels and you are whisked right up to the tasting room in a matter of seconds, it's like being in the movies!
Rudd has excellent Cabernet Sauvignon blends including their "Crossroads" label which can only be bought directly from the winery. The Crossroads like their estate Cabernet Sauvignon is entirely grown on the property.
The 2005 vintage while still young at the time of our tasting, already showed that classic red dirt Oakville characteristics. Chocolate and cherry are found on both the bouquet as aromas, followed onto the palate as flavors. The mouth feel is super soft and supple with an elegant delicate tannin supported finish.
The nicest Sauvignon Blancs we've tried in the valley have either been from a combination of both cool and warm weather vineyards, or have the addition of Semillion. In this case Rudd chooses to blend with Semillon which comes from warmer Calistoga and their Sauvignon Blanc which is grown on Mt. Veeder. The 2006 vintage has a very aromatic bouquet followed by a palate with rich concentrated fruit containing both melon and tropical overtones. A visit here is for serious wine enthusiasts and is well worth the appointment. Visit: www.ruddwines.com