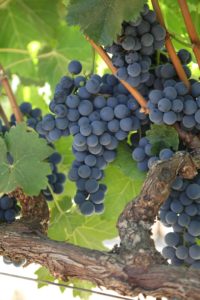 Rarecat Wine – Sharon and John Harris purchased 80 acres in the hills above Calistoga – across from the base of the beautiful palisades (series of prominent vertical rock formations that are situated in this part of the Vaca mountains). This was originally a ranch for horses and there is some evidence that grapes used to be planted on site. Initially the Hariss's tried to develop vineyards but their timing was such when a land ordinance became law prohibiting vineyard development on slopes over a certain steepness.
Much of their "Old Toll Road" property (as with their nearby neighbors) is steep and rugged with slopes reaching 30 degrees. As a result they are limited to where vineyards can be developed. They planted their 2-acre estate vineyard in Spring of 2000 and for a number of years they sold the fruit. The property sits on the side of canyon – Calistoga is known in the Napa Valley for being among the warmest parts of the valley during the daytime. The summer mornings here can be quite warm – however unlike on the valley floor they are in a canyon which backs right up to Mt. St. Helena and the Palisades. This often ensures for good air flow and windier afternoons – cooling things down. This certainly helps balance the warmth of the mornings ensuring a more overall moderate micro climate for their vineyard.
Their estate property is a part of Napa where wildlife has immediate access. Wild turkeys are common – there are mountain lions and even the occasional bear wanders through.
Sharon has long been involved in the wine industry. She remembers when she was hooked by wine – it was during a study abroad trip to France when she was twenty. She was there to learn French but as one finds in France, wine is an integral part of the culture. Little did she know, she would move back to Bordeaux much later in life with the intent of learning more about wine.
Sharon moved her family back to Bordeaux when she was in her 40's and had two children. She attended the University of Bordeaux for several years – in their D.U.A.D. winemaking program – to focus on the technicals aspect of winemaking (the course work was taught in French). Emile Peynaud, the French enologist who "modernized" a number of winemaking techniques founded this program. The focus of the program is to break down the various components of wine and why those componets are in wine – as a result of terroir or from the vinification process.
Sharon was one of the founding members of Napa's Amici Cellars in 1992 (which is still in operation). Rarecat was founded with the release of their first wines in 2009. They purchased an existing winery near Calistoga ( Palisades Cellars" with partners and their wine is now made there.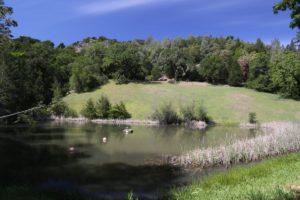 The 2009 Cabernet Sauvignon is their first release of wine from their palisades property – their home vineyard. Several clones of Cabernet are planted on site including one particular clone that is known for its very small production, and small berries with a high skin to juice ratio. As a result, their production is extremely limited. Only 250 cases of the Cabernet were made in 2009. The grapes from this particular hillside location produce wines with great structure and very good acidity.
The bouquet is dark, smoky and dusty – with red and black fruit showing. This is less showy than many of Napa's hillside Cabernet Sauvignons and that is always intriguing to our palate. There is a freshness that shows in the nose – not a greeness but perhaps as Sharon describes, has a "spearmint" quality. As the bouquet opens sweet notes of vanilla show but remain as hints in the background.
For being so young, the wine is already balanced. The tannins are certainly there and they coat the palate on the long finish – but these are not coarse rough tannins – rather they are refined and well managed.
Sharon has long enjoyed white wines from Burgundy. She makes two white wines – a Sauvignon blanc from two clones, sourced from Yountville and a Chardonnay from the Russian River Valley in neighboring Sonoma County. The 2009 Sauvignon blanc was fermented in neutral oak – aromatically it is quite floral – it is balanced throughout the palate with both good acidity and integrity of fruit.
This wine is part of their Lionheart series. All proceeds from the sale of this wine are donated to charity – helping fund the construction of schools and education in Tanzania and Malawi.
The 2009 Chardonnay has great color in the glass; it is golden straw in the glass. This wine was fermented in new French Oak. The very aromatic nose (and we were drinking it slightly cool) initially shows honeysuckle and various tropical characteristics. As the wine breathes over time – beautiful holiday spice aromas are revealed.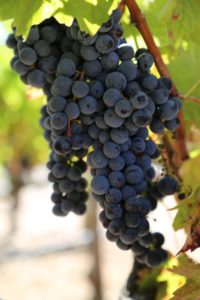 This wine is so much about the fruit – it dominates. It was fermented in barrel and stirred sur lie – there is some weight there and like the Sauvignon blanc is also well balanced. The wine takes some time to come around – as Sharon says, "we put it in barrel for 18 months and then we come back to it and it starts speaking to us". This wine needs the acidity to balance the fruit which is has – you almost will think the wine is sweet (both from the fruit and the oak) – but there is no residual sugar. The favorite word her customers use to describe this wine is simply "yummy"!
With a last name like Harris – it was nearly impossible to incorporate that name into their label (there is even a Harris Estate in Napa already). Feeling the pressure of needing a name after weeks of trying to choose one, Sharon focused on the word "rare" to indicate the type of wine they were trying to make. Rarecat is a woman of distinctive or rare beauty. The coin on their label was modeled after an ancient Carthage coin (300-350BC). A goddess, Tanit was worshiped as the principal deity of Carthage. The cat pays hommage to the mountain lions that are found in the area.
Sharon is the co founder of A Woman's Palate- a wine networking group that focuses on promoting wines made and owned by women (currently from Napa and Sonoma counties) – as well as improving consumer wine education for women.
Tastings are for serious wine enthusiasts or members of their mailing list and are held at their "grey barn" in St. Helena. For more information visit: www.rarecatwines.com