Pope Valley Winery is really located off the typical Napa Valley "beaten path" – allow about 30 minutes to get here from the Silverado Trail. As the name indicates, this winery is in Pope Valley which is a relatively unpopulated area of Napa County on the backside (east) of the town of Angwin. Pope Valley actually is home to a number of small mostly private wineries so it is unusual to find a winery here that you can actually visit, especially without an appointment. The roads are narrow and windy, and typically there is much less traffic than you find on the Napa Valley floor. This is not the "Napa wine strip"!
The winery dates from 1897 and was one of the few Napa county wineries to stay "open" during part of prohibition. The typical story of such wineries is that they produced Sacramental wine during prohibition for church use. Not this winery – through their connections they sold wine to a network in Chicago who then supplied the wine to Al Capone's speakeasies and brothels. The winery stopped selling wine after Capone became more and more lawless, but to outside sources it appeared the winery was closed during prohibition! The current owners, the Eakle Family purchased the winery in the late 1980's and have preserved its history very well. Brother and sister and Napa natives, David and Diana currently oversea the winery operations.
The property encompasses 36 acres of which 5 acres are planted to vine – approximately 4 acres to Cabernet Sauvignon and an acre to Zinfandel.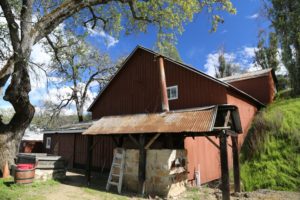 You pull in on the short gravel road; the small tasting room is to your left. The staff is very friendly; you will find a totally relaxed atmosphere and a large selection of wines greet you at the tasting bar. All wines are aged in their hand dug cellar which dates from 1909. Many of their wines have won top medals in statewide competitions. All wines are sourced from their estate vineyards, some of the vines date back to the 1940's. Their selection is somewhat atypical of Napa wineries which is not a bad thing as this is somewhat refreshing!
Look for Old Vine and Late Harvest Chenin Blanc (usually only an acre is reserved for this late harvest gem) as well as a yummy Sangiovese Bella Rosa, a light Rose made by the French Saignee method of bleeding off the juice, a Merlot, and their very smooth well balanced Zinfandel port. Most of their wines are extremely reasonably priced by Napa Standards – between $10 and $50/bottle. Ask about the backyard events held at the actual winery which include music events, and BBQ's, especially their popular Spring BBQ usually held at the end of May, which features good food, barrel tastings, a tour, lots of wine and tons of fun!
If it is not to busy in the tasting room ask one of of the staff to give you a quick tour of their historic winery cave/facility. Quicksilver miners were brought in to dig out the cellars (which took 8 years by hand) – which is located on under the adjoining hillside which backs up up against the winery. The cellar was built over a small creek – during the rainy season, this little creek still flows. Walking in here is like walking back in time – original timber holding up the winery are still in place (carried here by horse drawn carriage after being used in a nearby Quicksilver mine), the original sign from the late 1890's, "Burgundy Winery" hangs inside and wine barrels are stacked in the dimly lit light.
Visit: www.popevalleywinery.com