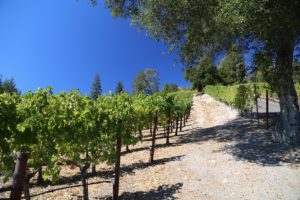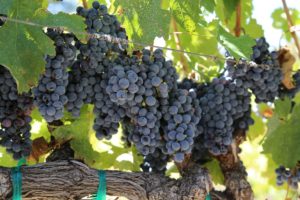 Peacock Vineyard is located in the beautiful Spring Mountain District, just minutes outside of the town of St. Helena. The 6+ planted acres are located at 1000 feet at the end of a rolling narrow windy road. The vineyard sits in a stunning location on the side of a saddle which overlooks the lower part of Spring Mountain as well as onto the Napa Valley floor with views to both the north and south from the property.
Sometimes this is above the fog line and all you see from above is a white pillow covering the valley floor. This is prime hillside vineyard real estate located next to other notable vineyards from other wineries.
Much of the vineyard is planted to a specific clone of Cabernet Sauvignon although individual block replantings will introduce additional Cabernet clones. They also make a rare (for Spring Mountain) Pinot noir. The winery was founded in 1993 by Chris and Betsy Peacock – their first commercial release was a Cabernet Sauvignon in 1999. Chris and Betsy's daughter Rebecca is also involved.
A visit is on a very limited basis for serious wine enthusiasts and you will always meet with the owners or winemaker. Craig Becker has been their winemaker since day one. Conveniently, before he became Peacock's winemaker he was already familiar with Spring Mountain grown fruit having previously worked at nearby Spring Mountain Winery; today he consults for a select group of Napa based wineries.
As with many of Craig's consulting jobs, his focus is on hillside grown single vineyard produced wines. As with a number of Spring Mountain Cabernet Sauvignons we have tried the local terroir is very well represented in Peacock's wines.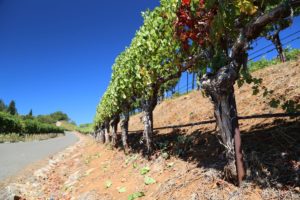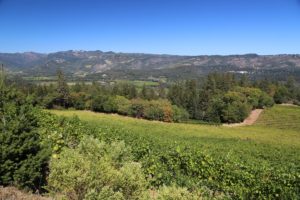 We tried their current Cabernet Sauvignon release which at the time of this review was 2004. This wine is dark and inky in color and is very representative of concentrated Spring Mountain fruit, layered in flavor but not overly tannic. This is a very smooth wine with an extremely long finish. The nose is elegant and opens the more you leave it in the glass. Mocha, vanilla and fruit make this a very aromatic wine with the fruit following onto the palate including cherry and plum with notes of baking spices and subtle hints of oak towards the finish.
The tannins are definitely there but do not overwhelm, rather they complement this already very well balanced wine nicely. Indigenous yeasts were used during the fermentation and the wine was unfiltered. We have tried several vintages to date, both have been extremely well balanced.
You cannot miss their wine as the label is a large colorful peacock with feathers that take up most of the label. You can find their wines at various local Napa wine shops and they are distributed in select markets nationally. Total production is merely around 600 cases. Visit: www.peacockfamilyvineyard.com
NOTE: this review has been identified as needing a major update.