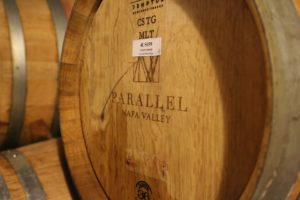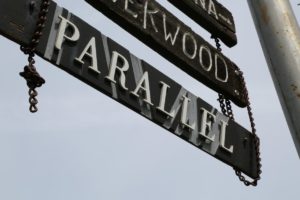 Parallel Wines is the only Napa winery with a direct association between Park City, Utah and Napa Valley. In an homage to skiing, Parallel refers to the lines first left after an initial run down ski slopes. The label is creatively designed and reflects these "ski lines". The winery is owned by four couples – all whom have a strong interest in wine. They met in Park City and have developed long term friendships that carried over into this mutual business. Their first vintage was released in 2003.
They initially specialized in a single vintage of Cabernet Sauvignon each year – they now produce an accompanying wine, a Chardonnay from the Russian River in neighboring Sonoma County. Much of the fruit for their wine comes from their spectacular 62 acre vineyard located above Lake Hennessey. In addition, they have contracts with other growers in the valley. This is in the same general mountain area as other well-known Napa wineries including Colgin and Chappellet (the nearby Pritchard Hill region).
The climate in this region is in part dictated by the moderating influences of the lake below allowing very even growing conditions and moderating temperatures throughout the growing season. Only 7 acres are planted on site – the vines are in very well drained soils which when combined with their particular Cabernet Sauvignon clone produces very small grapes with rich concentrated flavors. No wonder this particular hillside area of the Napa Valley is so highly coveted by wineries.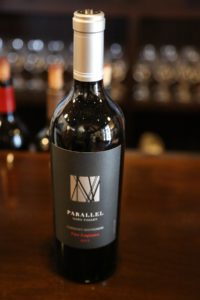 However even prime hillside vineyard properties have their quirks. One section of the vineyard is named the Turkey block as one year, one night before harvest a flock of wild turkeys descended and devastated most of this block. This is certainly not the first time we've heard of this happening in the Napa Valley.
Philippe Melka has been the winemaker since day one (Parallel is one of his older Napa consulting projects – he was named winemaker of the year in 2005 by Food & Wine Magazines). Highly respected vineyard manager, Jim Barbour has also been on board since the beginning. All their wine is made at Brasswood Estate in St. Helena (where tastings are by appointment).
We tried the 2005 Cabernet Sauvignon which is blended with 8% Merlot & 1% Petit Verdot. This wine is dark ruby in color with a rich complex nose that includes floral and black current characteristics. The elegant mouth feel is soft and full bodied with black cherry, chocolate and a cigar box type smokiness that completes the finish.
Due to the overwhelming response they received for early vintages (based on price to quality ratio) they ultimately established a wine club. Lastly, their 2006 lot earned the 9th highest bid at Premier Napa Valley, a trade only fundraiser held annually in February. Not bad for a winery that was fairly new at that time.
Visit: www.parallelwines.com
NOTE: this review has been identified as needing a major update.