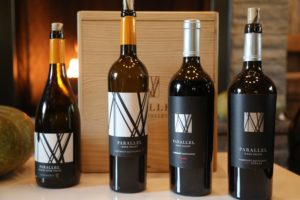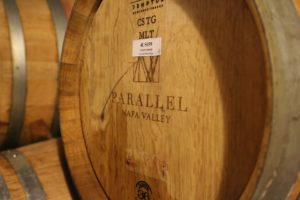 Parallel Wines is the only Napa winery with a direct association between Park City, Utah and the Napa Valley. In an homage to skiing, Parallel refers to the lines first left after an initial run down ski slopes. The label is creatively designed to reflect these "ski lines". The winery is owned by four couples (two of whom are active with the brand and the other two are silent partners) but all share a strong interest in wine. They initially met in Park City and have developed long term friendships.
On a golf centered week-long vacation in the Napa Valley, while taking a break from golf one day, the husbands dedicated to look at real estate while their wives went shopping. Before the couples returned to Park City, they had acquired a 62 acre piece of land in the hills above Lake Hennessey (east of the town of St. Helena). This is in the same general vicinity as other well-respected Napa wineries including Amizetta and Buehler Vineyards.
The climate in this region is in part dictated by the moderating influences of the lake below allowing very even growing conditions and moderating temperatures throughout the growing season. At the time, only 7 acres were planted on site – the vines are in very well drained soils which when combined with their particular Cabernet Sauvignon clone produced very small grapes with rich concentrated flavors. No wonder this particular hillside area of the Napa Valley is so highly coveted by wineries.
However even prime hillside vineyard properties have their quirks. One section of the vineyard was named the Turkey block as one year, one night before harvest a flock of wild turkeys descended and devastated most of this block. This is certainly not the first time we've heard of this happening in the Napa Valley.
This vineyard became the core of their Cabernet Sauvignon for several years producing a 100% estate Cabernet Sauvignon from 2006 through 2008 and grapes from the property were blended with other Cabernet Sauvignon vineyard sources in subsequent years. In 2011 the partners sold this property (now owned by QTR Wines) but continue to source fruit from other premium hillside Napa vineyards for their Cabernet Sauvignon.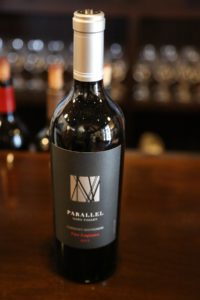 The first release of Parallel Wines was from the 2003 vintage. Their focus is simple, on three very limited production wines each year, a Chardonnay always sourced from a premium vineyard in the Russian River in neighboring Sonoma County and two Napa Valley Cabernet Sauvignon wines including their reserve Cabernet Sauvignon. Today, all their hand-crafted wines are 100% varietal – total production is usually only around 1000 cases per year.
Early on, the partners were introduced to winemaker and vineyard consultant Cary Gott who when referred them to an up and coming young winemaker at the time, Philippe Melka. Philippe has been their winemaker since day one and Parallel is one of his oldest consulting projects.
Philippe grew up in Bordeaux, earned his degree in Geology at the University of Bordeaux and later his Master's degree in Agronomy and Enology. His first wine job was at Château Haut Brion in Bordeaux. His introduction to the Napa Valley came in 1991 as an intern with Christian Moueix, proprietor of Chateau Petrus in Bordeaux and Dominus in Napa Valley. Philippe came to Dominus to study soils – then spent a few years as a traveling winemaker and ultimately settled in the Napa Valley in 1994.
In what would become the start of a long and successful wine making career, his first two wine making / consulting jobs were in 1995 at Seavey Vineyards and at Lail Vineyards (both of whom he is still involved with today). He also began Atelier Melka in 1995, a wine consulting company specializing in creating limited production premium wines for a variety of well regarded brands – mostly based in the Napa Valley. Atelier in French means an artist's studio or workroom (where specific skills are taught and passed down). But today he has plenty of help; Atelier Melka employs several accomplished winemakers.
Highly respected vineyard manager, Jim Barbour oversaw their estate property until it was sold. Jim wasn't always sure he wanted to work in the wine industry. Prior to college he was leaning towards being a parole officer and actually attended Chico State in their criminal justice program. Learning about the low pay and tough job conditions, Jim then transferred to UC Davis.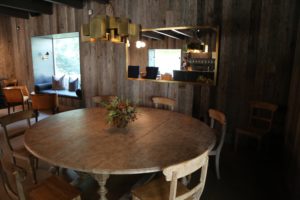 At UC Davis he completed his studies and upon graduating with a degree in plant science, returned to the Napa Valley. He worked for Napa vineyard management pioneer Frank (Laurie) Wood from 1975 to 1989 helping control 1200 acres of area vineyards. After Laurie retired in 1990, that same year Jim branched out on his own and began Barbour Vineyard management company; today his company manages over 500 vineyard acres in Napa and he has been responsible for either planting or maintaining some of the top vineyards in the valley including Blankiet, Fantesca, Grace Family, Chiarello, Casa Piena, Hundred Acre and many more. And over the years Jim has worked with some of the top winemakers in all of Napa Valley.
Several of the finest Chardonnays we have tried in Napa are made by Napa producers but are sourced from neighboring Sonoma County. Parallel sources their Chardonnay from a premium vineyard site in the Russian River Valley. The 2014 Parallel Chardonnay is golden color in the glass and offers tantalizing aromatics – fruit forward on the bouquet with aromas of golden apple, honey suckle, creme brule and as the wine opens further, hints of almond. A sweetness also persists – perhaps brown sugar. The first word we wrote in our tasting notes as soon as we tried this wine was balance. This wine has it. It also features some weight but without being heavy – complemented by the intensity of fruit. Lingers cleanly with good acidity and a hint of dessert spice.
Incidentally the first vintage of Chardonnay produced for Parallel was the first Chardonnay that Philippe made for any of his clients.
The 2005 Parallel Cabernet Sauvignon is blended with 8% Merlot & 1% Petit Verdot. This wine is dark ruby in color with a rich complex nose that includes floral and black current aromas. The elegant mouth feel is soft and full bodied with black cherry, chocolate and a cigar box type smokiness that completes the finish.
Every year the Parallel reserve Cabernet Sauvignon is named after a black diamond run from a prominent ski resort (either domestic or international). The 2014 Black Diamond "Paradise" is named after the black diamond run at Mad River Glen ski resort in Vermont. Offers a diversity of aromas including blackberry, blueberry, a subtle hint of dried herbs/smokiness, toasted oak, black licorice and a sweetness of fruit that persists throughout the bouquet. The wine finishes with a perceptible mouth watering juiciness – anchored by firm but fine-grained tannins that linger softly. A pleasure to drink young but with a fair amount of depth on the palate.
And the 2007 Parallel Estate Cabernet Sauvignon is a testament to how well these wines age. Offers aromas of sweet cherry, dessert spices, hints of black olive and an aromatic sweetness. Tastes and feels like perhaps a younger wine. Balanced across the palate the tannins show a pleasing texture, grainy but not gritty or course. However, still shows plenty of grip. Also excellent acidity – this is a very food friendly wine.
All their wine is made at Brasswood Estate in St. Helena, a state of the art winery and hospitality center (where tastings are by appointment). As of our latest update to this review, three tasting options are offered including the Après Wine Tasting (featuring three current releases and a taste of a library wine, each paired with hand-selected small bites), the Lunch & Wine Tasting which includes the same tasting flight as the Après Wine Tasting but with a selection of food from Brasswood Restaurant, and a Vertical Wine Tasting which includes a vertical of their Chardonnay and Cabernet Sauvignon or all Cabernet Sauvignon.
Their 2006 lot earned the 9th highest bid at Premier Napa Valley, a trade only auction held annually in February. Not bad for a winery that was fairly new at that time. And in 2018, Parallel Wines participated in what is now the world's longest Shot Ski event. With 1275 participants spanning a distance of 2570 feet down Main Street in Park City, the world's longest shot ski was completed over 508 skis.
The wines are also available for tastings at Vintner's Collective in downtown Napa, a space representing a tiny group of mostly Napa based small producers. Locally, the wines are selectively available at the French Laundry in Yountville.
Those who join their Black Diamond wine club are offered a variety of membership benefits including Napa Valley concierge services, private tastings at other Philippe Melka associated properties, complimentary wine tastings, access to their library collection and to select winery release events. For more information or to setup a highly personalized tasting at Brasswood, visit: www.parallelwines.com