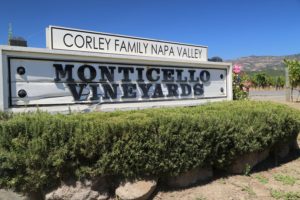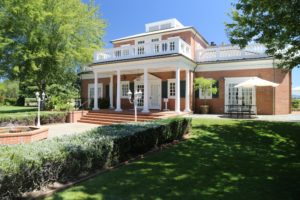 Monticello Vineyards is a family run winery; their first vintage dates from 1980. The winery was founded by Jay Corley with the purchase of 80 acres of land in the southern part of the Napa Valley in 1969 (today what is known as the Oak Knoll District). Interestingly, long before Jay purchased property in Napa and well before building the winery – he wrote his thesis while studying for his MBA at Pepperdine University (in Malibu) on planting a vineyard and building a winery in the Napa Valley. But before he moved to the Napa Valley he was a linguist for the government, a businessman in Southern California and later a private investor.
Before Jay had vines planted here, the property was home to old prune and walnut trees. Prior to founding Monticello Vineyards, Jay sold grapes to a number of wineries. Today the family owns or manages some 135 acres in the Napa Valley of which up to 85 acres are planted to vines at any one time.
Jay died in early 2016; today his three sons are actively involved in the day to day operations including Winemaker (Christopher) who has worked at the winery since his teenage years and learned everything he knows about winemaking from on the job, Vineyard Manager – overseeing their own in-house team and also President of the company (Kevin), and the Director of Wine Sales (Stephen).
Monticello is located about halfway between the Silverado Trail and Highway 29 off of Big Ranch Road only about 10 minutes from downtown Napa. The winery also works closely with three smaller vineyard sites in the northern part of the Napa Valley (including a vineyard they own on State Lane in Yountville) and two others they lease, one in Rutherford and one in St. Helena.
Monticello, Virginia Connection
Upon visiting this winery you can't help but notice the similarity of their administration building (also home of their wine library, a commercial kitchen and other tasting spaces) to Thomas Jefferson's Monticello in Virginia; this is because the winery was modeled after that famous residence. Their Napa Valley winery 'Monticello' is a 1/3 size replica of the actual building but in homage to Monticello's location on top of a hill, Corley's Monticello was built slightly above the valley floor – on an 8 foot rise. Visitor's from the east coast often query as to why the Napa Valley Monticello is located on the wrong coast!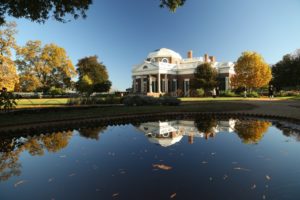 To answer that, one has to understand Jay's admiration of Thomas Jefferson. While most known for being the 3rd president of the United States, Jefferson was fascinated by wine and was a collector of European wines (he maintained a wine cellar on the lower floor at Monticello) and was wine adviser to several US presidents including Washington, Madison and Monroe. Some years he imported up to several hundred bottles from Europe.
Jay was also a Virginian – and in searching his own family records, he discovered his family originally settled in Virginia in the 1640's. Incidentally, Jay's family have been farmers for several centuries. Jefferson was a prolific gardener and along with the extensive vegetable gardens on the property maintained a greenhouse, flower garden and numerous species of trees were grown on the property (including one section named Mulberry Row).
Monticello is located about an hour and 20 minute drive from the airport in Richmond Virginia (RIC) or about 2 hours from Dulles Washington Airport in Washington DC, (IAD). Tickets can be purchased online or in person – a Monticello day pass includes a guided tour of the first floor of Jefferson's iconic home. An additional ticket can be purchased for tours of the upper floor. Shuttle vans leave regularly for the approximately 1/2 a mile ride up to the home. Highlights of the house tour include the main parlour, the dining room, seeing the library which at one point housed over 6,500 books, Jefferson's bed and room where he died and Jefferson's polygraph (while Jefferson wrote with one pen, a second pen duplicated his writing creating a second copy – he wrote nearly 19,000 letters over his lifetime).
A trail connects the David M. Rubenstein visitor center (tickets, shopping and a cafe) with the home and other attractions on the property – and it is an easy hike almost all downhill from Monticello back to the visitor center. Guests are free to wander around the house at their leisure and visit other attractions on the property on their own.
Other highlights include, on a clear day a gorgeous lookout point above the gardens from the Garden Pavilion, a small brick building with plenty of windows that was often used by Jefferson – reading books or simply admiring the expansive view. Also worth visiting, is a small cemetery containing Jefferson's grave site, an exhibit in the South Wing next to the house about the properties' most famous slave, Sally Hemings who had a child with Jefferson and the excavated kitchen, also in the South Wing.
The original Monticello plantation was 5,000 acres – privately owned until 1923, today the Thomas Jefferson Foundation, Inc owns more then 2,500 acres. Allow at least several hours for a visit.
The Monticello Vineyards administration building is also used for private parties and tastings by appointment. Coincidentally there was also a town called Monticello which is now buried under many feet of water beneath Lake Berryessa (eastern Napa County) and during very low water levels houses can sometimes be eerily seen below the surface of the lake. And during particularly rainy winters sometimes the basement on this building can flood (seen by the stains that are left on the wooden floor).
Monticello makes two types of wines; the Monticello Vineyards label; these are affordable, approachable young and food friendly wines. These wines are from grapes grown on their estate. The Corley label includes their reserve and limited production premium wines (usually produced between 150 to 550 cases annually of each wine) including several single vineyard Cabernet Sauvignons. In a very unusual offering for a Napa based winery – they also produce a Brut sparkling wine from a Pinot Noir/Chardonnay blend (non vintage). This wine is very much hand crafted with all the riddling done by hand. This is a very limited production wine each year – usually around 150 cases.
Total production of all their wines each year is usually around 15,000 cases. Another sizable part of their business (that visitors to the property typically won't pick up on), is their custom crush business where some of their winery space is rented out to smaller producers who do not have a winery of their own.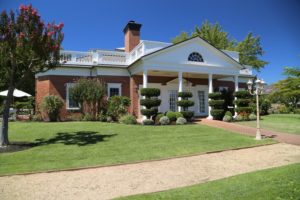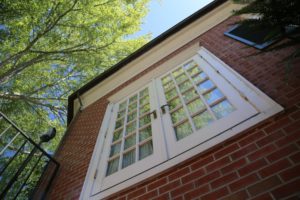 Jay enjoyed wines made in Burgundy and therefore decided to focus his initial efforts on Chardonny and Pinot Noir (the first two varietals and wines made at Monticello). The 2014 Monticello Vineyards Chardonnay reveals a layered and an enthusiastic bouquet. Notes of pomelo, almond (along with a general nutty aromatic character) initially show. As this wine breathes is becomes more floral with prominent notes of orange blossom and honeysuckle. The wine is aged in 70% stainless steel and 30% new French oak. It is well balanced on the palate with a somewhat creamy rounded and silky mouth feel – almost a bit oily in nature but not overly viscous. Lingers with flavors of popcorn butter and slight notes of a lemon zest. We have enjoyed several vintages of this wine over the years – and looking back over our various tasting notes, it seems to be made in a fairly consistent style from year to year.
Their first vintage of Pinot Noir from Dijon Clone 777 is from 2013. Not a lot of producers grow Pinot Noir in the Oak Knoll district, but this is another example of the diversity of terroir characterized by this this part of the valley (in part, Oak Knoll is known as an area that supports a diversity of types of grape varieties). The 2013 Monticello Vineyards Block II Dijon Clone 777 shows a sweetness on the bouquet including notes of clove, raspberry and toasted cedar plank. This is a bigger wine of this varietal then is often made in Napa. At the winery, they sometimes refer to this as the "Cab lovers Pinot Noir". Shows a red cherry and a cranberry tartness framed with noticeable tannins that linger for some time. Plenty of fruit and more structure then often found in wines from this varietal.
Their Proprietary Red has been released each year since 1999; this wine is very popular, reasonably priced for the quality and ages extremely well. We tried several older vintages (2004 and 2007). The 2007 Monticello Vineyard Proprietary Red is drinking very well with 10 years of age. This was the only vintage of their Proprietary Red to date that did not contain any Cabernet Sauvignon. This wine is typically predominately a Cabernet Franc blend.
Of the red wines we tried, the 2013 Corley Reserve Cabernet Sauvignon stands out. It is a blend of grapes from their State Lane vineyard in Yountville and two other vineyards they lease and manage the vines on including in Rutherford and St. Helena. This vintage immediately reveals rich aromatics that one comes to expect from premium Napa Valley grown wines of this varietal. Aromatics include prune, plum, cherry pie/crust and a sweet dark chocolate. Very pretty bouquet. A pleasing mouth feel upon entry with dark berry flavors. Big but balanced, not bold. Well layered and textured tannins anchor a long finish. A beautiful wine.
"Good Wine is a Necessity of Life for Me" ~ Thomas Jefferson. This quote is proudly displayed on the entrance to the tasting room.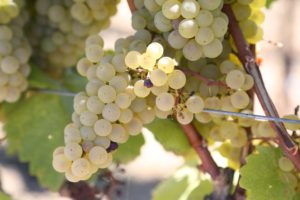 Their tasting room is cozy, comfortable and personable and is located right next to their barrel room. A number of their staff have been here for several decades, refreshing considering the often high turnover at many Napa wineries that maintain an open to the public tasting room. If the weather is nice, the several acres of gardens outside their tasting room also provide a very relaxing and quiet venue for enjoying the wines (incidentally planted to the same vegetation that Thomas Jefferson grew at Monticello).
In addition to their walk-in tasting, Monticello offers a variety of sit down more personalized tasting experiences (usually held in the Monticello house) including an Estate tasting, Reserve tasting, a Cabernet Sauvignon only tasting and a Library tasting (wines often 10+ years old). These experiences are by appointment only. For more information or to join their wine club, visit: www.corleyfamilynapavalley.com
Outdoors

Indoors

Pepperdine, Malibu