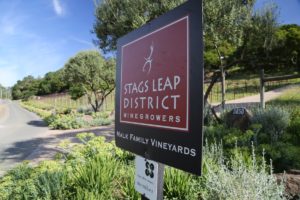 Malk Family Vineyards was founded by Brian and Nancy Malk in 1997 when they purchased several hillside acres in the heart of the Stags Leap District. They began planting their vineyards a year later with premium Cabernet clones – from both Spottswoode and Diamond Creek (two premium Napa producers). Their first vintage dates from 2003. The vineyard is essentially hillside and is located right where the edge of the Vaca Mountains meet the valley floor.
Brian is from South Africa and nurtured the idea of owning his own vineyard for a long time. His grandfather owned a vineyard in the prominent wine region of Franschhoek, near Capetown. After exploring the possibility of buying a vineyard in this area while also weighing the 27 hour flights, reason prevailed for both Brian and Nancy. Their home is near San Diego, and wanting both a vineyard and a place to visit for relaxation, they chose Napa rather than South Africa based on Napa's quality vineyards as well as proximity.
It is interesting to note that where Brian and Nancy settled is just down the road from Chimney Rock Winery. The design of this winery is Cape Dutch Architecture and looks just like any of a number of buildings you find in the Western Cape of South Africa – from when the Dutch settled this province in the 1820's.
Vintners often talk about a "sense of place" in regards to their vineyards. Brian refers to the "sense of space" you get from his hillside vineyard and home located above it. This is a part of the Napa Valley that is not often seen unless you live here. You have beautiful vistas overlooking a sea of grapes in all directions broken by small hills that rise from the valley floor. There are really very few homes and wineries in this area – its a very bucolic location. His hillside vineyard sits at the eastern edge of the appellation and as you continue east the land becomes entirely natural, wooded, rugged and steep – backing up to the rocky picturesque Stags Leap Palisades.
It is always a rare treat when we meet a Stags Leap based producer or winery as relative to the total amount of time we spend on The Napa Wine Project, we spend so little time in Stag's Leap. The reason for this is there are very few producers and wineries in the region; there are only 16 members of the Stags Leap District Winegrowers Association. Furthermore its not an appellation that has seen an influx of new producers in the last 10-15 years like many of Napa's appellations. The vineyards in this appellation are also fairly well established.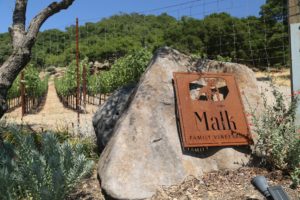 The label was originally called Griffin Vineyards, named after their Staffordshire Bull Terrier, Griffin. Wanting to trademark the name, Brian soon found out there were at least 150 other wineries with the word "griffin" in their name making wine commercially. Discovering this and with the passing of Griffin after 15.5 years, the name of the vineyard and wine was changed to Malk. However, Brian cleverly incorporated the name "griffin" onto their wine label and it appears under a likeness of their dog.
Wines from this region helped put Napa on the map in 1976 with the Judgment of Paris wine tasting. Some top producers come from the region including Shafer and Stag's Leap Wine Cellar – Robert Mondavi and Joseph Phelps also have vineyards in the appellation.
Malk Vineyards produces two wines each year, an estate Cabernet Sauvignon (their flagship wine) and a beautiful Sauvignon Blanc. The first vintage of the Cabernet Sauvignon was from 2003 and the Sauvignon Blanc is from 2006.
The Sauvignon Blanc has already earned quite a following. In its first year only 100 cases were produced and somehow Robert Parker was able to taste it. He wrote a glowing review in Business Week saying Malk's Sauvignon Blanc and Araujo Estate's were some of the best wine from this variety coming from Napa. The original vintage was from a small vineyard in an appellation not known for its Sauvignon Blanc – Mt. Veeder. Needless to say this wine sold out rather quickly.
The vineyard source has since changed – it is now from a small vineyard in the Oak Knoll district. The 2010 while being a very young wine at the time of our tasting was already very well balanced. The nose is rather complex and layered. White peach and certainly pineapple form the bouquet and as it evolves aromas of browned sugar and honeysuckle come forth. The palate is clean and as the finish lingers some mineralities as well as notes of Meyer lemon show. This wine was fermented and aged in neutral oak barrels. Indigenous yeast was used for fermentation – while aging the wine was stirred on the lees.
The 2007 100% varietal Cabernet Sauvignon shows a slightly smoky nose with concentrated yet elegant fruit. Dark berry aromas, black cherry and even black fig show as the bouquet evolves. The palate is balanced and smooth and finishes with structured yet moderate tannins and the afterglow of vanilla and caramel. Like their Sauvignon blanc this wine was allowed to ferment using indigenous yeasts.
If not the smallest single vineyard in the Stags Leap Appellation, Malk Vineyard is certainly one of the smallest. This 2-acre vineyard was recently replanted and it will be several years before it will start producing again. For the next few years, Brian has located fruit from several blocks in a premium vineyard located just north of his own vineyard and will continue to make wine under the Malk label until his own vineyard is back in production.
With only several hundred cases comprising their annual production they are not widely distributed. You can find the wine locally in St. Helena at ACME Wine shop and several restaurants around the valley. They are also in select locations in San Francisco and a number of restaurants in San Diego. Malk Vineyards participates in the once a year V2V (Vineyard to Vintner) event always held in April. This event is produced by the Stags Leap District Winegrowers Association – all winery members participate and the event includes dinners and open house events. For more information and to join the mailing list visit: www.malkfamilyvineyards.com