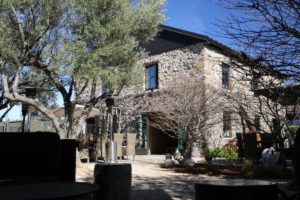 Ma(i)sonry Napa Valley is located across the street and just down from the famed French Laundry restaurant. This old stone building used to be a former distillery and has been completely gutted and elegantly restored. It is one of only two buildings in Yountville to be listed on the National Register of Historic places (note the plaque outside) as you walk in. Ma(i)sonry opened by appointment only in early October 2008 and is not your typical wine tasting destination. As founder Michael Polenske says, "Ma(i)sonry is in every way a celebration of life's aesthetics. Every collection on site has been created by the hand of an artist, or artisan, or designer, and, of course, that includes the wine."
Ma(i)sonry was one of the early premium tasting rooms to open in Yountville – followed by a number of other equally high end tasting rooms to open nearby and further to the south of town.
The old stone building that houses their collection of both art and wine has some fascinating history. It was built for Charles Rovegno in 1904 – by a local stone mason Angelo Brovelli (Angelo worked on a number of what are now historic stone bridges in the valley). All the stone in this building was quarried from the eastern hills above the valley floor proper. Charles died in 1954 and for some 30+ years the building was a boutique Inn – called the Burgundy House Inn. Today the building is on the National Register of Historic Places (look for the plaque to the left of their main entrance).
This part of Yountville, which we call NoYo (North Yountville) used to be known as the "Chinahouse" part of town – not quite large enough of an area to be called Chinatown.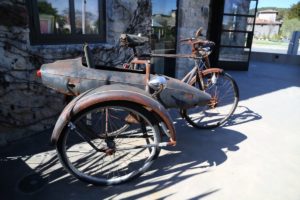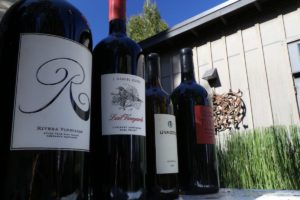 Ma(i)sonry provides very personal tasting experiences, either indoors in one of their three private rooms, or outside in their patio among the gorgeous sculpture garden. The setting is designed to remind one of a private home featuring incredible antiques and one of a kind art works. As wine is a living organism so to is their gallery. Historical works of art dating back to 16th century Europe are on display and new art pieces are rotated in as they sell. Internationally renowned furnishings are also on display. This is definitely one of the more elegant tasting experiences you can find in Napa. Visit: Ma(i)sonry.
Michael's own Napa label, Blackbird is made at the historic Napa Wine Co; you can currently taste these wines in two locations here at Ma(i)sonry and more recently opened, the RiverHouse by Bespoke Collection in downtown Napa along the river.
Besides Blackbird's own wines, this collective features a rotating collection of mostly Napa producers (but some Sonoma as well) including the following ones from Napa: Blackbird Vineyards, Casa Piena, Husic Vineyards, Juslyn, Entres Nous, Lail Vineyards, Lamborn Family, Pedras Wine Company, Pott Wine, RH Harrison, Renteria Wines, and Tor Kenward Wines. Note that this list of vintners represented changes somewhat regularly.
The producers featured here typically do not maintain their own tasting rooms or otherwise public tasting outlets. As a result, if you would like to taste through just one of these producer's wines you may do so by requesting one of their "wine flights". Ma(i)sonry also owns the I. Wolk Gallery in downtown St. Helena, the sculpture garden at Auberge Du Soleil and the MacArthur Place in the town of Sonoma (an inn & spa).
Several unique tasting experiences are offered including the Wine & Cheese Experience – which pairs some of their member wines with both local and imported cheese and charcuterie, the Wine & Caviar Tasting – with member wines paired with locally sourced caviar and their Apres the Day – an after hours private tasting hosted by one of their wine consultants (ideal for slightly larger groups). In addition, sometimes tastings can be arranged where you are meeting one on one with the wine maker or owner of the brands represented.
Note that Ma(i)sonry also offers concierge services to help hand craft customized itineraries in the Napa Valley (including a visit to their tasting room) as well as helping to organize lodging, lunch and dinner reservations as well as transportation. Inquire for details. This is a somewhat unique offering by a Napa Valley tasting room.
Their Medallion Membership program features three tiers of wine club membership.
Ma(i)sonry has since been sold to Restoration Hardware – however Michael Polenske's Bespoke Collection continues to curate and manage the art collection housed within the gallery. Ma(i)sonry closed temporarily in 2018 and reopened in early Fall that same year as part of the Restoration Hardware Gallery and Cafe. For more information and a current list of vintners represented, visit: www.maisonry.com