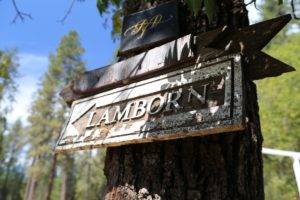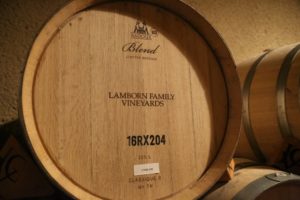 Lamborn Vineyards are located high up on Howell Mountain on a "ridge peninsula" which overlooks Pope Valley and on an extremely clear winter's day you can even see parts of the Sierra Nevada mountains way in the distance.
This is a very scenic location reminiscent of some of the foothills in California's Sierra Nevada, both with climate and vegetation. The vineyard is quite unique in that there is a 50 degree drop-off on three surrounding sides which goes down over 1000 feet. The Lamborn vineyard story starts in 1971 when Bob Lamborn and his son Mike purchased two separate plots of land for a total of 40 acres. Neither one had any experience in the wine industry but Bob was looking to do something different than his city life Private Investigator job in the San Francisco area.
The family then cleared and planted the land and released their first commercial vintage in 1982 with the help of famed Howell Mountain wine master, Randy Dunn. Unfortunately disaster struck in the fall of 1991 when the huge Oakland firestorm destroyed Bob's house. As a result of this, in 1991 Lamborn released an appropriately titled wine called the "Phoenix Vintage". This vintage led to a trend among Lamborn's wines – every vintage from that year on is now given a name, usually relating to an event during the growing season.
In conjunction with this are their "back label" stories; for general interest, all of these stories are available on their website. Production then was very small and although it has grown a bit since, it is still around 1000 cases. The fruit is all estate grown on this ridgeline – predominately Zinfandel and Cabernet Sauvignon and the wine is made at Napa Wine Co.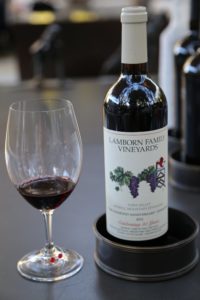 Today the vineyards are managed by Mike and his wife Terry – they are farmers and spend hundreds of hours in the vineyards each year carefully managing the vines and grapes. We had the opportunity to walk the vineyards with Mike Lamborn and his attention to detail is amazing. Each vine is handled on a case by case basis when it comes to crop thinning, dropping of fruit, pruning and suckering. The third generation is a part of this business as well with Mike and Terry's sons actively involved in to the day to day operations.
The 4th generation is even well on their way! With the exception of their winemaker, this is an entirely family run winery. The well-known Heidi Barrett is the winemaker and has been at Lamborn since the mid 1990's. The details and micro management that go in to the farming and caring for the grapes, plus Heidi's considerable wine-making skills produce two excellent wines.
Their main focus has always been and remains on Zinfandel (the bulk of their production). Considering the fact their vineyards are on Howell Mountain, they also produce Cabernet Sauvignon. The Cabernet is all that you expect in a high quality hand crafted Napa area Cabernet; it is soft, smooth and an elegant wine. The 2005 contains layer upon layer of fruit with a slight dustiness towards the long finish. The demand is very high for this wine and is not even sold through their website. Visits here are for serious wine enthusiasts.
Lamborn Family does not see visitors for tastings at their Howell Mountain property. If you find yourself on the valley floor and want to sample their wine, visit Ma(i)sonry in Yountville – a premium collection of boutique mostly Napa wines (representing producers who typically do not have their own wineries or tasting rooms).
The Lamborns are some of the most hospitable people you will meet and it doesn't hurt either, that their wine is stellar! As a result if you meet them for a tasting at Ma(i)sonry, the experience is very personalized and tailored towards your interest and knowledge level. Visit: www.lamborn.com
NOTE: this review has been identified as needing a major update.