Ladera Vineyards was originally an old ghost winery built in 1886 and was totally restored in 2000 by owners Anne & Pat Stotesbery. They met while attending college in the Bay Area and both developed an interest in wine at that time. Anne and Pat have a long history with agriculture having raised Black Angus Cattle on a ranch in Montana for about 20 years. What was supposed to have been a small vacation ranch soon turned into a fairly large commercial operation. Part of the filming for the movie "The Horse Whisperer" starring Robert Redford was conducted on their ranch property and the movie company ended up renting their house for the summer. Left with nowhere to stay they decided to take a summer vacation to the Napa Valley. Ultimately that trip led them into the wine industry; they released their first commercial vintage in 1998 under the auspices of Napa Wine Co (a number of now well-known wineries got their start at Napa Wine Co before actually acquiring the Ladera property on the slopes of Howell Mountain.
In 2016 the sold Ladera Winery and accompanying vineyards to The Plumpjack Group.
They currently own just under 500 acres on the slopes of Mt. Veeder. More recently they acquired some vineyard land in Sonoma County which is planted to Pinot noir and Chardonnay. The height of their production was about 10,000 cases with Cabernet Sauvignon comprising the majority of that (today they are smaller – in the 5,000 case range). Ladera also makes a number of limited production wines including but not limited to Malbec, Syrah, and a Merlot that is only made during "stellar" vintages. These wines are typically only available at the winery and to mailing list customers.
During one period of ownership, the winery used a large mirror on nearby "signal hill" to communicate to Napa Wine Co way down in the valley when it was time to pick the grapes so they would have advance notice of when they would need to prepare the crush pad. This is ironic considering that years later, Ladera's first wines were actually made at Napa Wine Co! The grounds are gorgeous especially in mid spring – flowers, lawns and beautifully landscaped garden paths grace the property. Your tour starts with a taste inside the main building above the fermentation tanks and then leads outside and then back inside to part of their 16,000 square foot cave. Your cave tasting will be at a sit down table at the end of one of the cavern tunnels.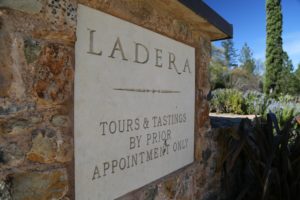 This is a completely gravity flow winery and they use mostly native yeasts for fermentation but in winemaking sometimes you need to inoculate with commercial yeasts and this is done occasionally. A number of hillside wineries will employ extended maceration in which they leave the seeds and skins soaking in the wine for extended periods. Ladera rarely chooses this technique preferring to rely on taste and a style of wine that is not overly extracted. There is a small soils display next to the entrance of the back of the winery. It contains soils from both of their hillside vineyards. You can clearly see the difference between the red rock Howell mountain soils and the white dusty chalky soils from their Mt. Veeder vineyard.
Ladera is about a 10 minute drive from the Silverado Trail on the valley floor; they are located at an elevation of about 1200 feet. All visits are by appointment only and are private for your party. Allow at least an hour for the tour and tasting. The name Ladera is a term for 'hillside or slope' and appropriately describes their own two primary vineyards; Howell Mountain and the steep hillside Lone Canyon, Mt. Veeder vineyard. Tasting wines from these two vineyards is a classic example of the difference that terroir or soil type and location has on a vineyard.
The Cabernet's from the Mt. Veeder area are rich concentrated dark wines while the Howell Mountain Cabernet's while still very dark in color, are more refined and elegant but still show well structured tannins. They nicknamed their Cabernet from the Mt. Veeder vineyard the "cowboy"! It takes some time to tame down in the bottle and is generally held back longer before being released (compared to the Howell Mountain Cabernet). We tried the 2004 vintage which is 100% Cabernet Sauvignon; it has a certain briary and brambly nose with nuances of dustiness and other earth tones. This wine is very full bodied with a palate full of dark fruit flavors, blackberry, black currant and black cherry. The tannins are well structured and provide the backbone for a finish of great length.
Ladera also picks their grapes when they are at the peak of ripeness. They are able to harvest individual blocks and then ferment and age them separately before any blending takes place. In addition, even parts of blocks are sometimes picked separately depending on the ripeness of the grapes. Their vineyard manager lives on site and has been managing these vineyards for many years. Case in point was the picking of their 2007 Sauvignon Blanc; it was harvested over a rather short time period but picked many times depending on ripeness. During our first visit we just missed tasting this wine, the one white wine they currently make, as it was being released the day after we arrived. However they had plenty of this wine during our latest visit. We challenge you to name one other vineyard on Howell Mountain growing Sauvignon Blanc! Your not going to find this varietal on Howell Mountain; Ladera does a very nice job with this wine. The 2007 vintage is a very clean crisp wine with flavors that are well integrated and that complement each other including notes of citrus, and green apple.
Also of note is their Pinot noir – the first commercial release was 2006 from the Pillow Road Vineyard in Sonoma County. There is a reason Russian River Valley Pinot noirs have such a good reputation and this vintage is a perfect start to their new Pinot noir program. Aromatically, the nose is simply unable to contain itself and this is not a bad thing! It is bursting with fruit aromas – raspberry and strawberry aromas are integrated with subtle spices. This leads to the perfect Pinot noir palate which is balanced between flavor, acidity and structure. The mouth feel is soft; this is a good wine to pair with food. Visit www.pillowrd.com – and their main website: www.laderavineyards.com
NOTE: Ladera Winery and the 82-acre property has sold to the PlumpJack Group – the winery will be used for increased production for the CADE Estate wines. The Ladera label was not sold in this transaction and the Stotesbery's will continue to produce wine – from various vineyard sources. Like with the numerous transactions in winery and vineyard property's that have occurred in Napa over the years, 'changes are a coming' – and we will update this review as time permits.
NOTE 2: Starting October 11th, 2017, Ladera will be hosting tastings by appointment at their winery facility north of St. Helena (guessing this might be at Brasswood, but we will visit and will make a MAJOR update to this review once we do so).