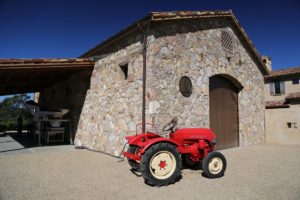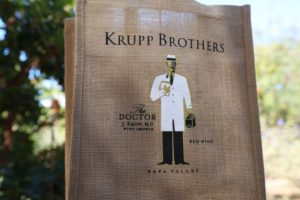 Krupp Brothers was founded as a partnership between Dr. Jan Krupp and his brother as well as ownership coming from a Gordon Getty trust as well as other investors. Known for developing a sizable property (Stagecoach Vineyards) located nearly at the end of Soda Canyon Road in Atlas Peak. At it's 'peak' the property featured some 600,000 vines planted on over 1100 acres. Krupp Brothers sold this entire property in early 2017 to Gallo Family Winery.
When we first visited, Jan told us that he loves growing things; after growing up New Jersey he left for California for his medical school and was exposed to California's long growing seasons; as a result he never left the "golden state". The vineyard land was originally cleared for planting in the early 90's. We jumped in Jan's Land Rover and he drove us through hundreds of acres of grapes on dirt roads with grapes in all directions as far as you can see.
Jan told us about rocks the size of his own vehicle which were moved. This has been a major undertaking and Jan estimates over 500,000 tons of rock were moved to make way for the vineyards. There were vineyards planted in the area in the late 1800's but those owners did not have the equipment to move the large rocks and they just planted around them. After workers would dynamite the huge rocks, it would then take a week to even clear them.
In the early years of the Stagecoach Vineyard development, it's brand and location were off the radar of most Napa wine consumers. And selling grapes to area wineries was a very tough sell. Jan told us he had to call nearly 40 producers/wineries before one actually decided to take a chance on his grapes. This certainly changed as Krupp Brothers increased their production, other vintners purchased their grapes, their vines matured and the word got out that these grapes were producing premium wines.
After the vineyard tour we sat down with Jan and tasted through several of his wines. His son Josh was their winemaker and convinced his father at the time to branch out into other wines besides the core varietals of Cabernet and Merlot. As a result, Krupp Brothers now makes a well-rounded selection of wine including several nice white wines. They have three labels; Veraison, Black Bart and their Estate Wines. The Black Bart label was named after the notorious stage coach robber Black Bart who took down some stagecoaches nearby the main vineyard property.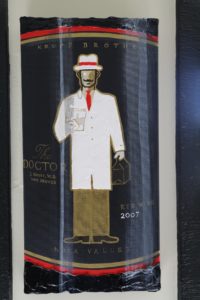 We started our tasting with their Marsanne a delicious structured floral wine with a slightly viscous mouth feel and flavors of peach. For a white wine, this has a very long finish. Not every Napa winery makes a Marsanne and it was a treat to taste it here.
We also had the privilege of sampling their Black Bart's Bride before it was released. Again this is a delicious white composed of Marsanne, Viognier and a lower amount of Chardonnay. That is just the whites. They have a large selection of wonderful reds including our favorite, their Cabernet Sauvignon made under the Estate label; it is 100% Cabernet Sauvignon. Enjoy Syrah? Krupp Estate makes a 100% varietal and also a Syrah Rose.
If you would like to taste & buy additional Krupp Brothers wine, they offer two locations for guests to visit. In early 2017, Krupp Brothers opened a tasting room in the Oxbow District – just east of downtown Napa (in the old Mason Cellars tasting room). Address: 714 First St, Napa. Table and bar seating. Very clean modern layout to this tasting room.
And a bit later this same year, Krupp Brothers announced the purchase of Kitchak Cellars in May 2017 (after the sale of their Stagecoach Vineyards to Gallo Family). Krupp Brothers is now tasting their wines here, they continue to also taste the Kitchak Cellars wines here for a limited time only. The Krupp Brothers wines are now made on site. The sale included the entire property and the Kitchak Cellars brand and remaining inventory.
NOTE: because of the transition in properties and ownership this review has been identified as needing a major update. We will keep a close eye on this property and will update once we have visited their 'new' winery.
For more information and or to join their wine club, visit: www.kruppbrothers.com or their old but still very educational blog here: http://kruppbrothers.wordpress.com
Old Atlas Peak Estate Property

Tasting Room, Napa

Winery (more coming soon)

Curious to see how a vineyard prepares rocky soils for eventual planting – watch these "rock" videos!